Accident
by dbskgirl4ever
Tags comedy dbsk jaejoong jyj korean romance | Report Content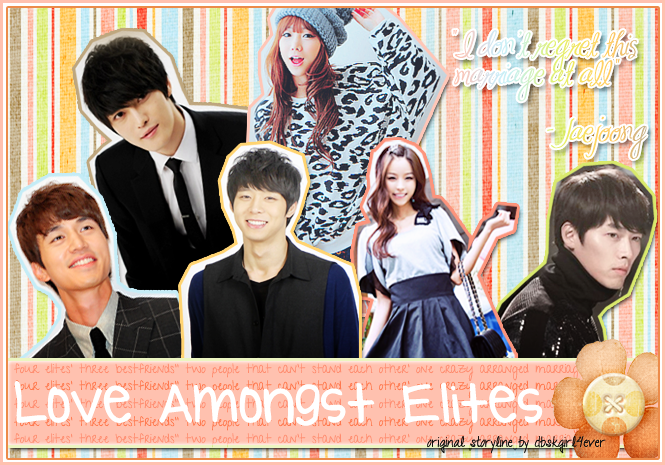 http://www.youtube.com/watch?v=ujhlJyfgHs4
---
There was much business talk going around. Compliments were necessary in this party. Light laughter tinkled throughout the room as CEOs received them left and right.
Finally finished talking with the wife of Samsung, you went to the food table to get something to drink. You took a glass of apple cider and casually sipped it while surveying the room. You turned your head and made eye contact with those same pair of sly eyes from the elevator.
Your eyes widened *The elevator ahjusshi is part of the Top 10 of Korea?!* Your jaw dropped in shock.
He was hot. There was no doubt about it. His face was slightly pale but at the right tint. His jet black hair was smooth and his grin was impish. His eyes sparkled knowingly and his kissable lips formed into a smirk as he caught you goggling him.
Not wanting to be seen, you spun around and collided into a girl in a pink mini dress. Your apple cider splashed onto her dress and her red wine soaked your golden dress. Both of you gasped at the wetness. People stopped chatting and stared your way.
"~~~~~~~~~~~~." Dongwook ran over.
Kim Jaejoong, aka to you the 'elevator ahjusshi', stopped smiling. His own eyes widened as his best friend and first love was drenched in apple cider. Jaejoong put his glass of champagne down and ran over.
"~~~~!"
"Ahyoung!"
"Gwenchana?" Dongwook asked.
*I am but my dress isn't.* You dismally thought.
On the other hand, the other victim screamed, "MY DRESS! I HAD THIS ORDERED FROM MILAN TODAY!" Her dress didn't look that bad though. It was just discolored in some places.
Your dress was stained with red. You offered, "I'll take it to the dry cleaner-"
"THE DRY CLEANER ISN'T THE PROBLEM!" Ahyoung snapped.
You jumped at her outburst. Dongwook furrowed his eyebrows and put his arms around you to steady you.
"What's going on?" Yoochun ran over. His eyes widened at the messy dresses. "Yoochun-ah!" Ahyoung bawled to him, which dissatisfied Jaejoong. "She ruined my dress!" She complained
. "I think it'll be all right once you dry clean it-"
"My night is spoiled because of her! Look at me! I'm hideous!" She cried out in distress.
Yoochun took his jacket off and tried to fix the problem.
"Let's get you cleaned up." Dongwook and you turned to go but Jaejoong said, "Hold it."
Puzzled, the two of you turned around. Jaejoong looked straight at you, "I think an apology is necessary."
"Yes! You ruined my night!" Ahyoung glared at you.
"I didn't mean to!" You protested. "She didn't do it on purpose. It was an accident." Dongwook said.
"Exactly. A sorry is necessary in those situations also." Jaejoong logically stated.
"Then your friend needs to apologize also." Dongwook argued.
"I didn't do anything!" Ahyoung shrieked. Jaejoong smirked angrily, "It's not her fault this happened. If your friend," He glanced at you, "could afford a pair of eyes, then this wouldn't have had happened."
You were outraged by his attitude.
"Now that's not completely necessary, is it?" A voice asked. All of you looked up to see Hyunbin coming over. He raised an eyebrow, "I admit. My friend does need to apologize but there is no need to insult her. If she couldn't afford eyes, why would she be at this party?" Even Jaejoong couldn't argue that. Hyunbin continued, "Since both sides have to apologize, let's just call it even." He looked at you, "Go down. I'll bring the car around." Hyunbin walked away.
"Let's go." Dongwook led you away. You looked back and met eyes with Jaejoong. You spitefully glared at him *First you steal my elevator and then you steal my pride away! I won't let my father deal with your company!*
"You should go, too, Ahyoung." Jaejoong gently said. The fire in his eyes from earlier were gone and soft affection replaced them. "I'll bring my car. Come down."
"Yoochun." Ahyoung whimpered. He lightly patted her shoulder and looked towards the exit *Poor girl. Whoever she was, I feel sorry for her. The accident wasn't even that bad.*
You stopped by the bathroom to wipe off the remaining wine and went down to the lobby. *I was looking forward to this party, too.* You sniffled as you went through the revolving doors. You rubbed your bare arms from the cold. *It's chilly outside. Where is Hyunbin oppa?*
Yoochun came out and stopped *Oh. It's her.*
Just then, an expensive, shiny black convertible swept past you, causing your dress to slightly fly up. You shrieked as you tried to hold it down. Arms appeared behind you and helped you settle your dress down. You and Dongwook watched Ahyoung hop into Jaejoong's convertible. He glanced back at you and smirked.
'Sorry'. Jaejoong saluted and sped off.
You gaped at him. *That…JERK!* Dongwook furrowed his eyebrows, displeased by the man's disrespectful actions.
Yoochun came over and the two of you looked at him, distrusting him since he was one of them. "I'm sorry. I'll apologize on behalf of my friends. They're not bad people, really." Yoochun gave you a slight bow with a kind smile and left.
"D-did you see that?! Oh my…SO ANNOYING!" You fumed.
Dongwook slipped his tuxedo jacket off and tied it around your waist.
Hyunbin's car finally appeared. "What took you so long?!" You snapped. "Is that the gratitude I receive for saving you back there? Get in." He ordered. You went inside.
"I'll get my car and meet you at your house." Dongwook said. Hyunbin nodded and drove off.
^ Back to Top