Elevator Ahjusshi
by dbskgirl4ever
Tags comedy dbsk jaejoong jyj korean romance | Report Content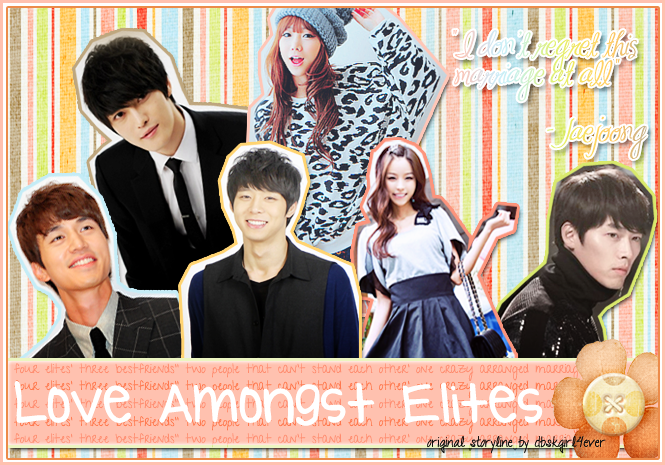 http://www.youtube.com/watch?v=Udhp9X_PgPU 
---
The limo stopped in front of your hotel: Aristocrat Resorts. Your family had hotels and resorts in Jeju, Busan, Seoul, Kangnam, and Tokyo.
Many beautiful people entered through the double doors, obviously heading towards the Annual Entrepreneur Ball where the top 10 businessmen of Korea came to gather and social.
You entered the hotel and looked around but you could not see your 'dates' anywhere. You pouted and tapped your gold watch *They're late.*
"~~~~~~." A voice called.
You turned around to see Dongwook. He looked dashing in a tuxedo. Although other males were wearing the same attire, they couldn't compare to the tall, gorgeous director of Line Tour.
"You're late." You pouted.
"Fashionably late." Dongwook corrected, as if that made everything better. He fixed his tie and grinned, "How do I look?"
"Charming. I bet girls will you as their date tonight." You winked.
A pleasant chuckle came from him, "Not tonight. Tonight, I'm Kim ~~~~~~~~~'s date." You smiled back.
"Silver looks better on you." A voice said.
Dongwook looked up and you spun around. Hyunbin was also wearing a black and white tuxedo but he was wearing a black bow-tie instead.
"You are late." You accused. "No, I'm not. I was in the party already. There is a difference." He corrected.
"Hmpf." You crossed your arms. "What were you saying about my dress?"
"That silver looks better on you. Gold makes your skin look too dark." Hyunbin bluntly said.
You stared at him in horror, "And you're telling me this now?!"
"Hey, there's nothing wrong with her dress. I think you look great." Dongwook said.
"Turn around. I have to inspect you before I agree to be your date tonight." Hyunbin rotated his finger and tilted his head. You rolled your eyes and spun around. "Stop right there." He held out a hand out and you froze.
You blinked up at Dongwook, "What is he staring at?" He raised an eyebrow in amusement, "Your ass."
"WHAT?!" You whirled around.
"Perfect! I'll be your date tonight." Hyunbin held his arm out.
"Pervert." You mumbled. "Come on. My arm is tired." He complained.
You hooked your arm through his. Dongwook came by your other side and held out his arm with a smile. You smiled back and looped your arm through his.
The two of you headed towards the elevators. Suddenly, someone called their names. The 3 of you turned around to see one of the CEOs. Dongwook and Hyunbin bowed, "Hello."
"It's going to take a while. You go up first." Hyunbin said.
"Araso." You headed towards the elevators alone while they went to talk with the CEO. You pressed the button and waited for the elevator to come back down.
From your left, someone was rushing towards you while talking on the phone. At the same time, the elevator doors opened. You stepped towards it but the figure swept in first. Before you could join, he pressed the button already. Your mouth fell open in bewilderment, "Excuse-"
The male made eye contact with you once, making you speechless. He gave you a wink and held his hand out, "Sorry."
Then the doors closed.
You blinked in bafflement *Did he just…abandon me here? That elevator could hold a maximum of 15 people! How dare he go up on his own!* You gnashed your teeth in fury.
"What are you doing still standing there?" Hyunbin and Dongwook came back. "Nothing." You mumbled.
"You didn't even press the button." Hyunbin pressed it instead. *I did but that rude elevator ahjusshi went up by himself!* You thought.
The 3 of rode the elevator up to the party room.
 Your parents waved. You smiled and waved back. Dongwook and Hyunbin bowed, "Hello, omonim and abunim."
"It's good to see you two." They warmly smiled. Your mom put an arm around you, "Are you her dates for tonight?"
"Yes, omonim." They replied. "How lucky of you." Your mom cooed. You smiled back. You thought that, too.
"Go ahead and enjoy the food. Make sure to greet the other CEOs nicely." Your dad reminded.
"Will do~" You waved and left with them.
^ Back to Top