Housewarming Party
by dbskgirl4ever
Tags comedy dbsk jaejoong jyj korean romance | Report Content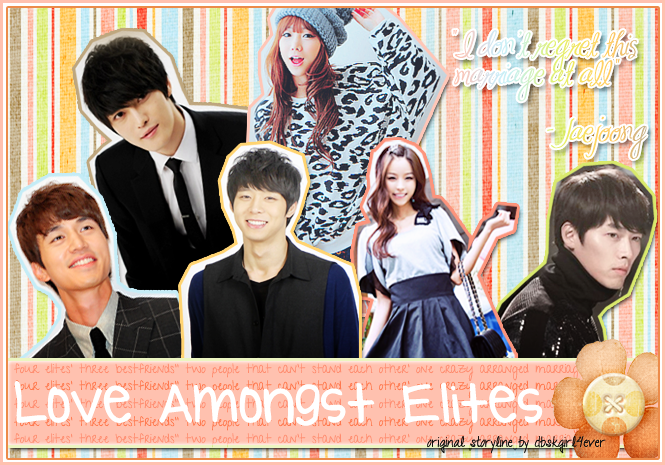 http://www.youtube.com/watch?v=taRxJ49RPeE
---
You and Jaejoong decided to have a housewarming party. Both of you sent out invitations to friends. It was to be held on Sunday evening.
That day, you were busy preparing for the guests. The food you catered came half an hour before the party was to began.
Jaejoong came into the dining room filled with food. He blinked, "Did you make all this?"
"Er, no." You guiltily tossed the spoon with the mashed potatoes away.
"Do you even know how to cook?" Jaejoong accused.
"No. I never learned." You said.
"Hmm. So much for wanting a wife that can cook." Jaejoong walked away whistling. *He wants a wife that can cook? Can Ahyoung cook?* You wondered.
The doorbell rang and the first guests of the evening arrived. The mansion became more and louder as people filled the place. You were busy playing good hostess by greeting all the guests and getting whatever they needed. The doorbell rang for the umpteenth time. Jaejoong was too busy talking to his friends to notice.
You rolled your eyes *Lazy, deaf man.* You walked over to the door and opened it. "BINNIE OPPA! WOOKIE OPPA!" You squealed in delight.
"Hey." Dongwook smiled and gave you a hug. "Didn't I tell you not to call me that in public?" Hyunbin hugged you anyways.
You giggled, "Thank you for coming."
"Happy, er, Housewarming party."  Dongwook handed you a bottle of nicely wrapped apple cider. You chuckled, "Thanks for remembering that I can't drink." "That's not all my gift is." Dongwook smiled and shrugged. You saw the receipt and noticed that a brand new refrigerator would be delivered tomorrow.
"Aww, thank you!" You beamed. You cleared your throat in a joking manner, "And did you come empty-handed, Binnie oppa?"
"Please," He rolled his eyes, "If I came to a gift empty-handed, I wouldn't be Hyunbin. Your new mattress will come tomorrow." Hyunbin waved the matter away and walked towards the refreshment table. You and Dongwook looked at each other and laughed.
Jaejoong finished talking to his college friends and went to look around for new faces to talk to. He stopped when he saw you chatting with Hyunbin and Dongwook. *Them again?* Jaejoong walked over.
The laughter died down when he stepped into the circle.
"We meet again." Jaejoong thinly smiled. Hyunbin nodded and held out his hand, "Nice to see you again." "Same here." Jaejoong shook his hand. Dongwook held his hand out and Jaejoong also shook it. "So is my wife treating you well?" He asked.
You almost spat your drink back out at that term. Dongwook and Hyunbin exchanged glances *There he goes again.*
"Yes," Dongwook cleared his throat, "She's being a good hostess." Jaejoong smiled, "I'm glad. Thank you for coming to our housewarming party. I hope my wife didn't disturb you when you two are busy, successful directors of two large companies." You uncomfortably scratched your head. You wished he wouldn't use that to describe you.
Hyunbin crossed his arms and eyed him. "I don't know why you keep calling ~~~~~~~~ your wife." *Exactly.* You thought. Jaejoong innocently blinked, "I call her my wife because she is married to me."
"Everyone knows that. What they don't know is that this entire marriage is f-"
"BINNE OPPA! EAT THIS!" You shoved baby carrots into his mouth. Bewildered, Hyunbin stared at you. "Binnie oppa loves carrots. Hahaha!" You nervously laughed. "Um, Jaejoong oppa, I see your friends over there. You should go say hi."
"O…kay." Jaejoong warily glanced at Hyunbin and left.
You sighed in relief. Hyunbin spat the carrots out. "WHAT THE HELL WAS THAT?!"
"You idiot! No one is supposed to know that this marriage is-" You whispered, "Fake!" You gave him a look, "Don't do that again!"
"Pfft. It'll be revealed sooner or later. And I do NOT like carrots." Hyunbin walked away.
You shook your head, "Sometimes, I think he's even more childish than I am." "I already knew that." Dongwook grinned. You smiled back.
"Ahyoung," Jaejoong called. She turned around and smiled, "Hi, Jaejoong. How are you?" "Good." He smiled *Now that I've seen you.*
"Ahyoung, Jaejoong." A voice called. Her eyes sparkled, "Yoochun." At that, Jaejoong kind of regretted inviting Yoochun. "Hey." Yoochun smiled and nodded at Jaejoong, "Nice party. Again, congratulations on your marriage." "Thanks." Jaejoong meekly smiled.
Ahyoung sipped her punch and glanced your way. You were talking and laughing with your high school friends. "So…how does it feel being married to her?"
Jaejoong looked your way. One corner of his lips tugged up and he shrugged nonchalantly, "It's all right. I'm still getting to know her."
Yoochun saw you joking around and cracking up like a little kid. He started to smile, "She's really adorable."
"That's because she's younger than us." Ahyoung muttered.
Yoochun turned to his friends, "No, I think it's because she's so bright and cheerful. She looks like she would make a good wife." Somehow, that comment irked Jaejoong. *Why is he complimenting her all of a sudden?* "You should be happy you're married to someone like that, Jaejoong." Yoochun eyed him.
"Do you want to marry someone like her?" Ahyoung blurted. Yoochun looked at you once more, "I don't think it will be bad." Both Jaejoong and Ahyoung were ticked off.
"I'm going to get something to eat." Ahyoung went to the refreshment table. She went down the table and picked up cookies and vegetables. Someone bumped into her and she turned her head. Your eyes widened *Why do we always run into each other at the refreshment table?*
"Er, hello." You politely said.
"…Hello." Ahyoung cautiously said.
"You're Jaejoong oppa's best friend, right?" You asked.
Ahyoung didn't like the way his name came from your mouth so casually. She stiffly nodded in response.
"Um," You glanced at her plate, "You like celery? So do I."
Her eyes narrowed, "Don't try to get close to me with one common similarity. I still haven't forgiven you for the incident at the party."
You sighed, "Look that was an accident. Can't we forget about it?"
"I guess…" Ahyoung shrugged. "And be friends?" You asked. "If we have enough in common." She stated.
You thoughtfully bit your celery, "So…do you know how to cook?"
Ahyoung blinked, "What kind of ridiculous question is that? Of course not. Why learn when you'll always have someone to cook for you?"
*I thought so, too, until Jaejoong oppa told me he wanted his wife to cook…and I am his wife so…* You pondered. Ahyoung rolled her eyes. *Figures. We can't be friends at all.* She strode away.
At 2 in the morning, the party ended. Yoochun and Ahyoung were the last to go. "Bye, Jaejoong. Goodbye." Yoochun smiled. You bowed and he left to his car. "Good night, Jaejoong." Ahyoung smiled. But it disappeared when she saw you. She just cleared her throat and walked away.
You tilted your head, "I don't think she likes me."
Jaejoong chuckled, "Why do you say that? Ahyoung is a nice person. She likes everyone."
You clucked your tongue and shook your head *Blinded by his love for her.*
"What?" Jaejoong curiously asked.
"Nothing." You sighed. "You have a long way to." Pitying him, you patted his broad shoulder and skipped upstairs.
"What?" Jaejoong blinked in puzzlement. He had no idea what you were talking about and probably didn't want to ever know.
^ Back to Top