Caught!
by dbskgirl4ever
Tags comedy dbsk jaejoong jyj korean romance | Report Content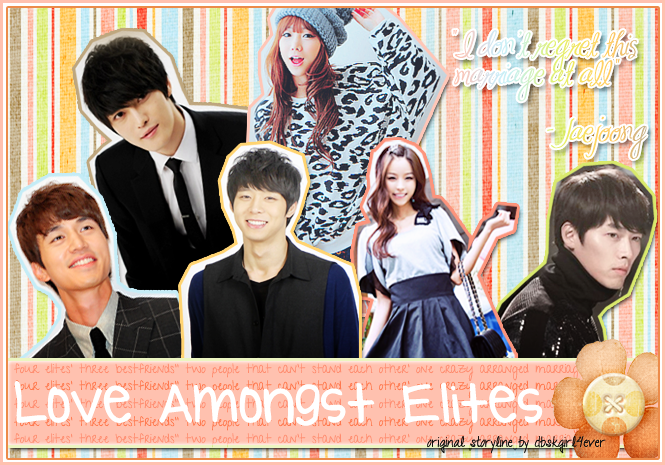 http://www.youtube.com/watch?v=ZaZc3KYN4HQ 
---
The next morning, you changed into cute, casual clothes, put light make-up on, and braided your hair. Smiling in satisfaction, you skipped out of the room. You headed towards the door when Jaejoong said, "Where are you going?"
You froze *Oops. I forgot I'm on a honeymoon.* You slowly turned around.
"I checked on you last night but you weren't in bed. Did you go somewhere?" Jaejoong asked.
You remembered eating and laughing with Hynnbin and Dongwook at a 24-hour café that overlooked the sea. "Er, yeah, just for some fresh air." You said.
"Don't go out too late by yourself. It's dangerous." Jaejoong said. You slightly softened *Is he worrying about me?* "You still didn't answer my first question. Are you going somewhere?" He tilted his head.
You felt bad about ditching him when he was caring about you. *But he said it himself that this is not a honeymoon, right? I deserve to enjoy my vacation.* "Going out for a tour. Don't wait up for me!" You ran off before he could offer to join.
Jaejoong tilted his head *It is just me or does she look keyed up?*
You darted into the elevator and sighed in relief *That was close!* You skipped out to the lobby.
"Hey!" Voices called. You looked up and brightened. You waved at Hyunbin and Dongwook who smiled and waved back. You ran over and Dongwoo handed you a plastic cup of fresh orange juice.
"Thanks!" You took a sip. "Where should we go?" "Anywhere you want." Hyunbin shrugged.
"To the beach!" You pointed. "The beach!" The guys imitated. Laughing, the 3 of you ran off.
You, Hyunbin, and Dongwook rode a yacht across the clear blue waters. Then, the 3 of y ou played on the sandy shores. Each of you tried to dunk the other in. You squealed and clung onto Hyunbin's neck as he lifted you up. "Please don't drop me!" You shook your head fervently. "AHH!" You screamed as Dongwook grabbed you around the waist and twirled you around.
Single girls on the beach enviously sighed *How come she gets two hot guys and we have none?*
After playing at the beach, the 3 of you went to the market. You grabbed a live crab with a tong and held it out. Hyunbin yelped and scrambled backwards, bumping into an elderly grandma. You and Dongwook laughed and hi-fived each other.
You stopped by a shop that was selling pretty hats. You put one on your head and twirled around. "Pretty?" You batted your lashes. Dongwook smiled and nodded but Hyunbin shook his head, "Green is not your color." You pouted. Hyunbun took it off and replaced it with a straw hat with a pink ribbon. "I like that one." He nodded in satisfaction and took out his wallet, "How much is this, ahjumma?"
You, Hyunbin, and Dongwook headed back towards the resort.
At that precise moment, Jaejoong had come out. He stopped when he saw you laughing and talking between two guys just as handsome and tall as he was. *Who the heck are they?* He furrowed his eyebrows defensively. Jaejoong remembered them from the party."Hyunbin and Dongwook oppas? They're just my best friends." Jaejoong smirked in amusement and shook his head *She's gotta be kidding me. She brought her friends on our honeymoon? And nonetheless, they're guys?* He started to walk over.
"Try to catch me!" You stuck your tongue out and started running backwards.
Dongwook and Hyunbin smiled and got ready to chase you down but they saw an unwelcomed figure ahead. "Oh, watch out-"
You turned forward and collided into Jaejoong. "Oops, sorry." You bowed, looked up, and gasped.
Jaejoong raised an eyebrow, "What's the matter? You look like you committed a sin." You gulped *Uh-oh.* He crossed his arms, "So is this why you were so excited this morning? You were happy to see your best friends?" You bit your lip.
"Shame on you for bringing your friends on our own honeymoon." Jaejoong clucked his tongue. "Well you said it was a vacation, not a honeymoon." You shrugged. He gave you a look and you quickly shut up.
Dongwook and Hyunbin came over. Jaejoong squared his shoulders, as if sizing them up. "It's not our first time meeting each other but let us formally introduce ourselves. I'm Hyunbin and this is Lee Dongwook." He introduced. Dongwook nodded a greeting.
"I hope you weren't blaming her about us." Hyunbin crossed his arms. "Because it was our choice to follow her here. She didn't even know we were coming."
Jaejoong looked at you. You eagerly nodded with pure eyes. Jaejoong smiled a bit too brightly. "I fully understand. I hope you understand if I take my wife away now." He took your hand and dragged you back towards the resort. You glanced back at Hyunbin and Dongwook with wide, surprised eyes. Who knew Jaejoong was possessive like this?
They watched you disappear into the hotel with Jaejoong. Hyunbin raised an eyebrow, "I wasn't hearing things, right? He called her his wife?" Dongwook nodded with a serious, bothered expression. "Hmm. Funny guy. I thought he didn't want a real marriage." Hyunbin turned to go and Dongwook followed him.
You and Jaejoong went into the elevator. He pressed 15 and rolled his eyes. "I can't believe you've been spending time with your friends on our honeymoon."
"That's not fair! You saw your friends last night!" You pointed out.
"Yeah, but they weren't girls. They were guys." Jaejoong stated.
You blinked, "Really?" You had no idea why that made you feel better. The doors opened and Jaejoong walked out. You followed him into the suite. Your phone beeped with a text message.
'There's no point for us to be here anymore so we're going back. See you in Seoul.' – Hyunbin.
"You're not going back to see your friends, are you?" Jaejoong gave you a look. You shook your head, "They're leaving." *Thank God.* Jaejoong headed towards his room.
*Now who do I play with?* You pouted. With sagging shoulders, you dragged yourself towards your room.
Jaejoong looked back and saw your heavy shoulders. "Hey."
You turned around. "…Tomorrow. Clear all your schedule." He ordered.
"Why?" You tilted your head.
"Why else? To actually spend some husband and wife quality lifetime. We need to tell our parents something when we get back." Jaejoong went into his room.
Your eyes rounded *Husband and wife quality time?*
^ Back to Top