Last Night
by dbskgirl4ever
Tags comedy dbsk jaejoong jyj korean romance | Report Content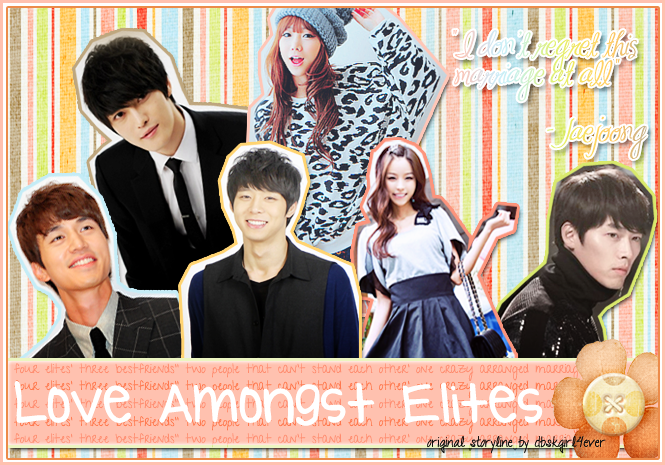 http://www.youtube.com/watch?v=KnW0reg7ezM&feature=related
--
Time flew by quicker. Before you knew it, it was your Bachelorette party. Jaejoong was at his own bachelor party with his male friends. There were no female companions since he found them a cheap way to spend time. Jaejoong just rented out a bar and had a time of conversing and drinking with his friends.
"So Kim Jaejoong, how does it feel to finally get married? Excited? Happy?" His friend grinned. He just stiffly smiled and nodded in response.
Yoochun could read his best friend too well though. He shook his head and sipped his vodka *I don't know how can just lie to everyone's face like that.*
"It's finally tomorrow. You must be nervous as hell!" His friend clapped him on the back. "Just don't trip." His other friend reminded and they all laughed.
Jaejoong sipped his drink and thoughtfully gazed afar *I wonder how ~~~~ is spending her last night as a single woman.*
 ------
Jaejoong could never have imagined that you would be sleeping with two guys on the night before your wedding.
You were wedged between Hyunbin and Dongwook on Hyunbin's bed. As they talked, you stared at the ceiling with all sorts of thoughts in your head. *I can't believe the wedding is tomorrow.* You swallowed hard and started to hyperventilate. *Ohmygosh. It's my last night as a single woman. After tonight, I'll really be Mrs. Kim Jaejoong. But this is all fake. Starting from tomorrow, my life will be a lie. Oh, I can't do this!*
"I CAN'T DO THIS!" You sat up, screaming. Hyunbin and Dongwook looked at you in shock. They sat up and stared at you. "Are you out of your mind?" Hyunbin questioned.
You lay back down and covered your face as you shook your head, "I can't go through with this! I'll be lying to my parent's faces for a really long time- years even! How am I supposed to fool everyone like this?" "You should've thought that before you agreed to it." Hyunbin rolled his eyes. You gave a loud wail.
"Hey," Dongwook gently moved your hand away from your face. Your eyes were wet and glossy from the tears. He wiped your tears away, "Don't cry. You're doing this for the better. Your parents think you're happily getting married and you get the will to your hotels. Everyone gets something out of it, all right?"
You nodded. You sat up and sighed, "Gosh, at this rate, I'll never fall asleep. Tomorrow, I'll look like a swollen raccoon." It was silent for a minute. Then Hyunbin grabbed his pillow, "Get your pillows. We're going outside." He left.
"Outside?!" You and Dongwook glanced at each other in puzzlement and followed him outside. Hyunbin called his servants and they set up a tent in the front yard next to the river. The 3 of you lay down and looked up at the kerosene lamp. Nothing could be heard but the sound of crickets.
"Remember when we went on our first camping trip together?" Hyunbin reminisced.
"You mean that time~~~~~~ wouldn't stop crying for her mom?" Dongwook grinned.

"Hey! I was 8! Of course I needed my mom then!" You pouted.
Hyunbin laughed, "I remember. I had to promise to buy her an entire Barbie set before she stopped crying." "Oh yeah." You looked at him, "What happened to my Barbie set?" "Anyways," Hyunbin cleared his throat.
Dongwook chuckled.
"That's the day we all became close…" Hyunbin softly whispered, "And we fell asleep. Just like this." He turned on his side and propped up on his elbow. Hyunbin looked at you and Dongwook, the two best friends in his life. "Even though you have a new man in your life, that doesn't mean Dongwook and I am stepping down."
Dongwook eagerly nodded in agreement, "Especially since he's temporary."
"If anything, we'll be there for you more. So be strong and most importantly be happy. Binnie and Wookie oppas always got your back." Hyunbin tucked the sleeping bag over you and sweetly smiled at you. You smiled back widely, feeling a lot better. Dongwook grinned at the both of you. It was nice to share a moment between just the 3 of you.
However, the touching moment was broken when you spotted a spider on the ground. All chaos broke out in the tent.
"GET THAT THING AWAY FROM ME!"
"HYUNBIN OPPA, YOU'RE BIGGER THAN ME! GET RID OF IT!"
"ME?! I DIDN'T EVEN CATCH BUGS IN THE ARMY! YOU DO IT!"
"I'M A GIRL! WHAT KIND OF OPPA ARE YOU?! YOU SAID YOU WOULD ALWAYS BE THERE FOR ME!"
"YEAH WHEN YOU HAVE GUY PROBLEMS, NOT WHEN A 5 INCH SPIDER CROSSES YOUR PATH! WHAT DO I LOOK LIKE TO YOU?! SPIDERMAN?!"
"ALL RIGHT! CALM DOWN!" Dongwook couldn't take it anymore. "I'll get it."
You and Hyunbin gulped and nodded. Dongwook sighed and went closer to the spider. He actually didn't like them either but someone had to do it. Dongwook zipped his windbreaker off. Then at the opportune moment, he captured the spider with it and threw it out of the tent.
"Quick! Close the tent!" Hyunbin panicked more than you. Dongwook quickly zipped the tent up. Everyone sighed in relief.
You looked at Dongwook and Hyunbin and laughed loudly. "What?" They blinked. "I c-can't believe we were freaking out over a s-spider!" You rolled on the floor, laughing while hugging your tummy.
Dongwook and Hyunbin started to laugh also. "I guess we were pretty silly."
You beamed, "We were. But that's why I love you guys." They affectionately smiled, touched by your captivating words. You wrapped your arms around both their necks and smiled, "I love oppas. My life is more amazing with you two in it."
They grinned and hugged you back.
^ Back to Top