Spending the day with the enemy
by dbskgirl4ever
Tags comedy dbsk jaejoong jyj korean romance | Report Content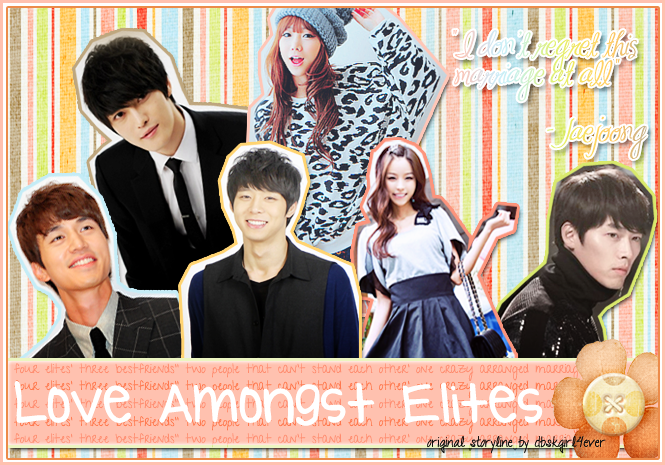 http://www.youtube.com/watch?v=KeTEqRUXgE0
---
It was a couple months before the wedding. You had only met Jaejoong 3 times and that was just for family dinner. There was no outside quality time between just the two of you and you were glad.
However one Saturday, you and Jaejoong were forced to spend the afternoon together looking for wedding dresses. *The worst day ever.* You dreadfully thought as you descended down the staircase.
"Master Jaejoong is waiting outside, miss." The butler bowed.
You sighed and came out. Jaejoong looked up and pushed himself off the car. He uncrossed his arms and raised an eyebrow, "I thought we were supposed to meet at 12."
You rolled your eyes, "It's 12:05. I'm just 5 minutes late."
"I like things to be on the dot. Get in." Jaejoong was enough of a gentleman to open the car door.
You blew a raspberry and sank onto his leather seat.
Jaejoong shut the door and hopped into the passenger side, "Let's get this over with." You nodded in agreement, "As soon as possible." The two of you arrived at the bridal shop.
"Welcome." The workers bowed.
"You have her dresses ready?" Jaejoong asked. They nodded. "Go try them on." He nodded.
You followed the workers to the back. Jaejoong sat on the couch and pulled out his phone. He started messaging Ahyoung, asking her if she wanted to go out and eat. Suddenly, the curtains drew back. Jaejoong looked up, not expecting an angel to be standing in front of him.
"The bride is so gorgeous!" The workers complimented.
Jaejoong stared at you, thinking that comment was an underestimate. You looked like a goddess in that white dress. You bit your lip, making it very hard for him to concentrate on the whole 'fake marriage' thing.
"Er, is this okay? Well it doesn't matter anyways, right?"
"Right." Jaejoong said. You blinked at him. "No, I mean, just get this one." He waved. You pouted, "It is my first wedding dress, you know. As artificial as our marriage will end up being, I still want the wedding to be beautiful."
Jaejoong softened, "I wasn't telling you to get this dress because I just want to get this over with. I want you to wear this dress. You look…beautiful." The way he was gazing at you when he said that made your heart flip-flop. Both of you realized the awkwardness and looked away, blushing.
"Um, I'm going to go change back."
"Yeah, you do that." Jaejoong turned away as the curtains closed. He slapped a hand over his face *What the hell did you just say to her, Kim Jaejoong?*
After you changed into your normal clothes, the two of you went back to his car. He received a new message and checked it. 'Mianhae, Jaejoong. I actually have lunch with my parents. Maybe next time. – Ahyoung.
' "Aren't we going?" You asked. "Yeah." Jaejoong shifted the gear to drive and stopped. He glanced at you, "How about…" You looked at him. "…We eat lunch together?" Jaejoong finished. Your eyes widened *He's asking me willingly?!*
Jaejoong casually shrugged, "We have to look less suspicious to our parents, you know.*
You scowled *Of course. I knew there was another motive.*
"So what do you say? Yes or no?" Jaejoong asked. You sighed, "Do I have a choice? You drove me here."
Jaejoong chuckled and drove off. The two of you arrived at an Italian restaurant. The waiter was about to pull your chair out but he said, "Allow me." The waiter bowed and backed away. Jaejoong slid open the chair and signaled for you to sit. You warily sat down as he pushed the seat back in. "There isn't a tact in my seat, is there?" You looked around.
Jaejoong smirked, "Please. I'm not at your maturity level." You made a face and ducked your head behind the menu.
Lunch was delicious but slightly awkward. Neither of you knew exactly what to say to each other.
After lunch, you and Jaejoong grabbed coffee and sat under the bench. You watched children shriek as they ran across the floor sprouting water at random times. A smile came onto your face. You loved kids and thought they were the most adorable things on the planet. Jaejoong watched you with a curious tilt of his head. It was the first time seeing you closely like this.
You felt his gaze and looked at him, "What? Is there something on my face?"
Jaejoong shook his head and sipped his coffee. He looked around the scenery and thoughtfully tapped the paper cup. "So…do you have a boyfriend?" "If I HAD a boyfriend, he would've kicked your butt for getting married to me." You pointed out. Jaejoong chuckled, "Good point."
"…Do you have a girlfriend?" You casually asked. Jaejoong shook his head, "No…but I do have a girl I like."
"Is it that girl that I met at the party? The one that threw a fit just because I accidentally poured my drink on her dress?" You asked. "Hey, that wasn't a fit and that was your fault." Jaejoong stated.
"If you didn't know, I got red wine on my gold dress." You growled.
Jaejoong shrugged, "Yeah, you were too busy goggling at me to stop the accident." You gaped at him *He remembers?!* Jaejoong smirked at you and you blushed deep red *Okay, he definitely does.* "I-I wasn't checking you out!"
"Right." Jaejoong chuckled. You crossed your arms and pouted.
"Did anyone ever tell you that you're like a child?" He crinkled up his nose with a grin. You nodded, "Yep. I've heard that one before."
Jaejoong chuckled. He leaned back in the bench and looked at you. "Do you have one?"
"Have what?"
"A man that you love." He said.
You shook your head, "Not at the moment, no."
"What about those two guys who escorted you at the party?" Jaejoong asked.
"Hyunbin and Dongwook oppas? They're just my best friends. We've known each other for forever." You waved your hand.
"Just because you're friends doesn't mean you can't learn to love each other." Jaejoong frowned.
"Yeah," You shrugged, "But not these guys. Trust me. They are NOT in love with me." You laughed as if the thought was ridiculous.
Jaejoong shrugged, "You never know…one of them could have been in love with you your entire life and you don't even know it. Trust me. I know. It's possible." Your gaze softened *That's because he's going through it right now. He's in love with his own best friend.* Jaejoong knew he said too much. He tossed his empty cup in the trash and stood up, "Let's go. I'll take you home." You threw your half-empty cup away and followed him.
Jaejoong dropped you off in front of your house. He got out of his car to see you go in. "Thanks for taking me home." You turned to go.
"Hey," Jaejoong said. You turned back around.
"Tell your parents that you had a good time with me." He shrugged, "To keep up the appearance, you know."
"That's up to me." You spun around and strode into your house. An amused smile came on his face *That girl is really immature…in a good way.* Jaejoong went into his car and drove off.
You heard engines fading away and peeked out the window. You watched Jaejoong leave and a smile played on your face. *Today wasn't that bad at all.*
^ Back to Top