Binnie and Wookie
by dbskgirl4ever
Tags comedy dbsk jaejoong jyj korean romance | Report Content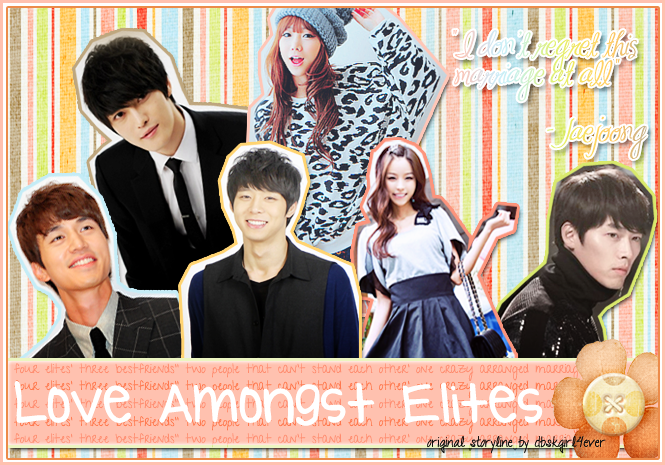 http://www.youtube.com/watch?v=_SwJQldPOuY 
----
Beep. "Director, Miss Kim is here to see you." The secretary said.
The dashing, outspoken director of Oska Shopping Mall pressed the button, "Let her in."
The door opened and you skipped inside, "Binnie oppa!" He sighed and put his pen down, "Will you please not call that me that in public, especially my workplace?" Hyunbin gave you a look.
"Oops, I forgot." You sheepishly smiled.
"What a surprise." Hyunbin picked up his pen again.
You hopped onto the black leather sofa. "Oppa, oppa! Look what I bought today!" You eagerly put your dozen shopping bags on the table. You pulled out a clothing item, "Look at this-"
"Coach bag." Hyunbin said without looking up.
"How about this-"
"Chanel perfume."
"…Okay, how about this-"
"Dolce & Gabbana dress that you're going to wear to the ball tonight. So did you get the gold or silver one?" Hyunbin finally put his pencil down, looked up, and put his hands together in interest.
"…The gold one. You know," You gave him a suspicious look, "You're kind of scary. It's like you stalk me the entire time I'm shopping."
Hyunbin gave you a sweet smile dripping with sarcasm, "Yes, because I have nothing to do the entire day but watch my best friend splurge in MY shopping mall with MY VIP credit card."
"Which I am entirely grateful for." You batted your lashes.
Hyunbin picked up his pen and deftly twirled it between his long fingers, "Don't even bother. If I thought you were cute, I would've fallen long ago."
You pouted, "So blunt."
"Thanks." Hyunbin scribbled his signature on the paper and tossed the folder onto the finished pile of work. He stood up and picked up his keys, "Where to for lunch?"
You sourly crossed your arms, "Oh so you'll still eat with your ugly friend?"
"I never said you were ugly," Hyunbin opened the door and you walked over. He gave you one his sly, perverted smirks, "It's nice having a hot best friend with a nice ass like you."
"You nasty! You're at work, too!" You slapped his arm.
Hyunbin coolly shrugged, "That never stops a man's hormones."
You rolled your eyes in disgust. His car of the week was waiting in the front. Hyunbin gave your bags to the worker to put them in the trunk and got into the driver's seat. You buckled your seatbelt on and took out your latest smartphone. "Call Dongwook." Hyunbin buckled his seatbelt on.
"Already doing it~" You put it on speaker.
After several rings, a deep, nice voice replied, "Hello?"
"WOOKIE OPPA!" You squealed.
"Man, she calls you pet names, too?" Hyunbin shook his head.
You pleasantly beamed, "And unlike you, he appreciates them." You stuck your tongue out and he rolled his eyes.
Dongwook laughed, "Hi, guys. Heading to lunch?"
"Yeah, meet us at the usual." Hyunbin said.
"Araso. I'll be there after I finish my conference." Dongwook promised.
"Bye, wookie oppa." You waved at the phone and hung up.
Hyunbin said in a serious manner, "Don't misunderstand me but I don't think you're 24 years old. More like…4."
"4?!" You said in outrage.
"…And a 1/2." Hyunbin added.
"And I think you're 270!" You huffed.
"That is scientifically impossible." Hyunbin proved.
You crossed your arms, "Smart-ass." "Tantrum child." He shot back.
Hyunbin glanced at you. You raised a perfectly threaded eyebrow. The corner of his lips tingled upwards. Before you knew it, both of you were laughing.
You shook your head, "Hyunbin oppa."
"Yeah, I know. I'm hot." He stated.
"Ohmygod. Here we go again." You rolled your eyes and gave him a look.
Hyunbin genuinely smiled. He reached out and lightly pinched your cheek, which made you smile back.
^ Back to Top