Happy SooSica couple, broken YulKrys Couple
Rated M
by Avaisme2
Tags soosica taeny yoonhyun yulkrys genderswitch | Report Content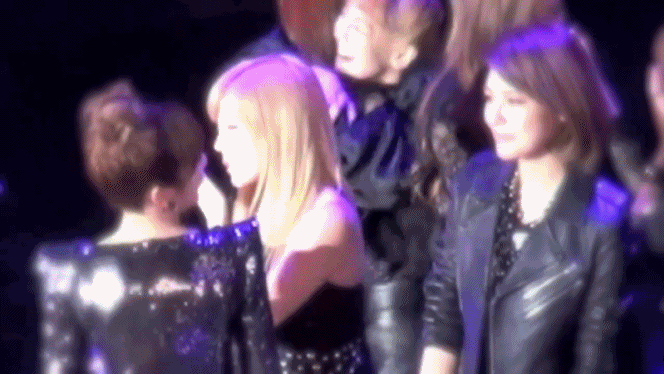 "wait, y-you're kidding right? Y-you're pregnant with my child!?"
Boram looked down,  she don't want to looked at him as she didn't know what to say to him, but she knew she can't hide the truth as she'll have to tell him all the things  about she deceived his love
"Boram? Tell me! Tell me what happen! How can you be pregnant?! Is it really my child you're pregnant??" Sooyoung pulled her into his arm, hugging her as tears flow down her cheek
"I-I'm sorry, please don't cry.. I'll take care of you and our baby..i'm so sorry for doing this to you.."
Boram kept crying on his chest but she was astonished why Sooyoung kept saying apologizes to her
"I'm sorry Soo..but.. It's not.."
"It's not what?" Sooyoung lifted her chin up to look at him "It's not what Boram? Just tell me everything! I won't mad at you anymore, I promise"
" It's not...yours.." she cover her face with both her hands and kept crying
"what? What do you mean?"
"yes it's not yours.." said Soyeon  as he appeared from the kitchen and approached the both of them
Sooyoung turned his head and suprised to see that there was someone beside them in his penthouse"who are you? Wait! I know you..You're.. You're that artist I saw on the TV! Park In Jung?? What are you doing here?!"
"I apologize for doing this to you, but I have to tell the truth to you, the truth that we both hid from you for two years.
"what truth?? Boram tell me what's with all of this?! I don't understand!" Sooyoung furrowed his eyebrows in confusion
"please hear what I want to say, you know for 2 years you and her have been together is actually not real, I told her to find a boyfriend for 3 years to replace me because she don't have anyone to take care of her, and I have to travel overseas to Japan for my work trip"
"what? Boram is this true?!"  he looked at Boram with a serious face "huh" Sooyoung smirked "I can't believe this..All this time we've been on a date together,We eat together,sleep together! All that stuff was just pretending to you?!"
Boram bit her bottom lips as she didn't know what to say or how to explain this, she was afraid to open her mouth.
 "So does this mean our relationship is over?"
"s-sorry…but,we also  planned to get engage Soo.."
"engage??" Sooyoung smirked weakly
Sooyoung then grabbed Soyeon by the collar of his shirt, Soyeon was surprised by his sudden action. Soyeon shut his eyes tightly as he was afraid if Sooyoung want to punch him on his face. But it didn't happen at all, instead he felt Sooyoung hugged him tight
"thank you thank you thank you!" Sooyoung said excitedly
"what?" Soyeon said
Sooyoung broke the hug and look at Soyeon with a happy face "please take care of her well"
Soyeon felt a little bit weird why Sooyoung thanking him. Sooyoung then hugged Boram
"congratulation! I hope your soon-to-be-baby will be in a healthy condition!" he broke the hugged and kissed her lips for the last time
"ump- S-Sooyoung? You.." Boram felt astonished over Sooyoung
"I need to go now! I need to tell Jessica everything about all of this" Sooyoung excitedly went to the door and wear his shoe
"Jessica?" Boram asked
 "oh I forgot! Bo-bo to tell you the truth, when you're gone I having an affair behind your back with my client!" Sooyoung smiled
"you what?!" Boram said with angry tone
" oh! if you guys want to leave, please leave the key under the flower pot beside the shoe rack ok, goodbye guys!" Sooyoung opened the door and went out, leaving them both dumbfounded in his penthouse
"he's really weird and funny too..right?" Soyeon smiled to Boram
-at Jessica's apartment-
*DING DONG*
Jessica walked towards the surveillance camera and saw Sooyoung standing in front of the door. She opened the door
"anyeong~" Jessica greeted Sooyoung when suddenly Sooyoung hugged her tightly
"S-Soo?"
"I love you!"
"what? Soo..are you alright?"
Sooyoung broke the hugged and looked at her in the eyes"tell me you love me Sica"
"of course I love you Sooyoung-ah.." she gave a peck on his lips
"really? It's not fake right?"
"what? Of course not,I'm saying the truth! I love you so so much Soo! what's going on? Why you ask me all this stuff all of a sudden?"
"you won't believe what I want to tell you.."
-2 months later-
-with YulKrys-
Yuri brought Krystal having dinner at the Italian Restaurant called Puccini Restaurant. Since Yuri knew Krystal comes from an upper class family so bringing her to a fancy Restaurant maybe just a usual place for her.
Yuri like a gentleman that he truly is pulled the chair out for Krystal, Krystal smiled happily at his politeness.
"Welcome to Puccini, may I take your order?" a handsome waiter kindly asked
They told their orders to the waiter and gave the Menu back to the waiter. The waiter bowed at them and left them
Yuri took Krystal's hand and kissed it "saranghae~"
Krystal shyly smiled and said "Nado saranghae oppa~"
"aigoo what's wrong oppa? You look like you're going to propose to me or something?"
"no.. I just glad that you're mine baby~" Yuri pinched her cheeks softly
As they both were in their own world, there's 4 ladies who knew Yuri were in the same Restaurant
"yah, is that Yuri?" lady 1 asked
"what? Where??" lady 2 look around her
"it is him! It's Yuri! Oh my god he's look more handsome now! Wait, who's that bitch he's with?" lady 3 asked
"yeah, who is she? She looks so young for him! How can Yuri be with that kind of girl?!" lady 4 said
"look at her! I can't believe this, we have to do something about her!" lady 1 said
-back with YulKrys-
After awhile their food arrived and they ate their own food. They were eating and joking happily until a waiter suddenly interrupted them
"I'm sorry to interrupting you, but I've been told from those 4 ladies over there to meet you in the ladies room" the waiter whispered to Krystal
"meet me at the ladies room?? What for?" Krystal whispered back
"I'm sorry but I don't know.." the waiter bowed to her
"it's okay..thank you for telling me" she smiled to the waiter "oppa, I need to go the ladies room for awhile" Krystal excuse herself to Yuri. Yuri watches her as she stand up
"you want me to accompany you baby?" yuri asked
"no need oppa, I won't be long anyway" Krystal took her purse and went to the ladies room
When she gets into the ladies room, she saw 4 ladies staring at her strangely.
She thought that they might be the one who wants to see her in the ladies room
"did you guys told the waiter to see me?" Krystal asked them
"yeah we did" said Gain
"what is it that you wanted to see me for?" Krystal smiled
"what is your relationship with Yuri?" Miryo suddenly asked
"Yuri oppa? You know him? Well... I'm his girlfriend.. why unnie?"
Miryo smirked "a little girl like you? his girlfriend? How can Yuri be with this kind of girl?" Miryo looked at her up and down then scoffed
 Krystal furrowed her eyebrows in confusion "excuse me?"
Jea smirked "yeah I know right.. look at this girl, you seem like you're still in high school, yah how old are you?"
"are you guys want to see me because of this??" Krystal said
"hey look, I know this might be a little disappointing to tell you but.. I don't think Yuri is actually really in love with you, he's the kind of guy that doesn't date a younger girl. He's the kind of guy that only likes unnies, sexy, tall and big boobs like us. Not a school girl like you..look at you, your boobs are not big enough and you're not sexy at all girl. Maybe Yuri date you because of money, well you do look like some kind of a daughter from a rich family"
 are you guys trying to pick a fight with me?! yeah I know I have a handsome boyfriend, many girls willing to do anything to steal my boyfriend away from me and I know you guys are also like that!" Krystal talk back to them
"you dare talk back to us?! Do you know who we are bitch?!" Narsha yelled to Krystal
"you ask me who you guys are? Yah I'm the one who should ask you that question, do you know who I am?!" Krystal raised her voice to them not able to control her emotion
Krystal smirked "actually...I do know who you guys are.. you guys are middle aged ladies who don't think about getting married and go drool over some younger guys!" Krystal yelled in angry tone, she pushed the bathroom door hard and rush out
"Did she just call us middle aged ladies?? Are we too old for her to calling us that?!" Narsha looked at her face in the mirror
"YAH!! I BET HE'LL LEAVE YOU ONCE HE GETS TIRED OF YOU AND YOU'LL END UP LIKE US!" Gain shouted at Krystal from the ladies room, all the people including Yuri look towards where the sound.Yuri saw Krystal were about to leave, he stand up and follow his girlfriend
"Krystal where are you going?" Yuri called her asking her to wait for him, Krystal started to run out of the restaurant leaving Yuri behind. Yuri was confused on why Krystal suddenly started to run away from him, Yuri chased her as he want to know what happen
Yuri managed to catch up to her and grabbed her by the wrist "wait Krystal! Where are you going??"
Krystal didn't want to look at Yuri as she tried to struggle out of his grasp
"hey2 what's wrong? Tell me?" Yuri asked with his worried face
"let go of me you bastard!" Krystal was on the verge of crying
"what's the matter with you?! Did something happen at the restaurant that I didn't know about?" he asked curious
"you cheater!"
"why you suddenly call me a cheater?? I don't understand"
"you don't understand?! Go ask your unnies that have big boobs, tall and sexy or whatever!!" Krystal yelled at him
"what?! What do you mean?! I don't understand why you suddenly saying something like that" Yuri pondered over it and realized that Krystal must have bumped into one of his flings.
"Krystal.. don't tell me you have just.."
 "Let's just break up oppa!!" Krystal stated firmly
"WHAT?! NO! look, I can explain to you baby~" Yuri hold both of her hand and put it over his chest
"don't try to talk sweet to me! We're over now!" she yelled at his boyfriend
"no please don't.. I love you baby.. you know I can't live without you~"
Krystal smirked "hmph, I wonder how many times you've told those words to girls before."
"you're the first one I've told that.." Yuri loosened the grip as he can't believe that his girlfriend don't seem to believe what he just confessed
"just stop it ok! I hate it! And I want to go home now!" she yelled at Yuri as she walked away, trying to find a taxi, she waved her hand and a taxi stopped in front of her
"wait Krystal! Don't go! Let me send you home!" Yuri tried to chased her from behind when suddenly he been slapped
*SLAP*
Krystal's tears suddenly flows down her cheeks "stop following me! I don't want to see you anymore!!"
Yuri touched his right cheeks that had been slapped "Krystal...please listen to me first.." Yuri pleaded but Krystal wasn't listening instead she told the driver her destination and enter the car
 "no..Krystal..don't leave me.. I'm sorry~"
"ahjussi can you hurry up and drive! please don't listen to him"
"d-dae.." the taxi driver felt sorry for Yuri but he can't do anything about it and followed what Krystal said to him. The taxi driver continued to drive
Yuri screamed in frustration and kicked every object that near him, making people who walk passed by looked at him with a weird face
-At Jessica's penthouse-
SooSica were eating their dinner, Jessica captured a piece of deep fried tuna with her chopsticks and held it out to Sooyoung
"say ahh~" Jessica said
Soooyoung opened his mouth and let her feed him "mm..it's really good" Sooyoung said with his mouth full of food. Jessica chuckled. While the two of them having fun chatting and laughing eating dinner, suddenly they heard the doorbell rang. SooSica stand up from the chair and walked towards the door to open it
"Krystal?" Jessica said
"Unnie~" Krystal hugged her step-sister and began to cry louder
"hey, what's wrong? Are you alright Krystal?" Jessica stroked her hair
"I..I broke up with Yuri oppa unnie.." Krystal said as she buried her head into Jessica's chest
"you guys broke up?!" Sooyoung was surprised
"come on let's get inside first then you tell us ok.." Jessica said as she hold her hand and lead her into the living room and told her to sit while she went to the kitchen to make some tea. Sooyoung sat beside Krystal
"Krystal I'm so sorry about Yuri.. he's really a douche bag for doing this to you" Sooyoung patted her back
"can you tell me how you guys broke up? Did he cheating on you Krystal?" he asked
"..I-I've met with this 4 ladies at the restaurant earlier.. then they told me that Yuri oppa like unnies with tall figure and sexy look not a young girl like me..and they said that Yuri oppa probably only love me because of money"
"they said that to you?! Aissh who is those ladies..?" don't tell me she had bumped into one of his flings?
he continued patting her back "please don't cry Krystal.. I don't think Yuri is kind of a person that love people because of money.. I know him very well"
"I hope you're right.."  she said as tears continue to flow down her cheek "Soo oppa..tell me.. is he really a player?" Krystal turned to look at Sooyoung with teary eyes
"well..." he paused, then continued with a hesitant tone "not since he met you..?"  he didn't know if he answer her question correctly as he also didn't know if Yuri really change
"why do you seem to said it so hesitant?" her tears started to flow down really hard "I knew it.. Yuri oppa is a player.." she covered her face
"shh.. d-don't cry..Krystal.." Sooyoung quickly took out his handkerchief in his right pocket and wiped her tears. Krystal was blushing when Sooyoung wiped her tears away
"that guy.. I promise I will kick his butt when I meet him"
 "you really would beat him up for me Soo oppa?" Krystal look at him
"well,I already promised you right?" he smiled to her
Krystal was blushed again as she was taken away by his beautiful and charming smile
-at Yoona's apartment-
YoonHyun were laughed and talked about a lot of things while walking to Yoona's apartment. As they reached the apartment's door they saw Yuri sitting in front of the door, hugging his knees. Both YoonHyun approached him
"Hyung? What are you doing there?" Yoona asked his brother
Yuri look up to see Yoona and Seohyun were looking at him with a weird face
"Yoona.." Yuri started to flow tears "you have to help me.."
Yoona kneel down and hold Yuri's shoulder "hyung what's wrong? Are you ok?" Yoona asked
"It's Krystal.. w-we..broke up…" Yuri said weakly
"what did you say?!" Yoona's eyes widened as well as Seohyun
YAYY!! SooSica finally can be together without Boram's in their way! *clap clap*  hehe but..this doesn't mean that Soram(Soyeon and Boram) couple is over. i'll still put them in this ff a little as a minor character
wooah YulKrys broke up.. that's what you get when you have almost all ladies in Seoul Yuri haha!
for the next chapter, maybe Sooyoung,Taeyeon,Yoona and Yuri will meet..well i dont know,still didnt decide it yet
final exam is starting next week! please pray for my succes^^ *beg*
thanks everyone~ and wait for my next chapter ok
^ Back to Top