Youngmin's broken heart
by sevana12
Tags b2st beast yoseob you youngmin boyfriendband | Report Content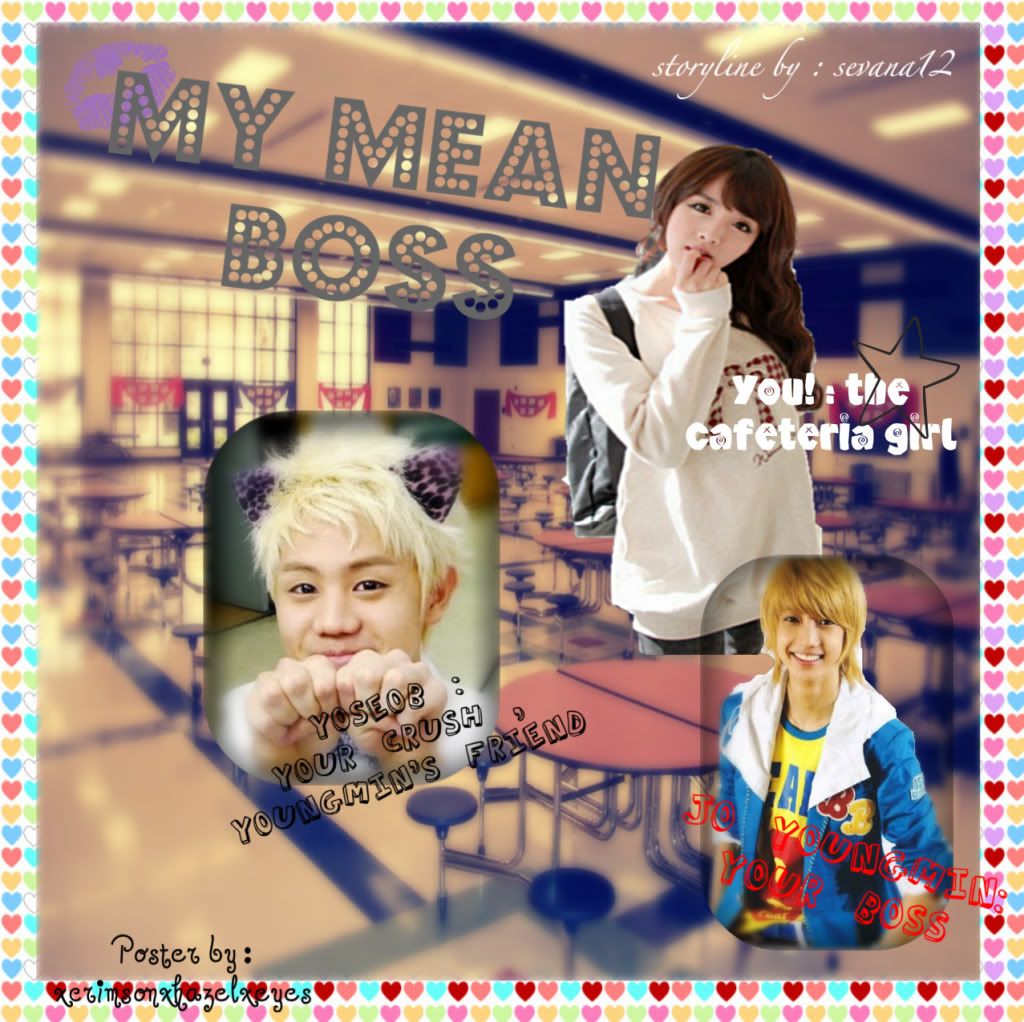 http://www.youtube.com/watch?v=d0eiVJ0cu2k&feature=mfu_in_order&list=UL
--------------------------------------------------------------------------------------------------------
Youngmin wants to deny that he likes you since his heart was broken before by a girl he had been crushing on for years.
-Flashback-
Youngmin was nervous. He waited for his crush at the school's garden. She stepped out of the classroom and was about to leave the school but he stood in her way. "For you" he timidly held out his confession letter. He also gave her a bouquet of flowers. The girl looked at him in disgust. "I will never date you" she hissed and walked away.
Because of that incident, Youngmin was scared to fall in love again.
- End of flashback-
"So how do you want to confess to Yoseob?" he eyed you. You tapped your chin and thought of things that you could surprise Yoseob with. "Maybe I will write a letter for him" you giggled. His mood went down. "That was the exact thing I did last time" he thought. "Can we not do that please" he requested nicely.
You tilted your head and gave him a worried look. "Why?" you deflated your shoulder and scuffed the floor with your sneakers. You gulped in a big amount of air and spoke. "Forget it. I will never be able to confess to him since I'm a coward" you said in a depressed tone. He patted your back to comfort you.
"Don't worry you will find someone better" he said in a comforting voice. "Have you ever fallen in love before?" you perked up. He avoided your gaze and gave you a sheepish laugh. "No" his voice was shaky. You squinted your eyes and he was shaking. "You're lying" you stuck out your tongue and started teasing him.
He rubbed the back of his neck and shook his head disappointingly. "You're too childish" he taunted. You beamed at him and went back to reading your books. He observed you from head to toe. "I can't fall in love with her. I just can't" he ordered himself and looked away.
While you were at work, you were struggling to carry the boxes of utensils into the kitchen. Youngmin saw you but he didn't help. "I should go back to my mean side again. Maybe that will lure her away from me" he made up his mind. You pouted at him and clasped your hands together. "I need help" you begged. He rolled his eyes in annoyance and went into his office.
"What's wrong with him?" you scratched your head and followed him in. "Hello my dear friend" you flashed him your brightest smile and sat on his table. "What do you want?" he said coldly. "You need to experience love. Maybe that will make you change your attitude" you advised him.
"No thanks but the girl I like already loves someone else" he stacked up his papers and started working on them. "Who's the girl?" you leaned closer to his face. You could already feel him breathing. You took a step back from him and you could already feel your cheeks heating up. "I'm sorry about that. I'm too nosey" you stammered.
He shook his head awkwardly and motioned for you to leave the room. Your heart was beating wildly. You clutched your chest and tried to calm yourself. "What's this feeling?" you asked yourself.
^ Back to Top