Company
by sevana12
Tags b2st beast yoseob you youngmin boyfriendband | Report Content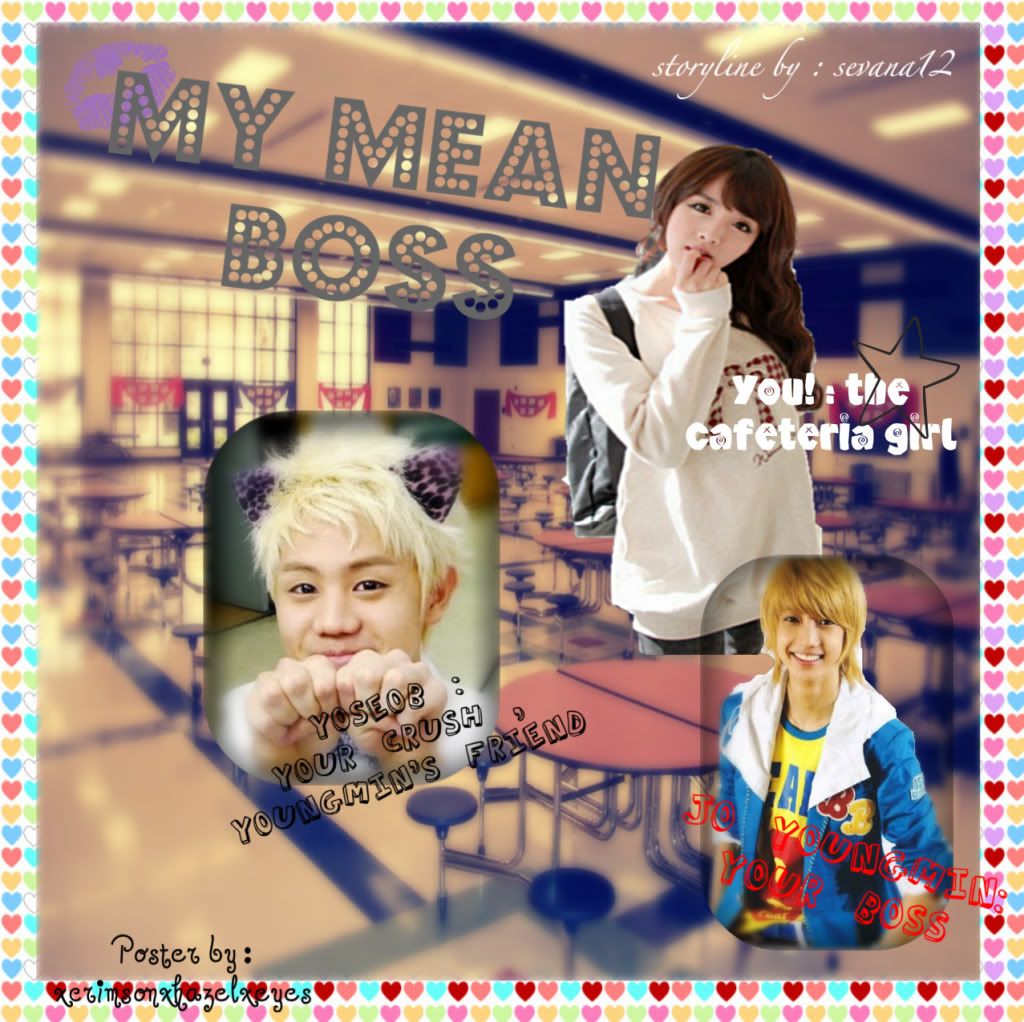 http://www.youtube.com/watch?v=YHrv9vHRk90
--------------------------------------------------------------------------------------------------------------------------------------
"Where do you want to go next?" he asked
"I don't know" you stuttered
"Let's go rent bicycles" he tugged on you and dragged you away
He helped you hop onto your bicycle. You were unstable since it was your first time riding one. You couldn't balance yourself on the bicycle, and eventually it toppled over.
You fell on the ground and scraped your knee. Youngmin quickly rushed to your aid and blew onto your scraped knee.
"Are you okay?" he asked, worried
You nodded eagerly and beamed at him, "Don't worry I'm fine"
"I'll carry you home" he insisted and carried you on his back
"I don't know why but I'm always being carried by you" you giggled and twirled his hair around your forefinger
"Maybe because you're clumsy" he replied back, smiling
"How's your father?" you asked solemnly
"Let's not talk about him" he said flatly
"Let's at least visit him for a while" you muttered
"Fine" he exhaled out deeply and headed to the hospital
The two of you arrived at his father's ward. His father was still unconcious
Youngmin placed you gently on the seat next to the bed and you looked pitifully at his father
"This is all my fault" you sighed
"Don't say that" he patted your back and ruffled your hair
His father's finger moved slight and he slowly lifted his eyelids. You were startled and shocked
His eyebrows furrowed upon seeing you
"What is she doing here?" he fumed
No response
"Get out!" he raged
You scurried out of his ward and leaned against the wall. You slapped both your cheeks until it left a red handmark on your delicate skin. Youngmin grabbed both of your wrist and tried to stop you
"Stop it. Don't hurt yourself" he said in a low voice
"I should just go" you stammered and walked away
Youngmin watched you limp away from him
"I guess we're not meant to be together after all" he said in his head
You opened the door to your house and looked around. You felt guilty and depressed
"I should save up and resign as quickly as possible" you said, determined
You ran up to your room and peeked inside the can drawer you kept all your savings in. You counted every cent and bill.
Your eyes grew wider, "This is enough to pay all my father's debts"
"I should resign and look for a new job" you muttured to yourself
Meanwhile in the hospital, Youngmin and his father is discussing about his father's company
"I want you to take over when I pass away" his father said weakly
"What. I can't yet I'm too young. I still have to attend school!" Youngmin protested
"Just listen to what your father say" his father bossed
"I guess I have no choice then" Youngmin said, depressed
"I also have something to tell you" his father broke the awkward silence
"What is it?" Youngmin said, uninterested
"The company actually belonged to ~~~'s father. He wanted her to take over before he died but I was able to steal it away from him before he passed away that is why she is full of debts right now"
"What?!" Youngmin's jaws dropped
"You better not let her know or else" his father threatened him
"But that company belongs to her not us" Youngmin hung his head low and wrapped his hands around the back of his neck
You were looking out the window at that time. Gazing at the stars and staring at the night sky in awe. You were resting your head on the back of your hand. A strong wind blew and a piece of paper flew out of no where. It landed on the window edge

You picked it up and read the contents. Tears were rolling down your rosy cheeks while you were reading it. It was your father's will
"That company actually belongs to me" you gasped in horror
You were having a sleepless night. You didn't want to take away the company from them.
"I'm so confused" you pulled your hair in frustration and cried your heart out
--------------------------------------------------------------------------------------------------------------------------------
Sorry if I didn't update much yesterday
I was dealing with something yesterday
^ Back to Top