Despise Him
by omgitslara
Tags 2pm iusinger jiyeon taeyeon woou wooyoung iuxwooyoung | Report Content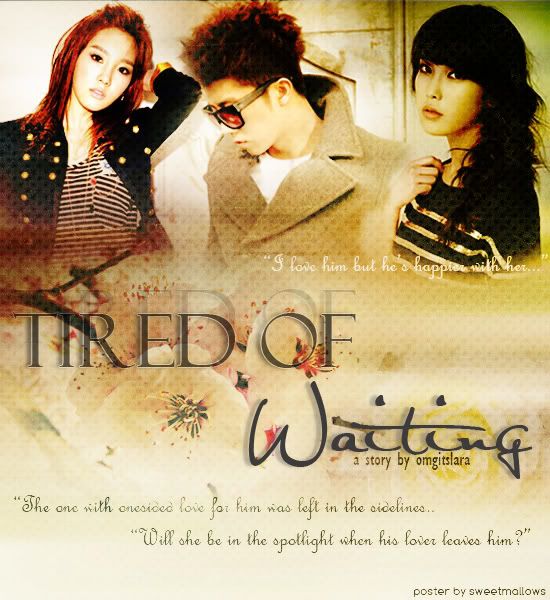 Ji Eun's POV:
After he had said those words I had fallen asleep I woke up Wooyoung wasn't next to me anymore. He left. Well he should've at least said sorry! My back is killing me for carrying him yesterday.
Why was I still affected by what he said? Its not like I still like him, aish don't tell me I've fallen again! I touched my lips, and remembered when he kissed me, I started blushing again.
NO, Ji Eun not again. You do not like him even if he doesn't have a girlfriend anymore NO. I am going crazy.
I looked at the calendar tommorow was school, today was last day of Spring Break.
My mom entered the room and said.
Ji Eun's Mom: Aigoo. Ji Eunah I was scared that you didn't come home last night why are you sleeping here in the guestroom?
I can't believe she didn't notice Wooyoung leaving the house.
Ji Eun's Mom: Ji Eunah?
Ji Eun: Oh nothing mom, its because this bed seems like a waste since no one ever sleeps in this room, haha.
Ji Eun's Mom: Oh thats right Ji Eunah! You should sleep in this room every now and then okay? 
Ji Eun: Oh arasso.
But this bed sucks. .I shouldn't have lied to her.
*Next Day*
Ji Eun: Jiyeon!
Jiyeon: I've missed you Ji Eun! -hugged eachother-
Ji Eun: What classes did you get do you have Language Arts for 1rst period?
Jiyeon: AW, no I have Social Studies. Well we gotta go to our classes Ji Eun we can't be late see you at lunch! Bye!
Ji Eun: Bye bye Jiyeon! 
I suddenly saw Wooyoung pass by me.
Ji Eun: Hi Wooyoung! 
Junho: Wooyoung who's that? Hello there miss! -flirty way-
Wooyoung: I don't know, lets go. -looks at her harshly-
Ji Eun: What the? Whats wrong with him?
*2 Weeks Later*
Jiyeon: Ji Eun are you okay? You seem mad really mad.
Ji Eun: Wooyoung is. . .THAT BASTARD IS BEING A REAL PAIN IN THE ASS NOW HE'S EVEN MAKING ME CUSS NOW, YAHHHH I REALLY AM GOING CRAZY BECAUSE OF THIS I SWEAR IF HE EVER BUMPS INTO ME OR EVEN MAKES ME LOOK STUPID IN CLASS, I SHALL TAKE A STAND!
Jiyeon: Ji Eun you're so cute when your mad! Don't worry I'm sure he has a reason. 
Ji Eun: A stupid reason. -whisper-
I saw him walks past us again and said.
Ji Eun: Ruined my day already.   
Jiyeon: Be nice! 
How can I be nice? I DESPISE HIM!
Author's POV:
Ji Eun has changed her feelings for Wooyoung now that he's acting like a jerk she hates him. Ji Eun isn't the type that is nice no matter what. If you're mean she'll be mean back and Wooyoung has proved that reason.
Wooyoung being a jerk has made Ji Eun forget how nice he use to be last year. Will these two even fall in love with eachother?
^ Back to Top