The Winner
by hagocimit
Tags bombae dara daragon gdragon jaedara jaejoong sulli | Report Content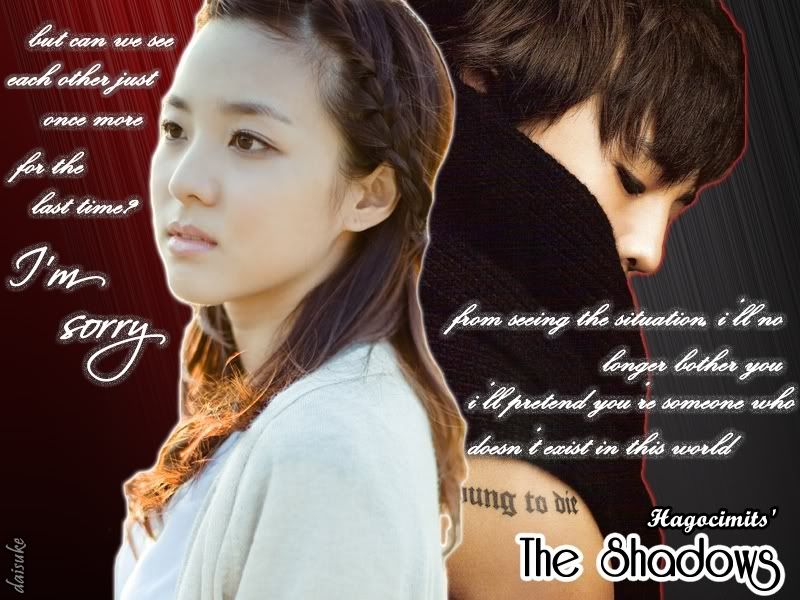 Bom stood motionless and Youngbae felt that. It was as if he was kissing a statue. It didn't just hurt, it damn hurts but he can't do anything about it. He could only wish and hope and maybe even pray that someday, Bom will learn to reciprocate his feelings for her. So right after the door appeared, they quickly separated.
On the other hand, CL and Seungri were also making progress in the maze. They were only slowed down with their arguments and usual bickerings.
"When will you ever stop being a jerk?" CL hissed.
"I really can't understand what's your problem with me" he said out of exhaustion. "You were never like this to me before"
"Well, because you became worst than – oh!"
"What? Seungri asked, bewildered.
"We're here. We found it already" CL said in disbelief. "I didn't even notice the time"
"I guess arguing with each other kills time" Seungri shrugged as he walked to the center and took the clue. "Hey look, there's one clue left. It means we're running for second place. I – hey, what's wrong with you?"
"Huh?" CL asked blankly.
"You look pale" he noticed, frowning. "And why are you just standing there?"
"I . . . ."
"Huh? You what?"
"I can't. . ." she shook her head. "I don't think I can. . . ."
Seungri's frown deepened. "What are you talking about?"
CL shook her head again, which unnerved Seungri for her never saw CL like this before. He was about to ask her what's wrong when he finally realized something. Upon realizing it, a playful smirk curved his lips.
"Oh, I get it!" he said. "You're scared of the kiss"
o=o=o
CL closed the distance between their faces but she suddenly leaned away from him. She scooted down and covered her face with both hands.
"Gah!" she groaned. "I can't do this!"
"Then we'll get stuck here forever, just you and me" Seungri taunted. "If you can't do it, then I'll take the lead"
"Oh no, no, no" CL stood up, shaking her head. She moved away from Seungri with her right hand held up in front of her. "Don't you dare go near me!"
"How do you think we're going to get out of here?!" Seungri impatiently burst. "Come on, CL. It's just a kiss! Though I must say that this would be the most humiliating and disgusting moment of my existence, I don't really have a choice, do I?"
"Why you. . . .!"
"Let's just get this over with" he growled and marched towards her. He grabbed her by the shoulders and pulled her to him.
CL's eyes went as wide as they can be. Shock made her freeze on her spot. She blinked a couple of times before pushing him away. "Ya" she bellowed. "What do you think are you doing?!"
"Trying to get ourselves out of here"
"But-!"
"Trust me, I don't want to kiss you either"
"You can't just kiss me like that without asking for my permission! That's called assault, you imbe-!"
Annoyed and irritated, Seungri pulled her to him again to shut her up. The girl struggled, making him tighten his hold on her. He was fierce at first but upon realizing that fierceness couldn't tame the girl, he went for gentleness. And just as he thought, CL stopped struggling. Her arms went limp on his shoulder while her lips yielded to his command. He felt good because for the first time, the bossy girl surrendered to him.
He would be a hypocrite if he'd say he's not enjoying the moment. He had kissed CL before, back when she wasn't this difficult. That was the time when Bom ordered them to pretend as a couple in front of Youngbae. He actually thought that their pretense would eventually become real, but he was wrong. The girl bluntly rejected him.
He cupped her face and slowed down his pace. "Chaerin" he whispered.
Upon hearing her name, CL automatically froze then pulled back. She glanced around and saw the awaiting door. Without saying anything nor glancing at him, she headed towards the exit.
Meanwhile, Dara woke up with a start. She looked around, confused at first. "YA!" she shook Jiyong as she remembered where they were and what they were supposed to do. "Aish! Why did you-? Oh, never mind! Let's get going"
Jiyong lazily stood up and stretched. Assuming that they're already last, he led Dara to the right way this time. Upon taking the clue, there was a sudden air of awkwardness between them.
"Let's make this quick" he said, catching her chin in his thumb and forefinger. Dara's eyes automatically closed while her lips parted slightly, anticipating the feel of his lips on hers.
And when their lips did touch, a gentle sigh of contentment escaped her. It was just a single stroke of his lips, like he was testing. He pulled slightly away and looked at her. Seeing her eyes still closed and her lips slightly opened, he went to claim her lips again.
The kiss started slow, gentle even. To deepen it was inevitable, especially with the way they were both responding to the kiss. The way his lips covered her bottom lip, nipped on it and sucked on it; the way he moved his lips from her bottom lip to her upper lip; the way he conquered hers; the way their tongues danced added fuel to the fire building deep within them.
Dara felt it. She felt the tension building in her tummy. Feeling weak, with her knees going jelly, she grasped his hair and hold onto it, pulling him closer at the same time to deepen and intensify the kiss even more. His arms, on the other hand were wrapped around her waist, holding her prisoner.
The door, which appeared seconds ago was left unnoticed and forgotten for both were trapped in their own world, both were savouring the wave of pleasurable sensations washing over them. The kiss even deepened, to which the both of them approved accordingly.
The watcher, in his crow form appeared and gave a loud screech. But just like the door, he was left unnoticed, ignored. The two were now starting to travel their hands wherever they can reach. The watcher screeched again but it's as if the couple went deaf for he was ignored for the second time. He doesn't really have to stop them. Actually, he could just stay there and watch them continue their rendezvous and wherever it may lead them. He was just a watcher, anyways. The problem is, he placed a bet on the pair, so he can't allow them to give in to their desires just yet.
Dara, who stayed oblivious on what's happening around her, ran out of breath. She pulled away for a moment to get a mouthful of air. But soon after, both of them sought each other's lips again. A sharp pain suddenly hit her shoulder, making him pull away and looked around. She s\aw the crow flying around. The bird then dived towards Jiyong and clipped his shoulder, too.
"I think he wants us to leave"
"I think so, too! Jiyong nodded.
o=o=o
"Too late huys" Seungri said. "Bom and Youngbae already won"
"What took you so long, anyways?" CL asked.
The two glanced at each other. Dara blushed then bowed her head. "We were. . . we were. . . ." she stammered.
"Oh never mind. I think I already know" CL snorted, making Dara blush deeper.
"I told you, you were going to lose" Bom said in a mocking tone. Dara looked up.
"I guess I was wrong" she smiled. "Congratulations, by the way" she added. For some reason, she didn't feel defeated.
"Losers will always be losers!
"That's the game. You win some, you lose some. I had fun with Jiyong. Did you have fun with Youngbae?"
Bom's face fell. Seeing this, Dara can't help but feel proud of herself. Finally, she was learning to step up.
o=o=o
"Ah, I feel so tired" Dara said, slumping on the passenger seat. She let Jiyong drive the car. "I'll take a nap. Wake me up when we're home already, okay?"
Jiyong drove down along the road quietly. He savoured the silence surrounding the car. It's been a while since he ad a quiet environment. Ever since the girl entered his life, a lot of things changed.
He was a few feet away from Dara's house when he saw Jaejoong right in front of the house, leaning on his car. Jiyong straightened up in his seat as he closed the distance between them. He pulled to a stop a foot away from the other guy's car. He then gently shook DAra.
"Your boyfriend is here" he informed her.
"W-what?" Dara asked in bewilderment.
"Jaejoong's right in front of us"
Dara straightened up, her eyes automatically narrowed. "Stay here. Let me handle this on my own"
"I wasn't planning to meddle"
Jaejoong's face brightened up as Dara stepped out of the car. But his smile automatically disappeared upon seeing the look on his girlfriend's face.
"Dara" Jaejoong pleaded. Dara gave him a dark look first before marching towards him. She gave him a sharp slap in the face. And then, sge started shouting at him, making him flinch every now and then.
". . . . . NO CALLS, NO MESSAGES, CANNOT BE REACHED! AND YOU EXPECT ME TO WELCOME YOU BACK WITH OPEN ARMS AND ENTHUSIASM? IT'S AS IF I DON'T HAVE A BOYFRIEND!!!!"
"Dara, please listen to me first"
"DO YOU EVEN KNOW HOW WORRIED I WAS? OR WHAT'S HAPPENING TO ME?!?! OR DO YOU EVEN KNOW. . . .?!?"  she screamed and went to rant again.
"Hey, spoof girl. Lower your voice down. You're putting the whole neighbourhood on alert" Jiyong entered.
Dara looked around and found out that some of her neighbors were watching them. She fumed, curling her fists into tight balls.
"I don't want to talk to you!" she turned to Jaejoong. "If you know what's good for you, stay away from me for a while"
"Err, you did deserve that! Jiyong said as soon as Dara went inside her house.
"I know" Jaejoong sighed. "So, did something happen while I was gone?"
"There were a few events" he shrugged. "But as you can see, she's still alive. But if the shadow will continue playing with her body, she'll eventually die. I'm actually quite surprised with her. Her body got a great endurance"
"That's exactly the reason why I was away. I did some study, some research. You know very well that personal belongings aren't allowed inside the research-"
"I know" Jiyong nodded.
"Of course you do" Jaejoong quietly said. "Since you're one of the designers of the facility"
"You did a research on me?!?" he asked in disbelief.
Jaejoong shrugged. "I found out a few interesting things about you"
"Just keep it to yourself then because I haven't told anyone about it. And I prefer it that way"
"But why?" he asked. "You could have been trained and educated. You're stronger than me if you only know how to use your abilities properly"
"I decide on what I do with my life so just butt off. Here's your phone by the way"
"Keep it" Jaejoong said. "For backup purposes in case Dara's in trouble"
"You're already here so why do I have to watch over her?"
"As you heard, she doesn't want me to go near her for a while"
"So, what did you find out?" Jioyng changed the topic.
"It's quite complicated"
Jiyong smirked. "I know about the existence of the masked shadows"
"How did you. . . .?"
"I had my sources and besides, there were whispers about hem before, stories even" Jiyong shrugged. "So, how do we defeat a masked shadow?"
Jaejoong heaved a big sigh. "Only a masked shadow can defeat a masked shadow. Even the highest rank and someone from the direct line like won't stand a chance against a masked one"
"That sucks and I don't want my background being mentioned here" Jiyong gritted.
"Shouldn't you be proud of who you are? Any shadow would want to be from the direct line"
"Are you being stupid?" Jiyong laughed. "We're half-evil. Do you think I should be really proud to be in the upper ranks out of all the half-evil population?"
Kwon Jiyong Kwon Jiyong Kwon Jiyong
"Your girlfriend made that as a ringtone" Jiyong explained. "What?" he then answered the phone.
"Where are you?"
Outside your house" he answered.
"Oh. Is Jae still there?"
"Yep"
"Tell him to leave"
"Why don't you call him and tell him that yourself?" he grimaced.
"I don't want to talk to him!" she whined. "Just tell him to leave then you get inside"
The call ended. "She wants you to leave"
Jaejoong sighed. "I guess I should"
"So, what are your plans now for your girlfriend?"
"I'm still working on some stuff and studying ways on how to protect her"
--------------------------------------------------------
*a/n: aigoo.. i'm not really a big fan of riddles.. so, i'm sorry if they sounded pretty lame...
Adavance happy new year, by the way..
LET'S GO FEED TROLLS SOME POISONED APPLES!! hehe
^ Back to Top