2

Silently loving a mafia prince

by angellight28
98 subscribers | 6517 views | Updated | Created
Tags jessica jonghyun minho minyul shinee yuri jonghyunxjessica | Report Content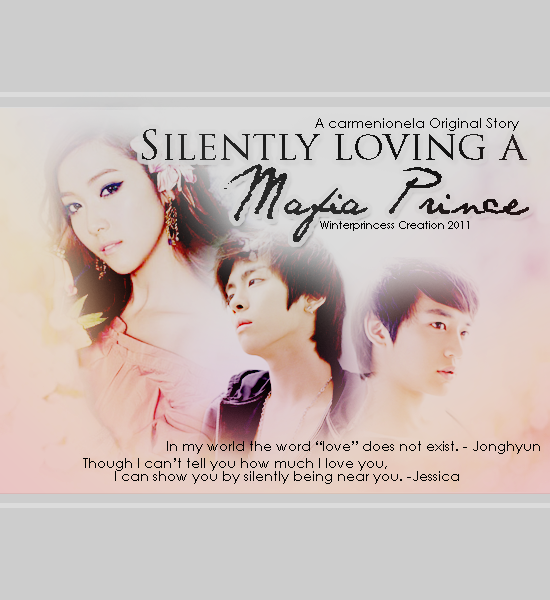 Description
1.      Jung Jessica
    19 years old girl currently attending SM University majoring in arts.
  She is mute.
   Because she hates to be pitied Jessica acts most of the time cold towards people, but in reality she is a very sensitive girl.
   Because of her inability to communicate she doesn't have any friends apart from a childhood friend named Kwon Yuri that is currently living in China.
   Jessica is very talented at drawing.
2.      Kim Jonghyun
   is the son of the biggest Mafia Boss from Seoul currently attending SM University majoring in business.
    Jonghyun is 21 years old and has a younger brother called Key and a step-brother called Minho and is cousin with Onew and Taemin
   he is cold towards people because is aware that in his world there is no place for love.
    he knows that he is the next successor therefore he threw away all his dreams.
    he hates his father's lifestyle and all he wishes that he would be able to live a normal life.
3.      Choi Minho
   Jonghyun's and Keys little step- brother ,a 20 years old guy that is the result of a one night stand between his father and a waitress, he is currently attending SM University majoring in Informatics.
    He was raise by his mother until at the age of 15 then after his mother's death he moved in with his father.
   He has a bad relationship with his brothers and his only friend is Taemin.
    His only goal in life is to be acknowledged by his father and for that he is willing to do anything
    he is silent, cold and harsh with himself, all he cares about is to become the son that his father would be proud of therefore all he does is to train himself to become stronger.
4.      Kim Kibum/Key
    Jonghyun's little brother by one year currently attending SM University majoring in Business
   He loves his brother and his cousins genuinely and hates his step- brother whom he considers an intruder.
   He would do everything to protect the people he cares about even though in reality he can't do it very well because he sucks at fighting
  Because of his brother he always lived more freely so he actually has a dream, he dreams to become a well-known fashion designer.
   Despite that he is not a great fighter his biggest skill is his ability to pursue people in doing what he wants. He is very talkative and perfectionist in all he does but has a big problem which is that he is very conceited.
5.      Lee Jinki/Onew
    Taemin's older brother and cousin with Jonghyun, Key and Minho, 21 years old guy currently majoring in Law.
    He is a very kind and calm person, despite the fact that he was brought up in a bad environment. He dislikes violence therefore he does his best to avoid it.
    Onew, just like Jonghyun is supposed to continue his father's "business" therefore he gave up to his dream of becoming a well-know chef because he is aware that if he gives up to his position then his younger brother will have to take over the "business".
6.      Lee Taemin
    Onew's younger brother, a 18 years old boy currently studying at home.
    At the surface he seems a loud, cheerful person but in reality that is only a cover to hide away his feelings of guilt towards his brother who gave up on his dream for him.
    He loves dancing, and strives to become the best so that he could make his brother proud.
7.      Kwon Yuri
     Jessica's only friend, currently living in China due to her being part in the exchange student program.
    She is a 19 years old girl, that aspires to become a well-known model, and she seems to have many chances because she is very beautiful.
    She can steal every man's attention yet she refuses to fall in love.
Foreword
A special thank you to Winterprinces from rainbow-fountain request shop  for the very beautiful poster and background.
Thank you very much and good luck!!!
Tweet
^ Back to Top