Chapter 16
by leinifaha
Tags 9pm jessica jonghyun minho minyul snsd yuri | Report Content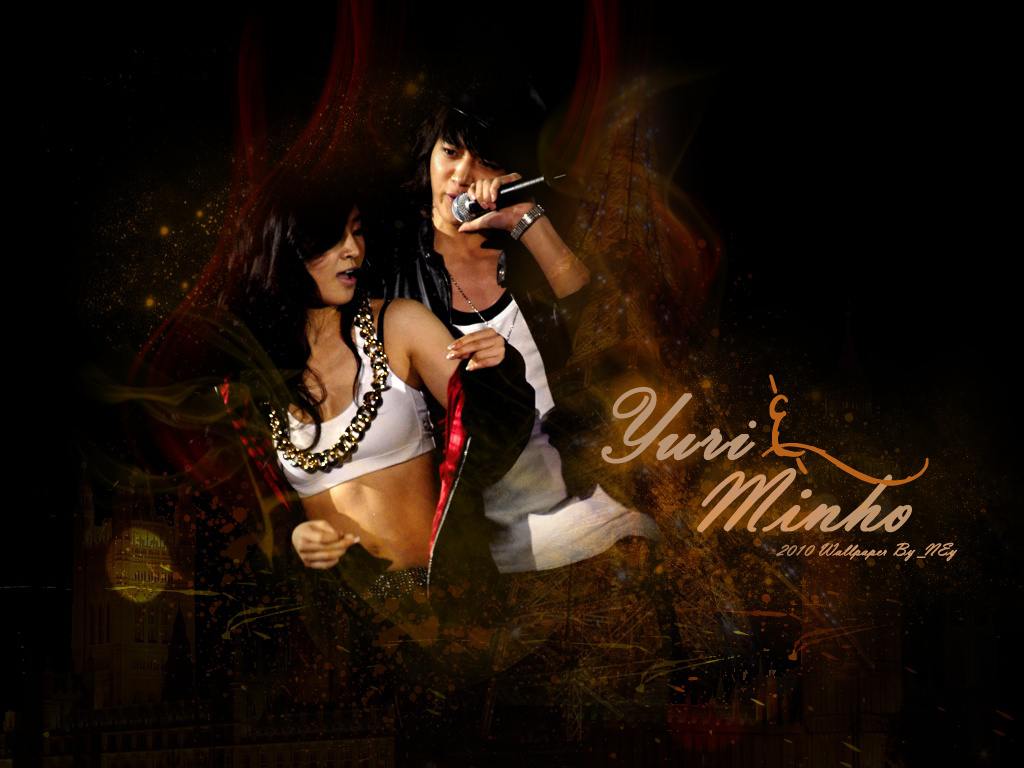 "Okay who's coming with me to shop for the barbeque?" Sooyoung exclaimed
"Hyoyeon and I will!" Seohyun said cheerfully
"Okay, lets go we got alot of shopping to do." Sooyoung remarked grabbing her bag and keys.
Meanwhile Tiffany and Yoona were cleaning the lounge and kitchen. Yuri and Taeyeon were outside sweeping the barbeque area.
"Taeyeon, I'm really sorry about the other night I jumped to conclusions and I went way too far."
Taeyeon nodded "Its ok love makes us do crazy things."
Yuri smiled "Unnie have you ever been in love?"
"No but i hope that one day i can be as happy in love as you are with Minho." Taeyeon remarked
"Ahh don't worry you will be I know there's a special guy waiting out there." Yuri  walked up to Taeyeon hugging her.
"I hope so, my main priority is you and the girls." Taeyeon beamed
"We can't be forever though."
The two laughed and embraced.
Meanwhile Tiffany and Yoona were fighting about who had the better boyfriend.
"Taecyeon is better than Wooyoung because he's the beast of 2PM!" Yoona screeched
"Who would want a beast as a boyfriend Wooyoung is caring and gentle!" Tiffany poked her tongue out
"So is Taecyeon!"
Jessica stood there shocked at the two arguing about the most stuipidest things. "Both of you shut up it doesn't matter who's better now get back to cleaning, the others will be here soon!"
"Yeah but Wooyoung is much more adorable,." Tiffany muttered smirking at Yoona
Yoona threw a cushion at Tiffany's direction and in seconds the two were in a massive cushion fight.
"Wait till Wooyoung arrives and we shall see who wins." Tiffany hissed hitting Yoona in the head with the pillow
Jessica walked out laughing at the two.
Ring ding dong. Sunny ran to open the door, glaring at Yoona and Tiffany who were still fighting.
"Annyeong boys, come in." Sunny smiled at the 2PM boys.
"Taecyeon is better!"
"Nooo Wooyoung is better!"
Sunny covered her face while Taecyeon and Wooyoung laughed at the two girls.
"Hey they're fighting over who's the better boyfriend." Nichkhun remarked
Sunny clears her throat. Tiffany and Yoona both yell "Not now Sunny!"
The two continue hitting each other with pillows until Sunny whistles.
"Shit." Yoona mumbled
"How long have you been standing there for?" Tiffany narrowed her eyes
"Long enough to see what you girls are fighting about." Junho laughed
Yoona and Tiffany blushed. "This is awkward."
"Okay now that you two have stopped fighting clean up the lounge and make our guests feel welcome." Sunny remarked
Wooyoung walked over to Tiffany "That was really cute."
Tiffany giggled "Really?"
Wooyoung nodded
"Where are the rest of the girls?" Chansung asked
"Outside and shopping."
Taecyeon and Junho walked into the kitchen putting their dishes of food on the bench.
"We're back!" Seohyun yelled barging through the door with a handful of bags, Chansung immediately jumped up and ran to help her.
"Here let me help you." Chansung grabbed the bags of Seohyun, smiling
Junsu and Nichkhun exchanged looks.
"Sooyoung stop eating in the car and get the rest of the bags in here!" Hyoyeon screamed from the door
Junho and Taecyeon walked out to help with the bags.
"Is there anything we can do?" Wooyoung asked Tiffany
"I don't know, lets go and ask Taeyeon she's outside."
Yuri walked into the lounge happily greeting everyone.
"Hey guys!" Yuri smiled
"Hey, Yul whens the wedding?" Nichkhun joked
"Very funny, I don't plan on getting married anytime soon but thanks." Yuri chuckled hugging Nichkhun.
"Yul we got the meat for the barbeque!" Hyoyeon exclaimed walking in with Junho
"Okay, the others should be here soon." Yuri replied
"Do you boys want something to drink?" Sunny asked
"Water would be fine thanks." "You got any beer?" "Whiskey please?"
Sunny glared at the boys who were chuckling. "I'll see what we have." she then smiled
"Okay i'm heading outside to start the barbeque, anyone else wanna come?" Yuri asked
"I'll give you a hand." Nichkhun replied "Cool follow me."
Hyoyeon Taeyeon and Sooyoung were in the kitchen prepring everything for the barbeque while everyone else was in the lounge talking.
"Nichkhun can you please pass me the matches?" Yuri asked
"Let me do it." Nichkhun remarked
"Okay since you want to."
"Sooo everything between you and Minho is good now?" Nichkhun glanced at Yuri
"Yeah i couldn't be more happier."
"I'm happy to hear, if you ever need anyone to talk to I'm always here for you." Nichkhun put his arm around Yuri who mouthed a thank you.
Meanwhile Shinee, and some of the Super Junior members arrived.
Everyone greeted each other sincerely and gathered into the lounge.
Jonghyun went and sat beside Jessica, while Onew and Taemin marched into the kitchen to help the girls out and Key sat with Seohyun Junsu and Sunny. Minho glanced around the room for Yuri.
"Hey Yoona where's Yuri?"
"Oh i think she's outside on the porch." Yoona smiled
Minho walked toward the porch sliding door excited to see his new girlfriend, he stopped and saw Yuri and Nichkhun playfighting.
"Nichkhun that sauce is for the chicken not for my face!" Yuri laughed fending Nichkhun away
Nichkhun grabbed the napkin and wiped the sauce off Yuri's face. "She's so cute." Nichkhun thought
"Great it's in my hair too!" Yuri groaned
Nichkhun wiped the hair off Yuri's face, the two were locked in a gaze, Minho's heart shattered at the sight of the two. "She's suppose to be mine." Minho thought clenching his fist. Minho couldn't help but be upset Nichhun and Yuri actually looked like a couple.
Yuri grabbed a napkin "Its ok i can do it myself." she half smiled at the awkward situation, Nichkhun chuckled nervously and went back to placing the meat on the BBQ grill.
Minho walked off annoyed without even walking in to greet Yuri.
"Did you see Yuri?" Key asked looking at Minho who was sitting dwon with his arms folded.
Minho ignored Key and walked into the kitchen. "Minho! Come i need you to quickly rush to the store for me I forgot the cooking oil." Sooyoung fretted
"Yeah because you were too busy eating all the free food samples." Hyoyeon snorted
"Mmm yeah i guess." Minho mumbled
"Mwoh whats wrong with you dongsaeng?" Sooyoung asked frowning
"Nothing don't worry, which store?" Minho asked
"Yuri knows, I'll go get her." Sooyoung ran off before Minho could talk.
Sooyoing walked outside to get Yuri
"Yul can you please go with Minho to get the special olive cooking oil? Your the only one who knows which store and what brand I don't want him getting the wrong one?"
Yuri's eyes widened "Minho's here?"
Sooyoung nodded "Yeah i thought he came out here to see you?"
Yuri looked at Nichkhun "No he didn't."
"Okay well Nichkhun can you please take care of this I'll grab the others to come help arasso?" Sooyoung grabbed Yuri's hand and led her inside
"Hey Eunhyuk, Siwon,Junsu and Key get outside and help with the BBQ!" Sooyoung exclaimed with her hands on her hips
"Why don't you do it yourself?" Key hissed
Sooyoung froze and glared at Key, while the rest of the boys scurried outside.
"Key, I mean it." Sooyoung eyes widened
Key rolled his eyes and walked outside.
Yuri entered the kitchen and ran up to Minho "Oppa your here!"
Minho ignored Yuri and walked out the door, Hyoyeon stared at Yuri "What did you do?"
Yuri shrugged her shoulders and ran after him "Minho whats wrong?"
"Just get in the car lets go."
The whole ride to the store was awkward, Minho didn't say a word to Yuri and Yuri was afraid to speak. They arrived at the store and Yuri went to the aisle were all the cooking stuff was.
"Ahh there it is." Yuri whispered
Yuri walked up to the counter and bought the oil. She walked back to the car and spotted Minho standing outside waiting.
"Minho I'm not getting back into the car until you tell me whats going on." Yuri remarked folding her arms
Minho took a deep breath, "Do you really love me?"
Yuri rolled her eyes "Yes of course i do."
"I don't believe you, I saw you with Nichkhun playfighting outside." Minho said coldly
"Is that illegal to playfight with a friend Minho? Nichkhun is only a friend." Yuri shook her head
Minho turned his back. "I think your jealous?" Yuri chuckled
"Pfft jealous? no threatened yes, Nichkhun is much more adorable than I am, He's better looking, every girl in Korea wants him I mean why wouldn't you?"
Yuri hugged him from behind sighing "Because your the only one I want."
Minho smiled turning around "You really mean that?" Yuri nodded "Yes, besides there's one thing you do so well that Nichkhun can't."
"Really whats that?"
 "Your rapping skills, your rapping is totally sexy." Yuri winked at Minho who couldn't help but smirk.
"Now come on, Sooyoung needs this quick." Yuri dragged Minho towards the car
---
 Yuri and Minho arrived back at SNSD's place to find Fx had just arrived.
Yuri greeted Victoria, Amber and Sulli.
"Where are the others?" Yuri asked
"Krystal and Luna are outside." Sulli smiled
"Okay lets all go outside to where everyone is." Yuri ushered the girls outside
Hyoyeon was in the kitchen quickly getting all the paper plates and utensils out.  Junho snuck up behind Hyoyeon grabbing her waist.
"Yahh!" Hyoyeon jumped and turned round to see Junho laughing
"Very funny." Hyoyeon remarked
"I missed you." Junho whispered in her ear hugging her tightly
"I missed you too, now help me with this and take all of these plates and napkin outside."
Junho leaned in pouting "Not without a kiss."
Hyoyeon quickly kissed him and pushed him towards the porch.
"Okay everyone I would like to make a toast!" Eunhyuk exclaimed holding his glass in the air
"Now today is a very special occasion ,not only are we celebrating finally the acceptance of SM idols dating but are gathered here to celebrate and acknowledge Minho and Yuri's love for each other, Minho you better watch your back because Yuri has a thing for me."
Everyone erupted into laughter "Don't forget to invite us to the wedding!" Taecyein yelled
"Shotgun maid of honour!" Heechul squealed
"To Minho and Yuri!" Everyone cheered and clanked their glasses.
"Now lets eat!" Sooyoung stood up "Everyone help themselves." Taeyeon smiled
Yuri looked up Minho who was staring at her and mouthed "I love you."
Minho pulled her in and kissed her on the forehead. "I love you too Yuri."
---
Here's the update, not much Jongsica but that will be in the secind part of this chapter :)
^ Back to Top