O02.
by snowqueen
Tags changmin korean romance | Report Content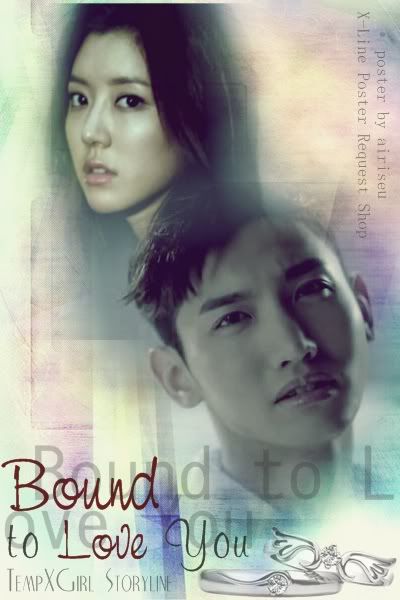 "ChangMin is gone?"  NahRi touched the empty space, and saw a sticky note. Her red eyes scan it, as she read five simple words. 
Meet me at the river.  
Something is a little strange, here. She thought to herself. Leaving the bed, and she rushed to the bathroom to took a quick shower, then head out. She got off the bus, and made her way to the river. 
ChangMin was standing with a backpack in his hands. The feeling felt so strange and scary. He turned around, and saw NahRi. 
He grabbed her hand, and dragged her in the woods. NahRi began to feel terrified. His hand gripped tighter as they reached the warehouse, down the woods.
"I'm really scared. ChangMin were are you taking us?" She whimpered. He didn't give her an answer. 
They both stopped as they got into the entrance of the warehouse. The door was widely opened. 
Something is wrong! I need to run! Her mind was telling her to run. But she couldn't, her feet didn't allow her to move. Like, something had glued her to the ground. 
ChangMin didn't let go of her hand yet, they both entered. A group of gangs gathered and approached them. 
"Uh." NahRi said, as she was pushed to the ground by the person who she loved most. ChangMin. He through the backpack on the ground, creating dust raise. 
"She's none of my business anymore." He stated. He turned away, but NahRi held onto his leg. 
"How can you do this to me! You said you loved me! I trusted you." NahRi cried. 
"Loving you was just a show! I never did loved you once." He snarled. Trying to hold in his tears and his lies of words. He heard her crying. 
ChangMin jerked his leg away, and began to walk forward. 
"Don't you dare leave me behind. Please...please don't leave me!" She shouted.
ChangMin never looked back, and closed the double doors, as he left the entrance. 
"NahRi, forgive me..." He said, as he gathered himself leaving NahRi forever. 
"Let's get to business." One of the bulky said, as he had a rod in his hands. Two men began to circle NahRi. NahRi started to cry scooting back. 
"Aww. Our little princess is crying. Don't be scared. Hahaha. You're so stupid trusting ChangMin." The guy with a bold said laughing. 
One of the guy, snatched her leg, and stepped on it. 
"You're not going anywhere until we're through with you." The shorter guy smirked. She shoved her leg up, and kick the guy in his between. 
"AHHH! F*CK!" He shouted in pain! He madness in his eyes were red. He grabbed NahRi by her hair, and pulled her head back. With tears running down the corner of her eyes, she spit at the guy's face. 
Causing him to send a punch on her face, "Huh, how you like that?" Second punch, blood came gushing out of her nose and mouth. He threw her weak body on the ground, and kicked her stomach multiple times. 
"Ahhh!" NahRi laid on the ground, breathless. With another hit, on her leg, she felt a bone crack. It hurt so much that, she couldn't scream. Her face was hiding away with pain. 
"Your stupid boyfriend used you to get money from you. For us, to free his family. And, with you---we kill you!" All at once, everything came crumbling. 
"You're lying!" She shouted once more, didn't want to believe the words that they have told her. 
"Then, why are you here?" He asked. Pulling her face to his face, he smiled. 
"See you ." One last hard punch on her stomach, her eyes left her. Slowly, falling back on the ground. 
The three men dropped their weapons, as they noticed that she was not breathing. It was soon to be two in the morning. They were up to something, something terrible! 
All three of them, tied her wrists and feet together. And carried her out of the back door which leads to the river. 
"One, tw---" Suddenly, they heard siren crying. Closer and closer it began louder.  
"Sh*t, the policy!" The guy with bold head startled, and threw NahRi's body into the river.  
Little did they knew, someone has been spying on them since last night. 
The unknown man in black pulled down his cap, lowing to cover his face. And, walked up to them. 
"Who the hell are you?!" One of the men shouted with his gun aiming at the guy in black. 
"Tell me what were you guys doing? And, what is it that thing being thrown into the river? Surrender." He took out his badge. His voice was low yet a bit husky. 
They made their way trying to escape, just in time the polices came chasing them. He took off his cap, and dove into the cold freezing river. 
He gasped out loud, as he got himself and NahRi out of the river. 
"Detective Choi SeungHyun, are you alright?" One his team-mates asked. 
"Where are those three men?" SeungHyun asked. Making his way to car, and put NahRi into his car. 
"They refused to surrender, we had no choice but to kill them. We also found a backpack filled with money. And drugs." His team-mate explained. 
SeungHyun hand NahRi's wallet to his team-mate, "Get her information. Call me ASAP. I'm taking her to the hospital." He stated, and got into the car, then drove off. 
-----
Beep--Beep---Beep 
Detective SeungHyun was awaken; as he heard someone coughing. He snapped out of dreaming, and opened his eyes. 
The woman got up, and started to take out needles from her hands,"Whoa, calm down. You're in the hospital." He shouted, as he tried to calm the woman down. The woman fought back, and struggled.
"Someone help me! Someone!" The door busted open. 
"NahRi-ah!" Someone shouted out her name. They both looked at the door, and saw her aunty. 
"Omoh! Look at you, what happened?" Her aunty ran to her niece, and hugged her. 
"Aunty." NahRi threw her weaken arms around her aunty's shoulders. NahRi pulled away, and sat there silently. 
"How did you find me?" NahRi looked at her aunty, she followed her gazed. Realizing, it was the Detective who saved her life. She nearly died...if it wasn't for that man; she'd already be dead. 
NahRi twitched when she felt cold breeze swayed. Something wasn't right. 
"Aunty, where's my parents?" She refused to answer. NahRi shook her aunty, tears ran down her bruised face. She shook her head 'NO'. "It's not what I think, you're thinking." 
Her aunty looked down with sadness, and squeezed her niece's hand, as she sat beside her. 
"You're parents passed away. After they received your letter, they both went to go and look for you and ChangMin. They drove into a pole, and the car flipped. The car exploded." She quietly explained. 
"You brat! If you didn't ran away, none of this wouldn't happen!" She said hitting NahRi's arm. 
"Aigoo. You bad girl! What are we going to without your parents. Huh?! The house has been thrown the bank! Where in the world are we going to live at?!" NahRi couldn't speak one word. 
It was all her fault that everything had happened. All, she felt was guilty, guilty, guilty! 
The detective left the room silently, and quietly closing the door behind him. NahRi explained what all happened to her and ChangMin. How he betrayed her, and took her money giving it to gangs who threaten to kill his family. 
"I won't forgive you, Shim ChangMin. You bad person..."
 ----
-EIGHT years later-
Many years of struggling with life, she delivers newspaper for a morning shift; and at night she worked at a night club. Working at a nightclub, as a waitress for a night shift can be scary! Another job, works at a dry cleaning store. As a afternoon shift. 
Its been eight years since she has been working. Never gets paid much, for just doing three jobs. But NahRi managed to handle it. 
By her side, her aunty opened a small eatery restaurant.    
*BRRRINNGGGGGG*
"Uhhhh." NahRi moaned as the sound of her alarm clock began to ring. She reached her lazy hand out and snoozed it. 
Her eyes widen, when she saw what time it was, it was already 4:02 am! 
"Please wait for me!!!" She shouted, as she chased after the bus! The bus keep on going! It began to rain. Looking up in the sky, rain drop fell on her face. 
"My life is already in reck. Please for once, give me a good day! I promise to be good!!!" She pleaded. Entering her workplace, her boss threw a piece of paper at her. 
"Get to work! WHY bother coming to work when you're always late!!!" NahRi bowed down and apologized. 
She put on her helmet, and stacked the huge newspapers on her old rusty bicycle. Riding around the city to people's home, throwing newspapers at their yard. 
"Ouch!" She shouted, as she touched her aching shoulders. With one small movement, it ached so much. Looking at herself in mirror, she groomed herself. 
"Tae NahRi, no matter how much it hurts, you've got to endure the pain!" She encouraged herself with strength. Already, at her night shift, she got all pretty, and dressed in a mini green shiny dress. 
"NahRi, you've got room E!" One of the girls shouted out. NahRi took a deep breath, and pin her name-tag on the dress. 
With a tray of fruits, wine, liquor, and beer. She carried it, as she walked through the crowded hallway. 
As, she entered the room, and every night all of the VIP rooms were always the busiest rooms. She politely served the food and drinks on the table.  After cleaning each room, and cleaning the restrooms; she nearly collapsed. 
She left work, and headed home. Every night she'll get home around twelve midnight. 
"Uh, NahRi-ah, you're already back." Her aunty said, as she sat beside NahRi, and hand her a cup of hot greentea. 
"Thank you, aunty." NahRi gave her aunty a warm sweet smile. She looked down, and took a sip of her green tea that was made perfectly, how she wanted it. 
"You've grown so thin. My baby..." She cooed. Tears ran down her face, she let a smile shine. As she patted NahRi's head gently. 
NahRi wrapped her arms around her aunty's waist, "Aunty, I'm sorry I've got us into this mess. If---"
"Don't blame yourself, it was never you. Everything in life happens for a reason. I am blessed to still have you beside me." Her aunty said. 
NahRi coughed, trying to ease the sadness, and smiled, "Good night, Aunty." She left the small kitchen, and went to her room and sleep. 
Next morning, NahRi heard people shouting, and dishes shattering! She got up from her bed, and before leaving the room, she snatched a baseball rob. 
"Please don't do this!" Her aunty shouted, as she saw her whole small eatery being destroyed into million pieces. Her aunty firmly holding onto the leader of the loan sharks arms. 
"Get your dirty hands off of me, you old hag!" He shouted in anger, and threw the elderly woman to the ground. 
NahRi ran, and raised her baseball rob in the air, "How dare you guys destroy our things! You have no rights to! When I have the money, I'll hand it to you guys!" NahRi shouted, at the loan sharks! 
The loan shark leader, turned around and saw NahRi, and threw the glass cup at NahRi but instead it hit the wall instead. 
"Such a bad aim you've got!" NahRi chuckled. 
"Haha. You and your smart talking mouth! I've warned you guys too many times! I want my money now!!!" One of the loan sharks snatched her by her collar. He pushed her small petite body towards the wall, and leaned forward. 
"You look tasty!" NahRi shout her eyes tightly, hiding her face away. 
"Is there a problem here guys?" A random voice came in from nowhere! All of our directions turned and saw a familiar face.    
"Detective Choi SeungHyun-shi?"  NahRi's mouth dropped. 
.
.
.
CHOI SEUNGHYUN is featured in my story!!! YahOOO! lol. His name just popped up, so I decided to put him in this story! What do you guys think??? hehehe...I don't know if I am confusing you guys, but if so, ask me!!! OKAY? :)) 
What do you guys think about this chapter! COME ON, I need comments!!! 
THANK YOU TO THOES OF YOU WHO SUBSCRIBED TO MY STORY...! It means alot to me! Talk to me, HERE!!! I NEED COMMENTS! 
--->COMMENT, COMMENT, COMMENT!!!! SUBSCRIBE IF YOU'RE WILLING TO! <--- 
THANK you for dropping by and reading my story!!! 
So sorry for the mistakes...! 
GOODNIGHT LOVES!!! MWAHHH <3 
Stay tune for the NEXT CHAPTER!!! :)))
^ Back to Top