Lee Jieun, just say those 3 words.
by leejieun
39 subscribers | 2381 views | Updated | Created
Tags dujun hyosung iusinger suzy yoseob you | Report Content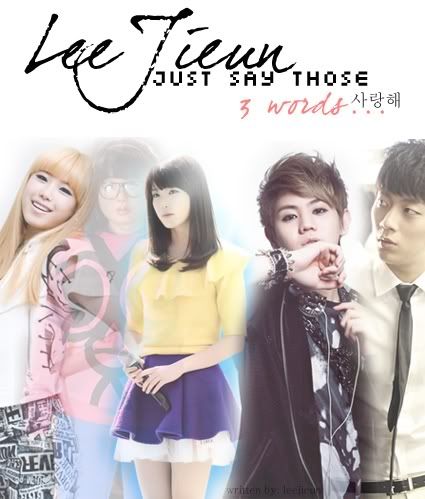 Characters
IU, Yoseob, Hyosung, Doojoon and other random idols
Description
Characters:
You = IU [Lee Jieun] - is a pretty young 15 year old student who attends East Seoul Academy, Shes not so thin as she weights 85kg, everyone makes fun of her, ecspecially her own friend Hyosung.
Hyosung - is the popular girl, the pretty 'fake' nice friend of IU (you) She often backstabs IU when it comes to boys and her weight. She likes Yoseob AND Doojoon. (more of Doojoon though)
Yoseob - is the friendly nice guy, He often says he likes Hyosung, but really he has a huge crush on IU, He is IU's best friends ever since year 3.
Doojoon - The popular bad boy, the dancer. He likes IU, but only after her long break and make over. He is starts dating Hyosung after chapter 3.
--------------------------------------------------------------
IU, a fat 15 year old student who attends, East Seoul Academy, is in love with the Popular Doojoon.
Hyosung, her so called 'friend' backstabs her by daring Doojoon to date and ditch her.
Yoseob, IU's childhood friend, likes IU but won't show it, incase of awkwardness.
One day, IU get's injured and has to visit the doctor ever 2 days.
But she isn't allowed to attend school for the rest of the year.
On her 3rd visit she finds out that she will have to lose weight in 200 days.
The doctor shows IU a future portfolio of her if she loses weight.
Shes suprised and goes on this special diet, not attending school..
When she comes back, a whole lot of trouble strikes, as she is competition with Hyosung.
Especially since, their so called rumours going around that IU is becomeing famous due to her singing practices while exercising at a local gym near LOEN entertainment.
This is a ordinary love story between friends, who will she choose.
Foreword
No foreword posted.
Tweet
^ Back to Top