You ruin everything
by dbskgirl4ever
Tags comedy minwoo romance teentop youngmin kwangmin boyfriendband | Report Content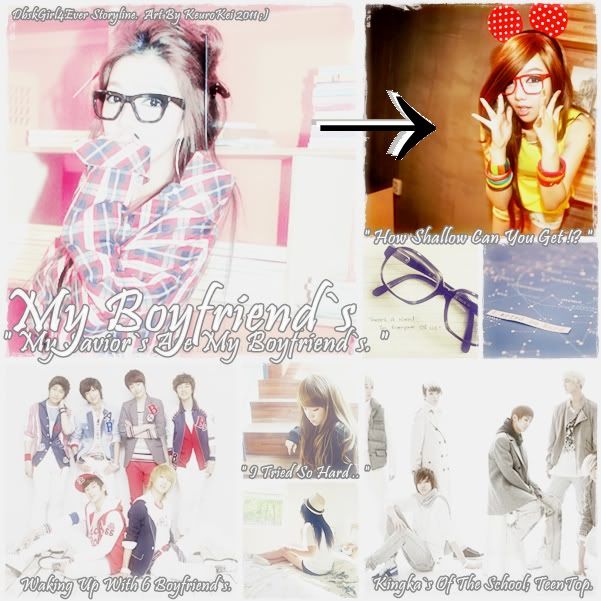 http://www.youtube.com/watch?v=OxreszfBLtw&feature=related
--------
May approached fast. Soon, it was that time of the year again.
It was the day that made your life the emptiest.
You came downstairs to join your stepaunt and stepcousins get ready to commemorate your mom's and stepdad's death anniversary. But you stopped short when you didn't see your mom's picture. "Um, auntie. I think you forgot my mom's photo-"
"I didn't forget. We're leaving her out this year." She snapped.
You stared at her in disbelief, "W-why would you do that? My mom died on that day, too with stepdad-"
"You should be grateful I let that slut be on the same table as my brother all these years." Your stepaunt growled.
That hit your heart hard. Your fists shook angrily and tears welled up in your eyes.
"Uh-oh." Minwoo whispered. Your boyfriends had come to watch the ceremony but saw you getting hurt instead.
Jamie snickered, "I guess blood is thicker than water. You're dating 6 guys, aren't you? Don't deny. I see those kingkas around you all the time. Gosh. Mom and daughter are both sluts. Tsk, tsk."
"My mom is not a slut. And I'm not either." You croaked.
"Sure, sure." Jamie waved it away.
You were so mad at her that you wanted to slap her but couldn't bring yourself to. You stormed off.
Yunie raised an eyebrow, thinking you had given up.
But you came back with a photo and placed it next to your stepdad's photo.
Your stepaunt glared at you, "What do you think you're doing?!"
"Get that away from our uncle!" Jamie yelled.
"My mom deserves to be remembered, too." You said.
Yunie was amused. It was the first time you had rebelled against her mom.
Your stepaunt whirled around with fiery eyes, "Did you forget why my brother died?! It's because your foolish mother asked him to go to Busan with her! Why?! BECAUSE SHE WANTED TO GET A BIRTHDAY PRESENT FOR YOU!"
Tears filled your eyes at the reminder.
Beyond furious, she grabbed the frame of your mother and threw it hard onto the ground. Glass shattered onto the floor.
Your eyes widened in shock. Even Jamie and Yunie were surprised.
"That crazy bitch-" Youngmin tried to come to your defense but Donghyun held him back.
"Let go!" Youngmin hissed. "I'm not going to let anyone treat her this way anymore!"
"Stay back or she'll get in even more trouble!" Donghyun snapped.
Youngmin finally stopped struggling.
You bent down and reached out, "Umma…" Your mom's smiling picture just sat there with broken glass pieces on her face. You touched the glass and it cut through your finger. Tears slipped down your face. It wasn't because of the physical pain though.
"YOU RUIN EVERYTHING! GET OUT! GET OUT OF MY HOUSE!" Your aunt screamed and started pelting the food at you.
"Mom!" Jamie squealed and grabbed her.
You couldn't take it anymore. Crying, you ran out of the house. You ran until you couldn't run anymore. You stopped at a dark alley and sat in front of a closed shop. You curled your knees to your chest and started bawling as you rocked back and forth.
*Umma, mianhae. It's all my fault. I miss you. I wish you were here.*
You buried your face into your arms and cried like you had never cried before.
^ Back to Top