A Back Talker's Secret
by Spirit_Queen24
| Updated | Created
Tags dbsk highschool jaejoong superjunior yaoi yunho yunjae | Report Content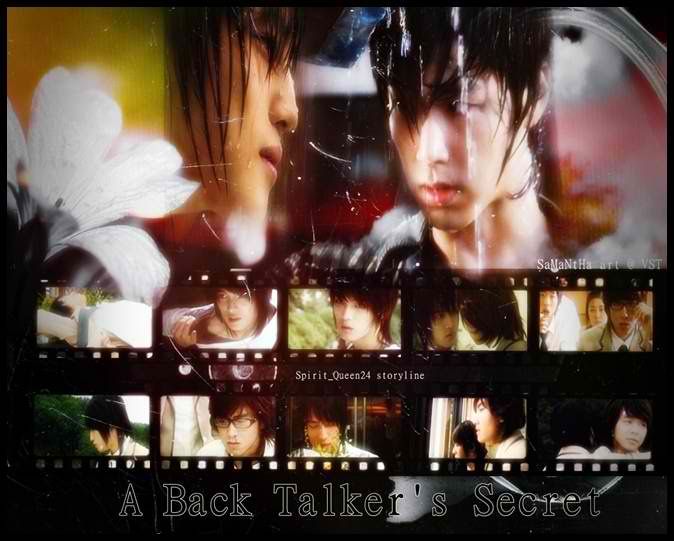 Characters
Jaejoong, Yunho, Junsu, Yoochun, Changmin, Sungmin
Description
Special thanks to SAMANTHA and Ver-Sah-Tyle for the poster!!!!!!:D I LOVE IT BECAUSE IT KIND OF TELLS THE STORY!!!!!THATS WHAT I WAS AIMING FOR!!!!!!:D
Summary: Yunho and Jaejoong like each other, but they both don't know the other's feeling for them. The only way that they can express their feeling for the other is by fighting. CONSTANTLY! But what happens when one of them goes to far? What will be the other's reaction? Will things ever be the same again?
Foreword
Hope you like it!!!!!:D
FOLLOW ME!!!!!!!!!!!:D
Special Thanks to Stupidity at VER-SAH-TYLE FOR THE BEAUTIFUL TRAILER!!!!!!!!!:D IT'S AWESOME!!!!!!!!!:D
A/N - Sorry this is a suck - ish summary because the only way I could describe whats going to happen is if I tell the WHOLE story but I can tell you one thing.....This is going to have a LOT of drama and angst.  
Also, This is my NEW asianfanfics account. I originally have a livejournal account with the same username. I probably won't be updating this asianfanfics account as much as my livejournal account, so if you want to add me or read my fics on livejournal, you are welcome to do so!:D
Tweet
^ Back to Top