Love Me or Hate Me, As Long as You're My One True Love, Baby! ;)
by Music_Melody
67 subscribers | 2508 views | Updated | Created
Tags b1a4 comedy jinyoung shinee taemin you | Report Content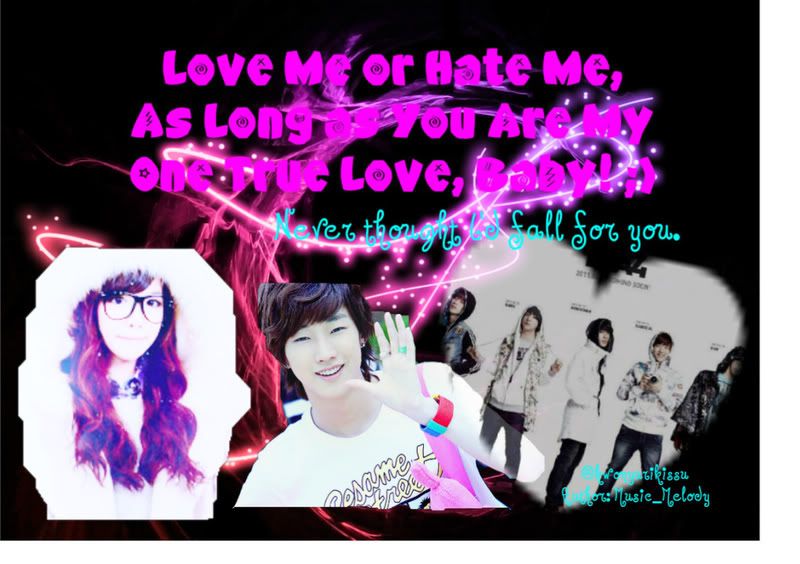 Characters
Jinyoung, you and B1A4
Description
Hello! :) This is my second ever fan fic! :DD And I'm also new here. xD kyaaaaaaaa~~ WOWOWOW. xD I already got 21 subscribers?! :DD *bows 100x* 
I'll try myself to update the chapters every week. xD 
Kamsahamnida. ^o^ !<3
___________________________________________________________________________________________
Foreword
You/Lindy/Mi Young Lee
Lindy is a cute nerd girl who hids her real beauty from her thick old fashionated eye-glasses. Always get bullied by the school Kingka who is Jinyoung of B1A4. The girl who told to herself that ' Love is just a waste of time that mostly teenagers are interested for.' But what happens if she found herself in the that called L-A-F-S?! Also so known for Love At First Sight Fight?!
Jinyoung/Alvin
A person who loves humiliating nerds who thinks that education is the first important thing in life. Never thought he realize that he found himself in trappe
d in being L-A-F-S Also known for Love At First Sight Fight?!
B1A4 is the Kingka's of WM Academy School of Arts. They may be arrogant when you think but is the most childish people you will know. ;)
Enjoy!
Subscribe!
Comment!
Have fun!
Let's be friends! :) <33
Copyright© 2011. All rights reserved 'Love Me or Hate Me, As Long as You're My One
True Love, Baby! ;)' by Music_Melody.
My other fan fics.
Tweet
^ Back to Top