No Ordinary Love
by allrisehyukhae
Tags angst donghae eunhae eunhyuk smartists superjunior yaoi | Report Content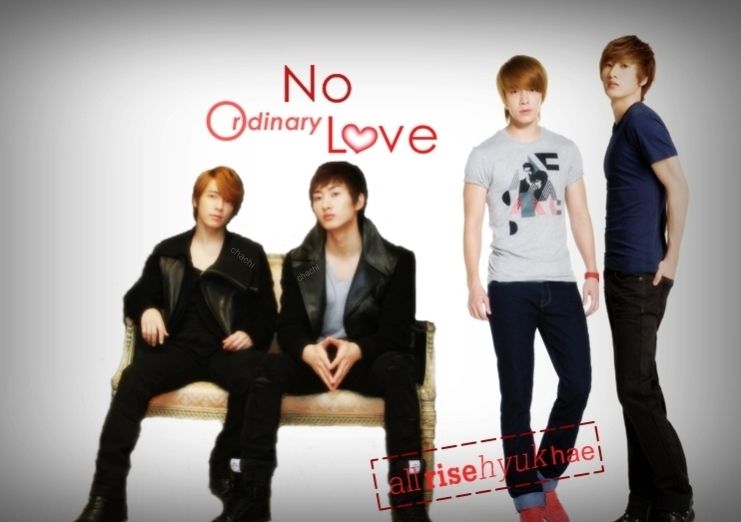 CHAPTER25
How come that he still can't find himself to smile despite knowing the fact that he loves him too. Of how he wanted to scream until his lungs couldn't take hold anymore, of how he wanted to let the world know that he also loves him. But he still can't. Eunhyuk loves him but that doesn't mean that he can have him for himself.  And that is why he could only cry, of why only tears can describe his happiness and not the sound of laughter or the slightest smile. But even so, Donghae is happy, for in times like this happiness isn't only measured by how many times you would smile or how loud you would laugh, for sometimes the greatest joy could only be expressed by the tears a man shed.
---
Upon waking up that morning the very first thing that had greeted him was the headache he got after getting drunk last night. He brushed the hair covering his eyes as he massaged his temples with his left hand. He was staring blankly at the ceiling, his visions were still foggy and he can feel that his throat had dried up. He groaned in irritation for he is not used of feeling those things since he doesn't really drink.
Eunhyuk closed his eyes as he tried to endure the pain while massaging his temples, he feels like his skull is being ripped open because of the pain his headache was causing him and he had regretted getting drunk last night. But then he was taken aback when a pair of warm hands had cupped his face making him open his eyes immediately in surprise.
"Good morning," Donghae softly greeted him, but Eunhyuk was too shock seeing him in his room that morning to even reply back. And so he just ended up staring at Donghae's face with wide eyes.
Donghae then gently shoved Eunhyuhk' s hands away from his temples as he replaced them with his own. The blonde started to massage the area and to Eunhyuk's surprise Donghae surely knows how to do it right, or maybe that's because Donghae's hands felt so soft and warm against his skin.
"Why are you here?" Eunhyuk finally spoke in a hoarse voice for his throat.
"You're drunk last night," Donghae shortly replied.
"I know, but what are you doing?" Eyes fixed on the blondes eyes, raising an eyebrow.
Donghae inhaled deeply knowing that Eunhyuk is being on his asshole mode again. "Can't you see? I'm looking after you. You're drunk last night and I just can't let you crawl on your way to your room. And now it was obvious that you're having a major hang over from last night, and I'm helping you deal with it. What else do you want to know?" he replied trying to sound annoyed.
Eunhyuk sighed, "You don't have to do this you know,"
"But I want to, so quiet now will you?" Donghae gently silenced him.
And as simple as that, the rebel was tamed. Eunhyuk didn't dare to talk back as he let Donghae do what he pleased.  For a couple of minutes he let himself relish that very close contact the both of them were having.
When Eunhyuk felt that his headache was slowly fading he gently pried Donghae's hands from his temples. 
"I'm feeling better now," Eunhyuk softly muttered, Donghae nodded as he moved a little, giving the older one some space when he noticed Eunhyuk raising his back from the bed.
The blonde male then reached for the cup of coffee on the table. He removed the saucer on top of the cup before giving it to Eunhyuk.
"I hope it's not that hot anymore," Donghae said as Eunhyuk took the cup of coffee from his hands.
"I don't get it." Eunhyuk spoke, "I thought you're mad at me for talking to you yesterday" he said.
Donghae nodded, "Yes I was mad at you yesterday, but I just can't stay mad at you. I can't" he replied, "Why? Are you disappointed that you we're not able to anger me that long?" Donghae added trying to fake a chuckle.
"Donghae," Eunhyuk called and the atmosphere in the room started getting serious.  He tore his gaze from Donghae's face as he lower his head on the cup he was holding. "Yesterday you told me that you're leaving soon, does that mean you're leaving earlier than what was stated on the exchange student program?" he asked.
"I am leaving earlier than the rest of my schoolmates. I already talked to the vice principal and he agreed with it." Donghae replied.
"What about you? What happen last night? Last time you told me you'll never plan to drink again." Donghae asked.
Eunhyuk shrugged his shoulders, "You're leaving anyway, so there is no need for you to worry about me" he replied before taking a drink on his cup.
Donghae took a deep breath before speaking to him again, trying to calm himself for the question that he about to ask next "Since you won't tell me the reason of why were you drunk last night I'm just going to ask you if you can still remember what happened last night.  Can you remember anything? Or , or at least recall anything you've said last night?" Donghae asked, his heartbeat going faster.
Eunhyuk thought about that for a second, trying his best to recall what happen last night but his thoughts were still blurry that he can't even remember a thing. "I can't remember anything, why? Did I do something wrong? Did I have a fight with anyone of you last night?" he asked, and there was a hint of concern in his voice.
Donghae shook his head as he forced himself to smile, "Not a single curse from you last night, except that you went home drunk… everything was fine last night." He told him.
Eunhyuk saw how Donghae's expression changed, it made him worried seeing the blonde looking like he was hurt by what he just said.
"You're lying, I hate it when the person I trust the most is lying to me. Tell me is there something wrong?" Eunhyuk asked him.
But even before Donghae could speak again someone suddenly knocked on the door. And without waiting for an answer the door got opened revealing Kyuhyun.
Kyuhyun stared at the two males sitting on bed for a second before shifting his attention to his twin brother.
"You're girlfriend is downstairs" he told Eunhyuk before shifting his gaze to Donghae.
"You should get yourself ready for school, you only have thirty minutes left to prepare." Kyuhyun told his friend to which Donghae replied with a nod.
Kyuhyun gave the two males one last look before he shook his head and leave the room.
Donghae raised himself up from the bed, "You should go see her downstairs. Are you going to school today?" he asked Eunhyuk.
"Yes, I hate staying home." Eunhyuk replied. He watched as Donghae nodded before stepping out of his room. It pained him seeing Donghae like that. Maybe he should really leave the grounds of that school so he can finally move on, for he doesn't deserve to suffer like that. He loves him and of course he'll want the best for him even if it means being left alone.
-------
"Okay class, so you have to group yourselves into five. There are a total of 25 in this class and you'll surely get your group mates." Their Biology professor told their class.
"It's up to you of who are the ones you would want to be in your group. You can choose your group mates but remember I only need five in each group for the dissection activity next week. Now go find your group mates so you can discuss the activity for next week. " Their professor added.
Eunhyuk sighed in annoyance for that is what he hates the most in being a sophomore. The dissecting lesson is always saved up to that level and that is what he was trying to avoid. Since there will be five in a group he thought that maybe the rest can do it by themselves since a group would only be needing one frog to dissect.
He was too busy thinking about what Donghae meant earlier. He knew that he did something last night, or maybe he said something but he still can't remember a thing. He was lost in his own world and was totally oblivious of the noise as his classmates were starting to stand up and go around the room to look for their group mates. That's when he flinches when Sohee suddenly tugged his uniform.
 "I didn't mean to disturb you day dreaming but we need to find our group mates, we need three more since Changmin is not present today. The teacher had said that those who are absent today will be group mates for the next meeting" Sohee smiled at him.
Eunhyuk stood up as he trailed behind Sohee as he let her choose their group mates. Thinking that it would be a lot better if Changmin would be in their group since his friend might be much pleased of doing the dissecting for the group.
He halted into a stop after hearing who the ones Sohee was talking to.
"There's only two of us, Changmin is not around today, since there are three of you can we join in your group for next week's activity?" Sohee asked Jessica's group which comprises of Eunhyuk's twin brother and of course Donghae.
"Sure no problem," Jessica welcomed her, pulling an empty chair by her side so Sohee can sit next to her.
"Hyukjae come here, they'll be our group mates" Sohee said cheerfully, motioning Eunhyuk to join them.
"Well if he doesn't like to be in this group he's always free to go and choose from the class" Jessica spoke in an attempt to make Eunhyuk hear her.
"Jessica," Eunhyuk saw as Donghae hushed his friend.
"You know what? You're still as brave and noisy as before. That's why you can't get yourself a boy friend you talk too much" Eunhyuk told her as he tried to settle himself on an empty seat next to Donghae crossing his legs as he raised an eyebrow obviously taunting Jessica.
"How dare you…" Jessica said through grinded teeth, "You're unbelievable, such a jerk" she added.
And to add in Jessica's growing annoyance Eunhyuk started chuckling sarcastically.
Eunhyuk doesn't know how to describe the feeling he was feeling at the moment. For some weird reason he find himself missing his old circle of friends that's why he found himself teasing Jessica. Aside from the fact that he liked the angry-bullied look on her face, he honestly misses joking with his them.
"Hyukjae stop it," Sohee told him. "They might send us away, this group seems to be finer than the rest, so don't make them change their minds"
"Actually you Sohee can stay, but Hyukjae is free to go if he wanted to" It was Kyuhyun who spoke this time.
"No thanks, I'll stay where Sohee is. But if any of you doesn't want me here you can leave the group now," Eunhyuk retorted smugly as if he was the one who created the group.
Donghae then cleared his throat, "Well, not that I'm trying to be the leader of this group but we only have a few minutes left to discuss what we need to discuss" he spoke softly for he doesn't want to sound brave or anything since Eunhyuk is around, he felt more uncomfortable than confident.
Right then the group including Eunhyuk had finally behaved themselves. They started on their meeting about what to do for their dissection activity for next week, the assignment of each member, and the materials they should bring. It was actually Sohee and Jessica who did all the talking and planning, though Donghae will speak of his suggestions he doesn't speak much for he really felt conscious with Eunhyuk's presence, on the other hand Kyuhyun and Eunhyuk were both silent in their meeting.
"Maybe I can come with you to the mall on Saturday but I can't stay long though, I have to go home early." Jessica told Donghae who was assigned to bring almost half of their dissecting materials.
"Is your family okay? You're staying in the school dormitory but you had to move out and go back in your house," Sohee spoke with Jessica.
"Don't worry we're fine. It's just that there's no one who would be helping Mom with the household chores anymore, Krystal isn't much of a help either. That's why I need to move out from the dorm" Jessica replied.
"Why? What happen to your house maid? She's been working in your family for six years," Kyuhyun joined in their conversation.
"Yeah, I'm missing her though. But she really needs to take some leave, it won't be long though… she'll be coming back after she gave birth," Jessica answered.
Those words made Eunhyuk froze on his seat, and from what he can sense Donghae who was sitting right next to him was also in the same state. He was digesting what he just heard from Jessica, that their house maid was pregnant and was about to give birth.
"S-so you're saying that your house maid is pregnant that's why you have to stay home with your family to help out in the house," It was Donghae who spoke,
Jessica nodded, "Yes, our maid is already eight months pregnant so Mom had decided to give her some leave so she can rest and ready herself for giving birth." She replied.
"I see…" Donghae muttered before tilting his head slowly to face Eunhyuk.
Both of them had the same expression on their faces. And from what Eunhyuk can see Donghae was also thinking the same thing he was thinking.
The loud bell signaling the class dismissal ended the class' group meeting. The students in their class started picking up their things and getting their bags as they bid their goodbyes to one another.
"Let's talk outside," Eunhyuk was able to whisper to Donghae when nobody was looking before he left the group and stepped out of the classroom.
Eunhyuk waited for Donghae at the hallway and not long after he spotted the blonde heading to his direction.
"I told my friends to go and not wait for me anymore, I told them that I need to go to the vice principal's office" Donghae immediately told him as soon as he reached him.
"Good, let's go," Eunhyuk told him as he started heading to the stairs where the rooftop is.
"What are we doing?" Donghae asked, as he followed Eunhyuk.
"We will talk to her, I told her to meet me at the rooftop," Eunhyuk replied.
The two of them waited and in just a short while the door on the rooftop swung open revealing Krystal. The girl stopped short as she tilted her head to the side raising an eyebrow after seeing the two males together.
Upon seeing her not moving on her place Eunhyuk then took a deep breath. He turned to face Donghae who was standing beside him as he reached for the blonde's hand.
"If we'll prove that she's not really pregnant. I'll be your boyfriend after this." Eunhyuk whispered to him, he didn't give Donghae much time to digest the words he just said as he tugged Donghae with him, approaching the curious looking Krystal.
"What's the meaning of this? Why are the two of you together? " Krystal immediately snapped when the two males had reached her. "Let go of his hand!" Krystal raised her voice as she tried to separate the two.
"Shut it Krystal!" Eunhyuk shouted as he tightened his grip on Donghae's hand.
"This isn't good for my condition you know that," Krystal told him.
"I know, but that is if you're really pregnant." Eunhyuk retorted.
"What are you talking about, of course I am" Krystal replied.
"Is it you or is it your maid?" Eunhyuk told her which made the girl widened her eyes in shock. "I heard that your house maid is eight months pregnant, now tell me, the urine sample you used for the pregnancy test kit was from her right?"
"When I said I'm pregnant it's true and the urine sample I used came from me. I can't believe you're letting him brainwash you" Krystal replied to Eunhyuk while she was glaring at Donghae.
"He's not doing anything, if it's from you then do you mind trying to check again? and I want it now, we can buy a pregnancy test kit--"
"I won't do it again! I've done it before," Krystal cut his sentence off.
"Then we're over, it only means that you lied to me, you lied to us. That is why you don't want the others to know about it because it's just a lie"
"You can't do this to me" Krystal's lips were quivering as she started to cry.
"So you're not really pregnant," 
Krystal shook her head, "F-fine I wasn't pregnant. I lied because I want you to stay with me, please forgive me Hyukjae" she confessed as she ran to embrace Eunhyuk, making Donghae loose his grip on the older male's hand.
"Don't leave me, I promise I will never lie to you again" Krystal begged hugging him tighter.
"I'm sorry but we're done," Eunhyuk told her,
For some weird reason Donghae's eyes started to water as well. He felt bad that the couple in front of him was now separating, but above all he pitied Krystal, she can't stand seeing her like that, begging for the man she loves to stay and to forgive him. Donghae isn't self-centered despite wanting to be with Eunhyuk he still cares for the feeling of others.
"It's not that hard to forgive you, I already consider forgiving you right at this very moment. But I can't stay with you anymore. I'm in love with some else and he needs me now," Eunhyuk told her as she gently pried her hands from his back.
"Donghae?" Krystal asked him to which Eunhyuk replied with a nod.
"You're insane, this is insane," she muttered,
"You, you're crazy as well." Eunhyuk smirked at her, "You better start moving on, don't go after me after this because I'm sure my new partner won't like it." he told her as he turned his back on her. Krystal was still crying but he can't stand seeing her like that, so he'll just give her the alone time that she sure needs.
Upon reaching Donghae, Eunhyuk took his hand for the second time. "Let's go" he told the blonde.
"What about her?"
"She can deal with it, she's stronger than you thought. She'll be fine" Eunhyuk assured him.
Holding each other's hand the two of them left the rooftop, maybe not with a happy face for they were still concern of Krystal, but deep inside their hearts they know they are more than happy.
"Well, this makes you my first boyfriend," Donghae whispered to him as he blushed madly,
Eunhyuk couldn't help but laugh at his partner, "Yeah," he replied giving the blonde's hand a gently squeeze.
------------------------------------------
\O/  you can rejoice all you want  but this isn't over yet LOL! ( a few more troubles a head maybe? )
*if you guys want to talk to me follow me on twitter @iamallrise
^ Back to Top