The Marriage Life of Mr. Byun
Description
Byun Baekhyun is that one SNSD fanboy who's having a trouble with commitment. While Park Chanyeol, on the other hand, is just too inexperienced when it comes to dating and , so he vows to learn and go through the journey of and romance with Kamasutra as his handbook. Oh Sehun is confused over his ual orientation, while Lu Han is the Chinese oppa who acts a little bit like an ahjumma. And then there's Kim Joonmyun who is just too busy dealing with the fact that his wife wants him to do a .
TRANSLATIONS
Russian: click here thanks to kimsoyeon17 and Alina or here, translated by L.Kei
Spanish: click here thanks to Tierbanre
Foreword
STORYLINE
When you entered S.M University together with your bestfriend to be a professional contemporer dancer, you didn't think that you'd get to meet your future husband, the obnoxious Mr. Byun Baekhyun and his idiotic friends. This story will unravel the journey of your love story with the eyeliner boy from being enemies, to taking the phrase 'sleeping with the enemy' quite literally, until it finally ends to your marriage life with Mr. Byun.
THE CHARACTERS
Byun Baekhyun (majoring in Classical Music) is that guy in your high school who everyone publicly hates, but secretly trying to get into his pants because that's just how it works. He gets the best grades without even trying, gets the hottest girls without even having to have to remember their names, and knows just how to rock eyeliners in every freaking occasion. Sometimes sassy, full-time cocky as , and has the voice of a God when he sings, even when he's covering Gee in the shower.
Park Chanyeol (majoring in Management) is that creepy boy in your high school who has the loudest laughs, the weirdest friends, and the least stylish clothes. There's no word to describe the structure of his facial bones other than gorgeous, but the boy just tends to be so creepy and excited all the time, that most girls actually think he's a crack dealer and try to avoid him at all costs. Thus, he becomes the rich kid who doesn't know how to use his dollars just as much as he doesn't know how to sleep with girls. He claims himself as Baekhyun's bestfriend and calls him "ByunBaek" because he insists that best friends should have nicknames for each other.
Lu Han (majoring in International Law) is the smart, loyal, but extremely mischievous Chinese boy who knows how to swoop into the heart of the ladies, except for one: the infamous Algebra Girl (Lu Han still hasn't caught her name). Don't be deceived by his youthful, innocent, angelic look because he's actually a devil's spawn who eats girl for breakfast. He's best friend with Kim Minseok since the first year of college; he's the captain of the swimming club and also the soccer club; and Byun Baekhyun's new roommate (Lu Han decided to abandon his previous room because, quote, 'I've had in this room so much that it's starting to reek of and as much as I like the smell of , it makes me feel uncomfortable when I'm eating', end quote). He works in so many places and successing in each one of his job because he's awesome like that (or he sleeps with the managers for most of the times, but let's not think about him like that).
Kim Minseok (majoring in Psychology) is the quiet, honest guy with cheeks like steamed buns (therefore, Lu Han calls him 'Baozi') that walks unnoticed around the school but tends to do the most attention-seeking attitude when it's needed. According to Park Chanyeol, his roommate, Kim Minseok is totally not a morning person (One time, Chanyeol tried to wake him up and boy, did he regret it so much after that). Usually a nice person, but he's being bullied a lot by his so called BFF, Lu Han. Unlike his same-age best buddy, Minseok is a fully committed man and ready to settle down with his girflriend right after his graduation.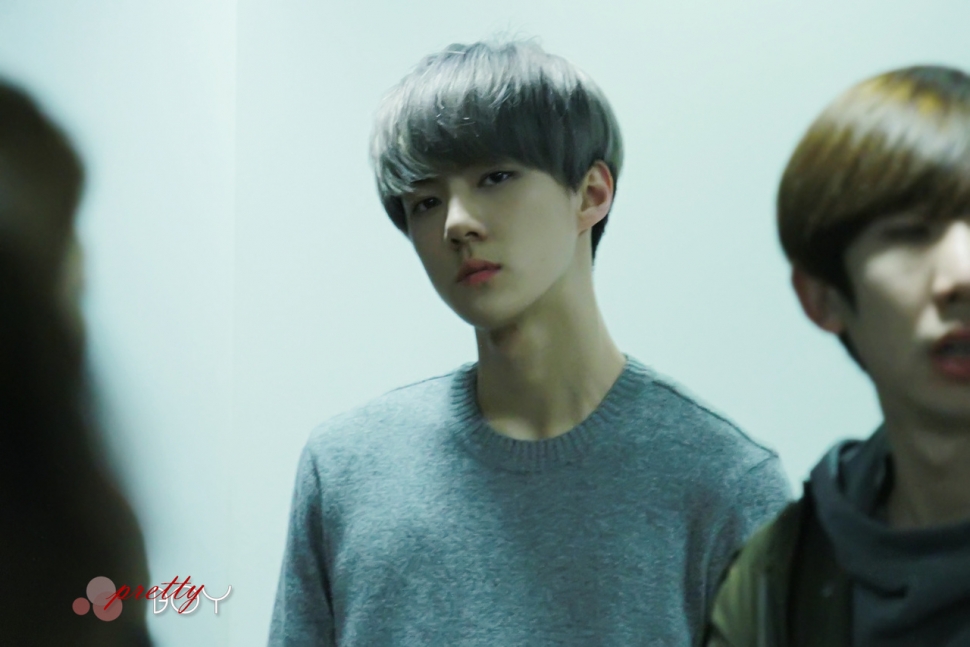 Oh Sehun (appears on future chapters) is the young, handsome high school boy who spends too much of his time doing too many part time jobs at once and at each and every one of them. He doesn't talk too much, unless if he's being faced with a particular Chinese-gege. Bratty, ignorant, and calls every girl "noona" because that's how he rolls.
Kim Joonmyun (appears on future chapters) is an elementary school teacher who spends his free time reading 50 Shades of Grey and blames it to one of his students when someone catches him. He's soft and kindhearted, and a massive cheese ball when it comes to marriage and .
Kim Jongin (appears on future chapters) is a young dance teacher who specializes in teaching ballet, jazz, modern and hip-hop. He's usually shy, innocent, and soft-hearted a.k.a the most dangerous type of guys out there (your parents will still love him even if you're knocked up with his child). But when his alter ego, KAI, takes the stage, he'll blow girls' ovaries just by placing a small smirk on his too-goddamn-perfect face. Nobody really knows about him because he likes to distance himself from everyone.
Kris Wu (appears on future chapters), also goes by the name Kevin Li and Wu Yifan, is a young successful entrepreneur who always manages to look so y without even trying. He's constantly being chased by noona fangirls, lonely and desperate housewives, underage schoolgirls--and for some unfortunate reasons--some gross-looking men. He's too charming for words, and weirdly has soft spot for branded fashion items.
ACKNOWLEDGMENTS
Thank you so much MrsByun_xoxo and AlpacarisAtmosphere for always helping me with the idea of this story. This story wouldn't be here if it wasn't because of you two <3
POSTERS
Thanks a lot AlpacarisAtmosphere for creating the beautiful poster above!
Thank you so much inspiritize20 for the poster! This is so gorgeous!
Thank you 27lora for making this poster! The girl is so cute and I think she fits the OC well so thanks!
Thank you catgirl4300 for also creating this adorable poster!
Thank you kimsoyeon17 for making a poster for my story <3
Thank you maimai0525 for the poster! <3
Thank you metanyeol for remembering the scenes in my story and making this for me :)
Thank you enxie_friedman for these adorable posters you've given me! They're very lovely, I love them a lot :D
Special shout-out to xohmyitsme for spending her time making this poster for me, I LOVE IT SO MUCH THANK YOU! You're amazing! I'm going to put this here so people can see it too :)
Thank you so much nandaniptr for these BEAUTIFUL posters! I really really love them all <3333