Meeting the rest of the gang
by Yamasau and FlamingMinho |
Tags jungjihoon leejoon mblaq romance seungho you | Report Content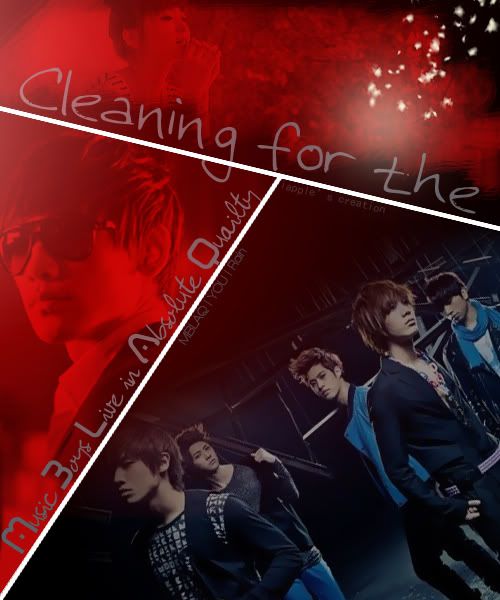 Seungho's POV:
We drove to the dorm in silence; it was actually quite funny seeing ________ stare out the window gasping at all the amazing buildings. She's actually quite cute; she's simple and seems nice let's just hope her reaction to our dorms is ok. I parked the car in front of our dorms; I saw Joon, G.O, CheonDung and Mir's cars
'Time for you to meet the rest of the members' I said getting out of the car.
I walked around to the passenger side and she was just sitting there and staring. I knocked on the window and she instantly reacted and looked at me and then back straight ahead and unbuckled her seatbelt and opened the door.
'OK first Bi Rain, then you and now THESE?' she said closing the door and pointing at each of the members cars.
'We work hard for these cars' I said walking towards the building.
'If you work so hard' she running after me 'Why do I need to be your maid?
'That' I laughed 'Is something I can't explain, it's something you have to see to believe'
'I swear, my life is going to be twisted for as long as I'm with you guys' she said as I pushed the button for the elevator.
I walked in and she walked in and past me. She all of a sudden fell back and the elevator door closed. She hit her head on the wall in the elevator.
'Aish, Pabo' she muttered rubbing her forehead 'This is the second time today'
I squatted down to see if she was ok, 'Gwenchana?' trying to my laughter back
'Stop laughing' she pouted 'First you and now Bi Rain'
'Ok Ok' I said 'But you need to keep your head up and stop day dreaming about cars'
I stood up and held out my hand and she took it. 'It's not my fault you people own such amazing cars' she sighed
~They aren't that amazing are they?~
We made it to the 8th floor and we walked towards the second door in the right number 6525.
'You ready?' I asked her
'Should I be worried?' she asked
'That depends' I said putting my key in the door, I turned the lock and opened the door.
'HYUNG!'
Your POV:
HYUNG!'
I looked at the floor, there were shoes everywhere. ~They probably weren't expecting a guest~  I looked up to see a skinny guy with a moustache and hair coming down the middle of his chin wearing a grey hoodie and black tracksuits.  He looked at Seungho.
'My '87 brother' he said fist bumping Seungho
'Sup?' Seungho said in English
'What happened with JiHoon Hyung?' the other guy asked
'Nothing' he said walking ahead leaving me still confused.
'AH!' the other guy screamed almost falling back 'There's a girl in here Hyung'
'Ah right' Seungho said taking my hand 'Call the rest of the members'
The other guy ran off and Seungho dragged me to a room that I think was there lounge room.  There were boxes lying everywhere, empty clothes racks with more boxes on top, a large grey couch and a TV.
'What do you think?' Seungho whispered to me as I stood there waiting
'OK' I said gaping around at the room 'Seems like you and your friends need some help'
Then two other guys, one with dark brown hair, a grey jumper and black tracksuits ~He's well built but he does look slightly familiar I wonder from where?~  and the other with brown hair a blue jumper and hot pink pants, he looked very sleepy~I think I woke you up, from a deep sleep, Minahe~ I thought to myself, with the other guy, who screamed as  if he's never seen a girl, came in to the lounge room and Seungho joined them.
'Anneyongsaeyo MBLAQ-imida' they all said bowing
'Don't introduce without me'
A guy ran past me wearing a white jumper, blue and white cloud pants and a cat hat making me spin around.
'Anneyongsaeyo Choi _______-imida' I said bowing, slightly dizzy
'Hyung is she your girlfriend?' the guy in the hot pink pants asked
'No' Seungho said standing next to me 'She's less than that'
'So what is she?' The moustache asked
'YAH! I am not a thing ok?' I said snapping back into reality
The guy with the cat hat hid behind the slightly familiar guy. 'Hyung she's scary'
'I know' the familiar guy said 'She seems evil'
'OK' I said there talking about me like I'm not here ~Jeez~ 'One I am not evil, two sorry for scaring you and three sorry for waking you' I said looking at the sleepy guy.
'I almost forgot' Seungho said 'Introduce yourselves'
~No shoot Sherlock~I thought to myself
'Anneyongsayo Kyungnamseons G.O-imida' the guy with the moustache said bowing
'Anneyongsayo Honey abs Lee Joon-imida' the familiar guy said bowing
'Uh-huh' I said nodding my head
'Anneyongsayo Dungie, Dungie dung du-du-du-du dung CheonDung-imida' the cat hat guy said bowing
~so many du's~
'Anneyongsayo I am Jeonam's Pride and heir apparent of the Yeong Ranch Mir-imida' the hot pink pants guy said
'One question' I said 'What's this MBLAQ thing-y?'
------------------------------------------------------------------------------------------------------------------------------------------------------------------------------------
For those of you who are wondering where I got the introductions from was from MBLAQ Idol Army please watch.
Please comment and subscribe!!!
If people can't  figure out what everyone wearing look at these two pictures
^ Back to Top