MBLAQ and Soapy water not a good combination!
by Yamasau and FlamingMinho |
Tags jungjihoon leejoon mblaq romance seungho you | Report Content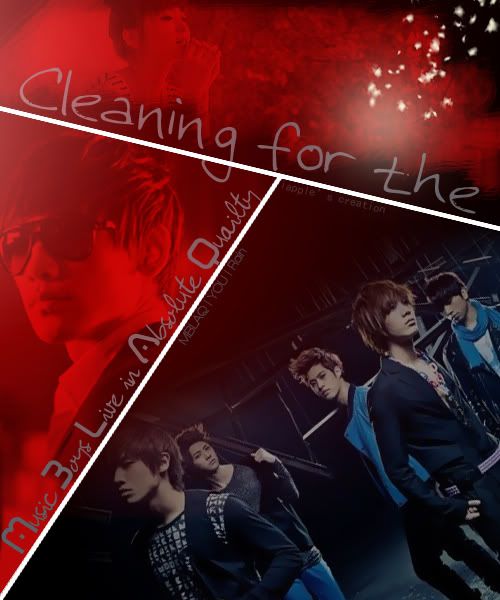 ~FIVE DAYS LATER~
For the past five days I've noticed Mir and G.O acting weirdly, and when I mean weird I mean, rolling around on the floor, doing Charlie's Angels poses, weird. The bite mark on my nose disappeared slightly, now it just looks like freckles, in a round circle and I have to see Super Junior tomorrow.
'OTTOKE?!' I yelled dropping the plate I was washing back into the sink, letting water overflow from the sudden impact.
'Are you… WHOA!' CheonDung said sliding across the kitchen
'Omo CheonDung are you… WHOA!' I said slipping on the water and sliding on the floor about to hit the pantry door 'Ow!'
I made impact and landed on my butt next to CheonDung who was laughing on the floor with his legs up against the pantry door.
'Are you guys ok?' Everyone else asked running towards the kitchen
'Don't…'
Too late. Everyone was now sliding across the floor and heading towards us, I quickly tried to shield myself from any impact. Who knew that putting MBLAQ and soapy water together is a bad combination? Joon was pushed against me, while Seungho was pushed against him. Mir had his checked squashed against CheonDung's right cheek while G.O was lying on the floor.
'Are you ok?' Joon said looking down at me as I tried to shield myself
'I think I'm ok' I said rubbing my forehead 'I had gone two days without bumping my head anywhere'
'Hello is anyone here?'
I know that voice.
'OPPA!' I said loudly
'Where are you…? Whoa! What happened here?' Minho said standing at the entrance of the kitchen
'Oppa I'm under here' I said waving my hand to show him
'Got you' he said pulling me out while the rest of SHINee was helping MBLAQ.
'How did you guys get in here?' Seungho asked confused
'The same way Noona got in here the first time' Taemin said smiling happily
'The first…' G.O said thinking hard 'You yelled rape?'
'Who got raped?' Seungho said
'No, you Pabo' I said hitting him upside the head 'I got in here by picking the lock'
'Oh that' he said rubbing where I hit him
~Hey I just noticed Jonghyun's shorter in person~
'I'm what?' he said opened mouthed
'Did I just say that out loud?' I said blushing
'Hyung get's annoyed when you talk about his height' Minho muttered
I quickly hid behind Minho 'Help me'
'You're lucky your cousin's hot, otherwise I would have been very annoyed' he said smirking at me
'HYUNG! How many times have I told you no hitting on my cousin?!' Minho said glaring at Jonghyun
'I don't mind, he's not my type anyway' I shrugged 'I prefer someone like Taemin'
'YAY! I'm Noona's ideal type' he said back hugging me
'Aw!' No fair' everyone else muttered
'But Onew is my bias' I said quietly
'NOONA! WHY?!' Taemin said releasing his arms
'Kamsahamida' Onew said bowing
'HYUNG! I'M HER IDEAL TYPE NOT YOU!' Taemin said almost crying
'Taemin I have something for you' I said remembering
'What is it Noona?' he said his eyes sparkling
'Close your eyes' he did as he was told and closed his eyes with his hands.
I ran to the pantry and pulled out the box of Banana Milk.
'Compliments of Choi _____' I said as he opened his eyes
'BANANA MILK! ' He said taking the box of twenty four cartons of Banana milk 'THANKS NOONA! Even if I'm not your bias your number one on my list!'
'Awww this kid is so cute' I said pinching his cheeks
'See Hyung why can't you be more like _______ Noona and buy me lots of Banana Milk' Taemin said facing Minho
'Because unlike Noona I have a life and I know how to use money' he said glaring at me
'Excuse me! You are only nine days older than me' I said standing in front of him 'And I was always better at Maths than you were Mr. I-ONLY-GOT-B-PLUS'-BECAUSE-I'M-NOT-A-TRUE-ASIAN!' (My Chonny: B PLUS! B PLUS AGAIN!)
'You've been watching My Chonny too much' Minho said shrugging
I kicked him in the knee 'Says the one with parents who's always yelled at him for getting B pluses instead of A's'
'WOW! Minho lost to a girl!' Key burst out laughing
'And here we all though he was the competitive one' Jonghyun cracked up and soon everyone was laughing with him
'YAH! CHOI _________ WE SWORE WE WOULD NEVER SPEAK OF THIS' He yelled over everyone laughed
'Not me just you!' I laughed
'Choi _____ you better run, run ,run' he said 'Run devil devil run!'
I quickly began running around the dorm with him chasing after me.
------------------------------------------------------------------------------------------------------------------------------------------------------------------------------------
Hey everybody Yamasau here! 
It seems like you all loved Mirlock Holmes and G.O Watson! 
Well get ready because they will be back in the next two chapters!
It's been a whole long week and it's my last week of school holidays! YAY! i'M HAPPY!!
So did you like it?! I'm on a high i think. I had my monthly visit form Aunty Flo and it sucks! 
But i can be happy because IT'S BEEN AN OFFICIAL YEAR SINCE TEEN TOPS BEEN AROUND!!!!!!!!!!!!
WOOHOO! CELEBRATE GOOD TIMES COME ON!! (throws mini party!)
ok i'm done celebrating!
I just found out today that SHINee are coming to Australia but not to Melbourne but to Sydney and I really wanna go see them because they're are other groups going as well and I really want to go!!!!!
I WANT SHINEE HERE!!!!! PLEASE PLEASE!!!!
I want my first ever concert to be  KPOP CONCERT! (ESPECIALLY SHINEE!!)
^ Back to Top