2

Angelic Disaster

Completed!

by muzikmaster
85 subscribers | 8344 views | Updated | Created
Tags angel angst daeguknamah dna karam romance hyunchul | Report Content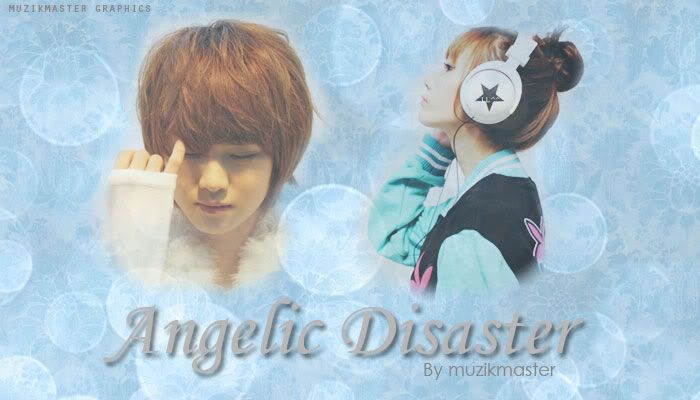 Characters
You & Karam (from Daeguknamah/D-NA/The BOSS)
Description
"He was so angelic… but he was disastrous. He was… my angelic disaster."
"She was so beautiful, even when she cried. She was the angel of death."
COPYRIGHT: © muzikmaster 2012-etc.
ANY FORM OF PLAGIARIZING, PRINTING, SAVING ON YOUR COMPUTER/DEVICES/ETC, TRANSLATING, REDISTRIBUTION, REPOSTING WITHOUT PERMISSION, COPYING, CREDITING AS YOUR OWN STORY, ETC. WILL NOT BE TOLERATED.
Foreword
You are an angel of death. You are able to heal minor pain for a little while and your job is to guide the spirits of souls after they die. You have a new person to look after for now -- Karam.
Karam is the dying person that you're in charge of for the time-being. He is more angelic than you in your point of view. His time on Earth is almost over, but does he really care?
______________________
This won't be a long fanfic. Maybe a two-shot or three-shot.
Anyways, this thought just popped up in my head now, and I just ADORE Karam, so I hope you readers will subscribe and enjoy<3
Tweet
^ Back to Top