Falling In Love
by dbskgirl4ever
Tags dbsk gangs jaejoong korean kpop mute | Report Content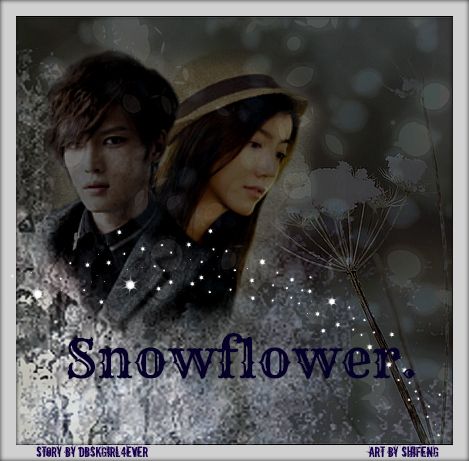 http://www.youtube.com/watch?v=xLjFsfEkgEE
-----
One evening, you were coming up the alley with bags of groceries in your hands.
2 big, nasty men turned the corner at the same time you came up.
You bumped into them and accidentally dropped the bags on their feet.
"OW! DAMN!" They cursed.
You panicked and fervently bowed in apology
. "Watch where you're going, will you?" They growled.
You bowed again.
The smaller man smirked in anger, "Stubborn girl won't admit she's wrong." "Yah! Why aren't you saying sorry?" The bigger one asked. You tried to explain but they mistook as you being stubborn. "Aish! Rude bitch!" The bigger man raised his hand.
You winced *Oh no.*
Out of nowhere, a hand snapped out and grabbed the man's wrist. All of you looked up. Your eyes widened at the sight of a furious Jaejoong. His eyes were dangerously narrowed at the men.
"Who are you?" The man asked.
Jaejoong didn't even bother to answer. He just looked straight into his eyes, "If I were you, I'd just leave."
The man smirked, "If I were you, I'd run." "Yeah, my friend can kick your ass!" The other man guffawed. The bigger man's grin disappeared, "Let go."
Jaejoong's expression told him he had no intention of doing that.
"Aish! You bastard!" The bigger man raised his other hand but Jaejoong was faster. He twisted man's arm. He cried out in agony. Jaejoong snarled in his ear, "You should've left when I gave you the chance." He kicked the man and he fell face first onto the cement.
"Come on! Let's go!" The smaller man yelped. The bigger man scowled but ran off.
Jaejoong watched them disappear around the corner. He looked at you. In surprise, you slightly jumped and blinked. Jaejoong grabbed your bags, looked at you, and turned towards your house. You didn't move. You were too stunned. Jaejoong stopped and looked back, "Aren't you coming?" You blinked with your mouth slightly open. He nodded to your house, "Let's go." You closed your mouth, nodded, and ran after him. The two of you went to the rooftop. Jaejoong set your bags down. He turned to leave but you grabbed his arm.
Jaejoong turned around and looked at your grip. You quickly stepped back and held out your hands in a 'wait' gesture. He curiously looked at you. You pretended to pull a jacket over you, "Your jacket." Jaejoong nodded. You headed inside. You stopped and glanced back. You motioned him inside, "You can wait in here." Jaejoong paused then followed you inside.
You turned the lights on and looked around *I washed the jacket and ironed it. But where did I put it?* You went into your bedroom.
Jaejoong put a hand in his pocket and started looking at your family pictures. He picked one up of you when you were 5. You were smiling cutely next to someone that seemed like your brother. Behind you, your parents were broadly smiling. Your mom's hands were on your shoulders. Jaejoong softly smiled.
Suddenly, the lights went off. He looked up and out the window. The power was out in the city. Jaejoong turned around and inclined his head *Is she okay?* He headed to your room.
Jaejoong had just stepped inside when you bumped into him.
*Oops.* You almost fell back but he quickly wound an arm around your waist. You looked up and your eyes widened. In the silver moonlight, you could make out his pretty, handsome facial features that were so close to your face. Jaejoong stared back, just as mesmerized. His eyes automatically shifted to your pink lips.
It was like that for a while until you meekly held up his jacket.
"I don't care about the jacket." Jaejoong whispered as he gently pushed your hands down.
You searched his eyes *Then what do you care about?
* It was evident in them.
You. He cared so much about you.
Jaejoong leaned in and you didn't back away. When his lips touched yours, everything around you changed. Shiny fireworks seemed to burst inside your mind as butterflies floated in your belly. It seemed like you had gotten your voice back. Your family back. Your life back. You were that happy and full of life. You closed your eyes and kissed him back.
Jaejoong felt exactly the same way, possibly more. He felt…free. Alive. Joyful. Colors swirled inside his head and brightly illuminated his black and white life. It was like he had another purpose in life now, besides getting revenge. *I can't believe it. I, Kim Jaejoong aka Hero, the biggest, most powerful, coldest, emotionless, merciless gangster…actually fell in love. I'm in love with ~~~~~~~~, a mute girl who makes my heart sing and life more beautiful and meaningful than ever.*
Jaejoong slightly opened his eyes to get a look at you. His ice cold heart melted down to the deepest core. He felt renewed. He was...different.
Better. Much better. His eyes sparkled and lips shaped into a soft smile against yours. Jaejoong closed his eyes again, placed his hands ever so gently on your cheeks, and kissed you even deeper with all the passion and love that his heart had found and sought for all his life. *I love you, ~~~~~-ah.*
You dropped the jacket and tilted your face up. Jaejoong moved his lips to match more perfectly against yours. *Oh wow…who knew I would fall in love with this perfect, beautiful stranger who I don't' know anything about? I don't even know his name!*
But did it matter then?
No…absolutely not.
-----
:] now is the start of what youve all been waiting for...a beautiful love life <3333
^ Back to Top