The Dorks I
by -hyun-ae-
Tags comedy donghae korean kpop kyuhyun superjunior laugh | Report Content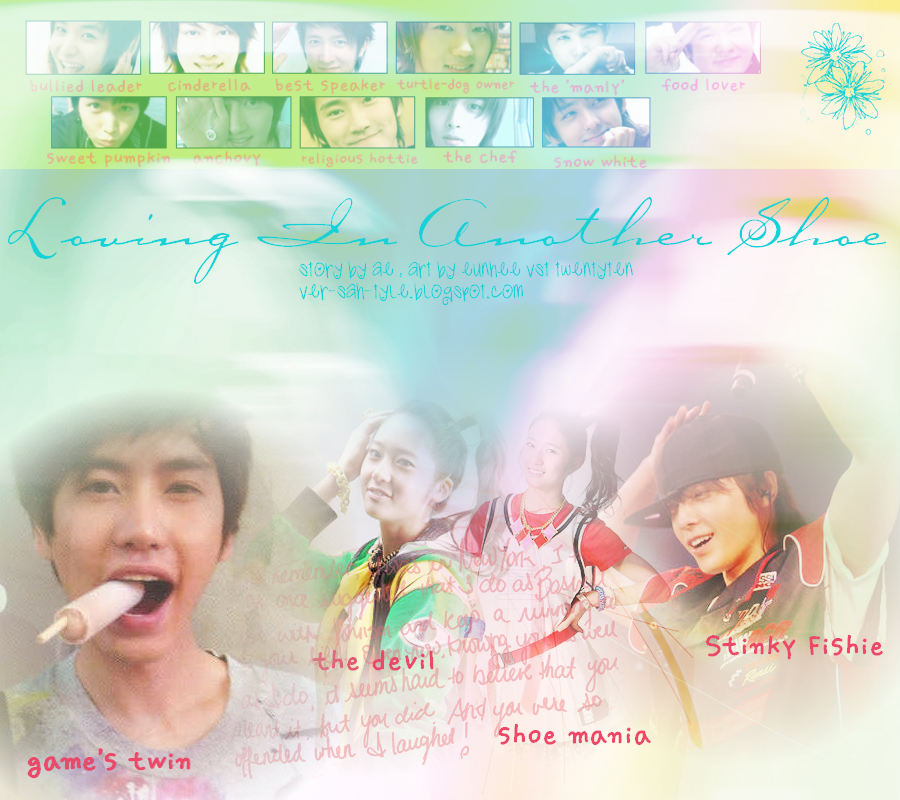 -해 린.HAE RIN-
Wow, who knew meeting someone who looks freakingly the same as you would be so much fun?
Why don't they provide this kind of services to the public? Maybe I can coax the agency who found me this girl so that everyone can have their mini-me.
What? It's for a good cause! To make everyone in the entire world happy is a good cause. Well, okay, maybe not entirely everyone in the world because if you were to make criminals happy to commit their actions, then it wouldn't be a good cause anymore.
Hey, those criminals are the one who put me into this mess!
If that killer didn't go around carrying a gun, threatening a girl in a dark alley and shot her in front of my eyes, then my shoes wouldn't keep appearing in my dreams to take revenge at me for having them being tortured in Donghae's hands!
Yaiks.
Well, now I just have to co-operate with Ha Young. And I'm not complaining. She is really one of a kind. It's like her mind and mine think alike. The rumours are true then, great minds think alike.
I think, it's a rumour, right? Or is it fact?
First and important to know about my life, "Super Junior."
===========================================================
-하 영.HA YOUNG-
"Hae Rin ah!" She seemed like she's been thinking deeply about something. Well, she is probably thinking how to coax that secret agency to provide their services to the public.
Not a bad idea though.*knocks head three times*
"You said we need to learn about the super pioneers? They are pioneers in what field?" I think she said something like super pioneers, though my mind is far away from wanting to learn about history or something.
"Pioneers? No, I said Junior!" Hae Rin exclaimed then.
Alright, now I'm confused. I used to think cooking for a house full of boys for the first time is hard, but now, understanding how pioneers become juniors is harder.
"Wait! They are pioneers but then become juniors?" I swear my school teacher taught me that 'pioneers' are people who started something or created something and 'juniors' are people who are below pioneers. Like someone continuing the pioneers' work.
Oh, that teacher of mine is going to have a nice tea with me added with my unremitting lectures on her mistakes while teaching me.
No wonder I suck at her subject.
Nice, Ha Young! Find another person to blame on your failure at Algebra then.
"Nooooooo." Now Hae Rin's face is twisted in confusion.
"It's simply this. You misheard me. I said Super Junior, not Pioneer. Arasso?"
Ahh, now that makes a lot of sense.
Great, now, after I finish all this replacement thing I got to meet my teacher to apologize for talking bad about her, although I only talked to myself.
I'm a nice kid, huh?*smiles*
"What's a Super Junior?" As soon as that question came out of her mouth, Hae Rin went into shock mode.
Hae Rin's shock mode is simply this : her ongoing exclamation of 'What?' and 'How could you not know?' plus her voice become soprano in an instant.
Oh, did I mention she ran around her room and ransacked every drawer of hers while saying those exclamations?
Uh, huh. She did.
===========================================================
-3rd PERSON-
After Hae Rin calmed down, that is after Ha Young is able to do her laundry, cook lunch for herself(yeah, the maids went crazy too) and clean her room, Ha Young starts to talk again.
"You're done right? Tell me you're done babbling. If you're not then I'm going to take a walk in this neighbourhood, find a cute guy at the park and marry him." Ha Young really hopes she's done. She means REALLY.
"Okay, sorry. Wow, we got a lot to do then." Hae Rin spoke in a normal manner, finally.
"You see Super Junior is an immensely popular boy band in South Korea formed with 13 members. I have known one of the members since school, so we are close friends. However, he's older than me but I don't call him oppa. We're really like good friends."
13 members? What are they trying to do? Make an army to attack with musics and dances?
"And I have to know the characters for all this 13 members?" This is seriously not funny for Ha Young.
"Nope." Hae Rin assured. Woah, that's a big relief to Ha Young.
"You have to learn living with them because you'll meet them almost everyday. You're not going to just 'know' their characters." Perfect.
===========================================================
-동 해.DONG HAE-
Another day gone with no news from Hae Rin. It's been a peaceful life.
Fine, I admit. It's like too quiet. Minus the noises made by the members of course.
I'm not worried of course. Hae Rin can take good care of herself. I really mean that sentence.
At school, although ahe's younger than me, she usually stood up for herself.
One time this bully purposely destroyed her bag's zipper so that she couldn't close her bag properly and the contents will keep spilling out.
That afternoon, she rode the same bus at that bully. During the bus ride, she grabbed the bully's bag and threw it out the window. She had perfect timing too.
She threw the bag out when the bus was on passing on a bridge on top of a polluted river. Nice, huh?
Then suddenly my memories eradicate as Eeteuk hyung came hiding behind my back.
"Donghae ah! Be my bodyguard! Kangin is going to rip my underwear out and make a curtain out of it for our dorm!" Eeteuk was stuttering while yelling that sentence out.
"Hyung.....what did you do?" Surely Eeteuk did something. It's like the law of nature. Okay, more like the law of Super Junior. Kangin gets pissed, whoever is responsible gets hell. Simple.
"Nothing! I just woke him up so that he would remove his make-up!"
"Mianhaeyo hyung. There's a law to follow. Besides, you're seiously going to put me up against Kangin hyung? That's like asking Kangin hyung to chop a fish!" I reminded him.
Just then Kangin bursted in our room, his eyes searching for Eeteuk hyung.
"Have fun guys. Blow your minds out!" Not literally though, I thought to myself while heading out of the room, leaving Eeteuk and Kangin hyung to carry out the Law of Super Junior.
===========================================================
-해 린.HAE RIN-
"First up, Eeteuk oppa." I showed a picture of him to Ha Young.
"He's really sweet, motherly-like and get bullied by the members often, although, he's the eldest. Plus, he's the leader of the group." Just a brief explanation for now will do.
"If he keeps getting bullied, why is he the leader?" Ha Young asked.
"Good point there. Don't mind asking me, I'm not even interested to know why. When you're around him and the members, don't be too motherly okay? He wants to take care of the group himself. He feels that's his responsibility. So, just act spoiled with him, but don't be bitchy, got it?" I think will get that into her brain. She seems like a smart student.
"Next, Heechul oppa."
"He's the same age as Eeteuk oppa, just a few days younger. He can be really pretty at times, that's how he get the Cinderella nickname."
"You mean, this guy, calls himself Cinderella?!" Ha Young becomes perplexed. Wow, Super Junior really is an army made to conquer the world with different types of character. Although Ha Young still can't figure out their strategy, a constantly bullied leader and a Cinderella by his side certainly doesn't sound like a good strategy to her.
"Ha Young ah, let's grab that lunch you cooked before when I was self-destructing myself in my room." My stomach makes a perfect sound of hip-hop and R&B music. That's a cue for lunch!
We'll just resume with the learning later.
My stomach found its way via the nervous system to my brain to tell me that if I don't eat now, I'm going to experience a phenomenone called famine. Nice work stomach!
Gulp!
Ha Young only cooked for herself and already finished the whole thing!
===========================================================
A/N: Okay, I know. This chapter sucks. Really, my brain cells are committing suicide, that's why good ideas can't be produced. Sorry though.
I swear I'll write better!
Just keep on reading okay! Trust me!
Comment on what you think and maybe anything you want to add!
Just let me know you're reading so I don't feel like not many are reading my story.
See you!
20100410
^ Back to Top