The Love of Silence
by marimallow
1219 views | Updated | Created
Tags 2min angst minho romance shinee taemin taeminxminho | Report Content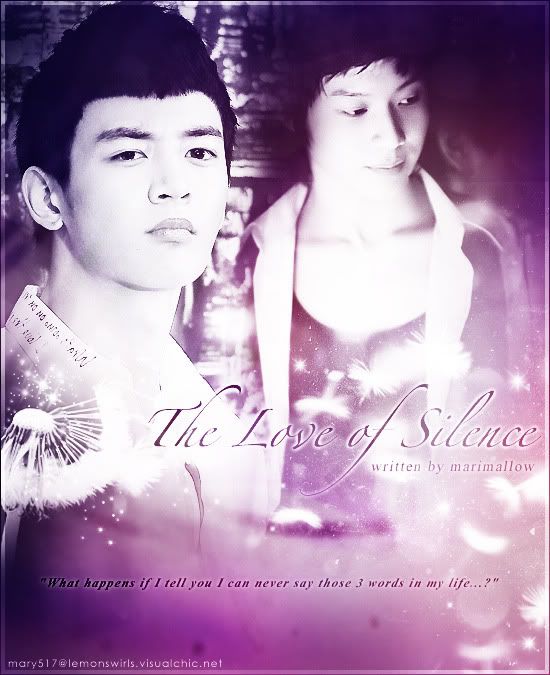 Characters
Lee Taemin + Choi Minho
Description
The silence is deafening, his words will never seem to ring out in my ear. Those 3 words he never seems to be able to say. When will he know that i have no voice?
Minho is a huge bastard at the school. Beating up innocent people without any mercy and for no reason whatsoever. It was a hobby. Until me meets Lee Taemin, a boy who stole his heart without even realising and never seems to speak for some reason. What will Minho do with this boy? Is Taemin just really shy or is there more behind the silence?
"What happens if I told you I can never say those 3 words in my life?"
Poster credits to Mary517 from Lemonswirls :D I LOVE HER FOREVER...XDXD
Foreword
I believe in the love of silence...
Its frustrating, annoying, almost stressing to never hear those 3 beautiful words ring in my ear.
Its sad actually, I can never seem to hear those words say out to me...
Ever.
But I still believe...I still have faith...I still love.
Because actions will always speak louder than words...
-------------------------------
A oneshot dedicated for LuciferGirl97 and Kim Jonghyun + anyone else born on the same day...:D
IM SORRY THIS IS A BIT LATE D:
KJSANBFJKBSDJDJBGKDJSBKGJDSBGJBSD
Forgive me?? D:
This may be a one shot, or a two-shot, or a three shot, or a-
Yeah....you get my point...ITS A SHORT STORY LOLOLOL...XDXD
Ill edit everything when i feel like it :D
Rated for foul language...maybe some sexual themes if i feel like it ;)
Tweet
^ Back to Top