Yes Or No?
by hagocimit
Tags dara daragon darakhun gdragon khuntoria | Report Content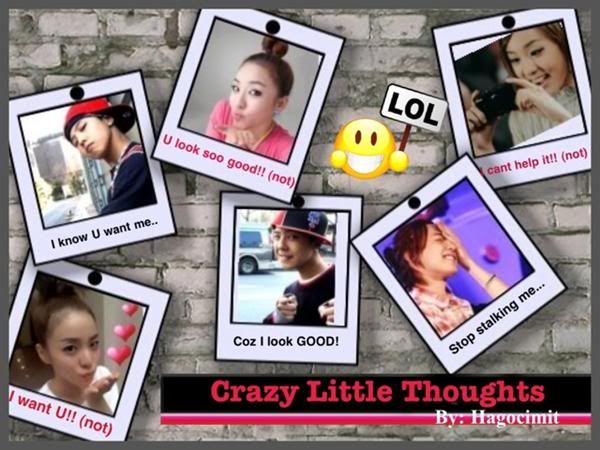 It's the end of the world.
I sighed. It really is the end of the world. If you're afraid that your life is going on the way you planned it and you want some disturbance in it, ring me. Gah! I'm the king of no-luck. I'm the unluckiest guy in the world. I thought my purpose in life was to fulfill the role of Victoria's soulmate. But no. . . Mikmun snatched her away from me.
Oh, how cruel is this life?
Hmm… I think… I think Mikmun hypnotized my Victoria or he used some bada bing bada boo on her. Why else would she like him?
Aish! What am I thinking? If she was really hypnotized or put under a spell, she should have come back to her senses right after she saw me. That's how true love works. But that didn't happen. Ah, this is so depressing! Why is this happening to me? Victoria can't be involved with that Mikmun! No, no, no, no. . . . . . !!!!
I paused in my tracks as I saw Mikmun and Victoria up ahead. Great. What a very good way to greet my morning. How am I going to concentrate in my classes later? HOW?!? I can't stand this anymore. I spun around just as to avoid seeing them being lovey-dovey to each other. Jeez, what an eyesore! I heaved a sigh and was about to take a step away from more heartbreak when I saw Sandara park standing a few feet ahead of me, staring up ahead with wide eyes. We should form a club together: The Club of Rejects. I could totally understand what she's feeling right now. She must be shocked out of her wit's end. Ah, she must be asking herself why someone like Victoria's involved with Mikmun and not with me, Kwon Jiyong. Okay, maybe I'm being a bit delusional again. But I could just predict what will happen. Any moment now, she'll turn away and ran as fast as she could or she'll run to me, threw herself at me and cry her eyes out. (I had a great feeling she'll do the latter. Maybe she wanted to smell me again? Ah. . . the power of Kwon Jiyong's smell).
But she did neither. Instead, she walked past by me. My eyes followed her. I was about to call her and tell her she walked past by me (I mean, come on! Hello! I'm here! You're supposed to throw myself at me, cry your eyes out and smell my unique perfume?). I gasped upon realizing that she's going to confront them. What if she's planning to attack Victoria? What if she wants to slap her, pull her hair or other things worst than that? Gah! No! Eventhough Victoria just broke my heart beyond repair; I don't want her to get hurt. I need to stop my ex-stalker-turned-to-simple-admirer from doing that.
"Nick-!" she started calling him but I was quick enough to reach her and cover her mouth.
"What are you-?" I started but I wasn't able to finish my question since she bit my hand. And not just that, she elbowed me and stepped on my foot! "Aww. . . awww. . ." I groaned as I went on jumping on my heels. Aigoo. That hurts! She's an amazon! Gah! I knew it! She is a scary psychotic girl! Alright, that's it! She doesn't have the honor to be a simple admirer of mine. From now on, she's just a nobody in Kwon Jiyong's life! How could she hurt me? How DARE her?!? Gah. I took deep breaths to help me divert my attention from the throbbing pain. What planet did that girl come from, anyways?
With teary eyes, I looked up ahead. I breathed a sigh of relief upon seeing that Mikmun pulled Victoria behind him. Sandara Park wasn't being violent, though. From my place, I could tell that they were arguing. Err, I'm not trying to be nosy but I can't help but wonder what they're arguing about. Tch, that girl. . . she doesn't have any decency at all! Why would she bother confronting Mikmun? If it's over, it's over. And then, a realization hit me. Sandara Park really likes Mikmun! She used him to forget me because I can't return her feelings so she turned to him and asked him to help her forget about me! Ha! She DID like me before. I mean, why has she been so eager to talk to me before? Come to think of it, she's actually the first girl who approached me and talked to me. She introduced herself and asked me my name. Now, isn't that a show of admiration? And eversince that, she always greets me everytime we bumped into each other.
She must have seen the way I stared (or drool) at Victoria that's why she gave up on me and turned her attention to another guy. And that guy is Mikmun. Ah, so it's my fault why Sandara Park is heartbroken TWICE now. First with me, and now with Mikmun. It must have felt terrible to be heartbroken because of the same girl. I mean, I can't return her affection because of Victoria and now, Mikmun (whom she fell in love with because of ME) broke up with her because of Victoria.
Hold on! Oooh, I think a bulb just lit up above my head. I could use this situation to my advantage! Alright, let me picture the scenario. The trio is slowly gaining attention and I bet Victoria didn't want that. I could tell that she's embarrassed with all the drama Sandara Park is pulling. So all I have to do is pull Sandara Park out of the scene, reprimand her and embarrass her. Then, she'll go away. Victoria then would look at me with shining eyes and she'll see me as her hero! I'll be saving her from humiliation and embarrassment and since Mikmun wasn't able to do anything, Victoria will leave him and tell him that she's better off without him. She'll tell him that I am the best guy for her.
Did that brilliant plan just came out from my mind? DID I JUST FORMULATE THAT BRILLIANT PLAN IN A MATTER OF SECONDS?
 

I'm so. . . so touched. I can't believe my brain would help me in times like this (ah, I feel like crying).
Oooh, god job brain! Ah, my brain just wowed me with this idea. With chest pumped out and steps oozing with confidence, I marched to the little gathering. Okay, so they didn't notice me approaching since they're pretty much preoccupied with the confrontation.
"But why her?" I heard Sandara Park asked. "Out of all the girls here, why her?"
"There's nothing wrong with Victoria!" Mikmun argued.
Okay, I'll have to give credits to Mikmun for defending Victoria. Clearly, Sandara Park is insane. How could she question Mikmun for choosing Victoria over her? I bet all of the guys here would rather be with Victoria than Sandara Park.
"But you're aware of her reputation with-!"
"Don't you dare speak like that about Vicky!"
Oooh, Mikmun's looking very pissed. And Victoria's really red. I think she's really humiliated right now. I have to move quickly. It's time for Kwon Jiyong the Hero to come to the scene.
"Ehem" I cleared my throat upon reaching them but they ignored me. "EHEM!"
"What's wrong with you?" Sandara Park demanded. "You-!"
"Nothing's wrong with me" Mikmun countered. "It's YOU! You're the one having problems here-,"
"- you just can't accept the fact that we're over"
Silence then filled the hall. I quickly took advantage of it. "EHEM!"
"You said you love me" Sandara Park whispered. "You said you're not going to leave me. You promised that-,"
"Just accept that I fell out of love, Dara" Mikmun gently said now. "I'm sorry"
Sandara Park shook her head.
"Did Victoria give you what I didn't give, Khunnie?" Sandara Park asked. "Is that it? Did she give you good sex, huh? Did she-?"
My eyes widened. Wow, that was a hard slap.
"I already told you not to speak of ill things about her" Mikmun gritted. "It's over, Dara. Just accept it"
"I can't believe you hurt me" Sandara Park breathed.
"YA!" I burst out "I've been clearing my throat-," I suddenly stopped when Sandara Park turned to face me. I took a step back upon seeing the girl's tear-stained face. Okay, I've seen her cry before but her tears still took me by surprise. I wonder why that is? Aigoo, am I getting softhearted to Sandara Park? Nah, I don't think that's the case. She's just pitiful.
Okay, as I was about to open my mouth and reprimand her, she suddenly sobbed and threw herself at me.
KYAAAAAAAAAAAAAAAAAAAAAAAAAAAAAAAA!!!
OMONAAAAAAAAAAAAAAAAAAAAAAAAAAAAA!!!
What is this, what is this?
Gah! My body instantly froze at the body contact. My eyes grew wide as I glanced at Victoria. Omo, I hope she won't give any meaning to this. What happened to my plan? I'm supposed to be Victoria's hero, not Sandara Park's crying shoulder!
"I suggest you have a serious talk with your girlfriend" Mikmun darkly said as he started pulling Victoria away from us.
I'm too shocked to even move or react.
It's official. THE WORLD HAS REALLY ENDED.
I don't know how or why it happened but a while later, we both ended up in the rooftop. Yeah, I skipped class again. This Sandara Park is a bad influence!
"Why did you hug me?!" I whined. "Now Victoria would think I'm your boyfriend. Gah! That is just so disgusting!"
"I can't believe he's with Victoria right now. Out of all the girls. . . ." she said, looking like she's not aware I'm with her.
"YA!" I exclaimed. "What's so wrong with Victoria? Any guy would choose her than you. Victoria's the most amazing girl that walked this earth"
She stayed silent. It was then that I realized what I said. Omo. Since when did become so rude and mean to girls, or to one particular girl? I was just telling the truth, though.
"I'm sorry. I didn't meant to. . . offend you"
"You like Victoria?" she asked in disbelief.
"Like is an understatement" I told her. Why did she sound so surprised? Jeez, I think I'll call sourgrape for this.
"Victoria has a bad reputation when it comes to hot guys. She. . ." she trailed then sighed. "Oh, never mind"
She's jealous. I think she can't accept that Victoria's better than her. Oh well. . . this is real life, baby.
"You should find a different girl now" she said. "She won't give you a second glance"
"Ya! What does that mean?!?"
"I told you, Victoria got some reputation with HOT guys"
"I'm H-O-T!" I protested. "You should have your eyes checked.
"Hot, you say?" she scoffed. "Look at you, you're like a little school boy with geeky glasses, outdated hairstyle and-,"
"What?" I exhaled. "Geeky glasses? Outdated hairstyle? Gawd! You don't even know what fa-shown is, do you? And yes, eventhough it's spelled as F-A-S-H-I-O-N, it's pronounced as fa-shown. And you have to put an emphasis on the W, it's fa-shoWn. I bet you don't even know that. No wonder Mikmun left you. You don't know anything about the trends lately"
"Yeah, right" she snorted, sounding as if she's mocking me and herself. "If that is the latest in fa-shoWn, then why haven't Victoria approached you?"
I was SPEECHLESS. For the first time in my life, I was left speechless. When she chuckled, again, I slumped on my place. Jeez, what a bully!
"Laugh at me all you want. It's not going to bring Mikmun back to you. It's not like you can change me into someone that Victoria prefers, either"
"Maybe. . ." she suddenly jolted up. "Maybe we could help each other out!"
"Let's make them jealous. You help me get Khunnie back and I'll help you with Victoria"
"That's. . . really evil"
"Come on!" she exasperatedly said. "You do want to have a chance with Victoria, do you?"
My eyes narrowed. "I thought you don't like Victoria?"
"Well, yes but. . . I just don't like her generally for Khunnie" she said. "It's a brilliant plan! I can feel he still have feelings for me. If I win him back, then you could have Victoria for yourself. I'll help you get her, all we have to do is pretend as a couple"
"That's in exchange of you helping me too"
"I honestly don't think I need help" I told her.
Sandara Park chuckled. "If you ask me, you do need help" she said, checking me out. "A makeover is a start"
"A makeover?" I repeated. "I don't need that"
"You definitely need a makeover"
"I don't need one" I stubbornly said. "Now, if you'll excuse me, I have classes to attend to"
I paused. It was really tempting but it sounded ridiculous too. Me? Makeover? Gah! And I can't even imagine myself being with Sandara Park much more act like a sweet boyfriend to her in a public place. The mere thought of it makes me wanna puke. It's just disgusting! I shudder to think of myself holding hands with her. That is just so. . . unacceptable. "No" I finally answered.
"Your plan sounds ridiculous"
"What is there to lose if we give it a try?"
Okay, it's really tempting but. . . I just can't! gah! It's really humiliating on my part to be seen with her. I'll be putting my name, my face, my reputation and my dignity on the line here. But it's also partly my fault why she's so desperate, though. If only I returned her affection towards me before, she wouldn't have turned to Mikmun. If she didn't turn to that guy, she wouldn't have fallen for him and she wouldn't be here with me.
But gah. . . No, I should stay firm on what I've decided.
"My answer is no and it's final" I told her. I then walked out and started heading to my class.
They day passed by. Nothing much happened. I can't really understand why I have to go to school. I'm already intelligent. But since I'm not paying for my education, I have to attend classes. I don't want to disappoint my uncle.
Ah. . . life. It's so complicated.
As I walked home, I suddenly had this weird feeling of being watched and followed (my instincts don't go wrong! EVER!) Eh? Could it be one of my secret admirers following me? Hmm, well there's only one way to find out. But I need to act like I haven't noticed. So I started whistling merrily. Without warning, I turned around but I was only greeted by an empty street.
Ah, I know! She's doing some ninja moves on me! Hahaha! I can do that, too! Hmm, I wonder who's following me? Ah. . . sometimes I can't help but think I'm not really being delusional about being a campus heartthrob. It's for REAL! Ha!
I backed up against the wall and glanced from left to right. With my arms pressed hard against the wall, I started sidestepping. Aigoo, I bet the stalker wouldn't see me now since I'm on my stealth mode. Mwahahaha. I don't want that stalker to know where I live. She might get inside the house late at night and attempt to rape me! Gah! That is so unacceptable.
A while later, I finally saw my house. I rolled, crawled and stealthily moved like a jungle cat all the way. Ah, finally. . . . I can-
I froze, like literally froze. Buckets of ice were poured down on me upon hearing that voice. Lo and behold, Sandara Park's sitting in the gutter in front of my house. OH. MY. GAWD! She actually became a real stalker this time! With a determined battle cry, I jumped over the waist-high fence and sprinted to the door.
"WAAAAAHHHHHH!!!!!!" I screamed as I fumbled on getting the key under the mat. "WAAAAHHHHH!!!!" I went on as I straightened up and inserted the key in the hole. Upon hearing the click, I pushed the door open and went inside. I quickly closed the door and locked it. I leaned against the door and clutched my chest. I was breathing really heard. Omo, omo, omo! What should I do now? I can't believe Sandara Park followed me! OH. MY. GAWD! But wait, she arrived ahead of me. How did she know where I live? Gah! I leaned away from the door and started pacing around the little area while biting on my nails. Out of nowhere, I heard a click followed by the creaking sound of the door opening. I froze. With wide and fearful eyes, I watched as Sandara Park stepped inside. Upon seeing me, she smiled.
She likes me! Kyaaah! See, I told you! But wait. . .that was before right? Omo, I think she's just turning her attention to me because she thinks it's too impossible to be with Mikmun.
And now, she's going to RAPE me! For real!
Out of desperation, I went down to my knees. "Please don't rape me!" I begged.
She laughed (the evil kind of laugh villains usually do). I suddenly had goosebumps all over. "You really are funny!" she laughed again. "Why would I rape you?"
My eyes narrowed. "You're not planning to rape me?"
"Of course not!" she laughed. "Aigoo! I swear, you're the funniest person I've ever met. Hahaha! HAHAHAHAHA!!!"
"If you're not planning to rape me, then why are you here? How did even manage to open the door?"
"You left the key in the hole" she said, rolling her eyes.
"Oh" I mumbled as I slowly got up to my feet. I cleared my throat as I tried to regain my composure. "So. . . why are you here?"
"About the deal. . ." she started. "Let's discuss it"
I stared at her. Seriously?! She must be really desperate. Gah! This is my fault but me and her in a pretend-relationship?
There's no way, absolutely NO WAY I'll agree with her.
Seriously, I'm not going to say yes, EVER!
^ Back to Top