Elusive
by hagocimit
Tags dara daragon darakhun gdragon khuntoria | Report Content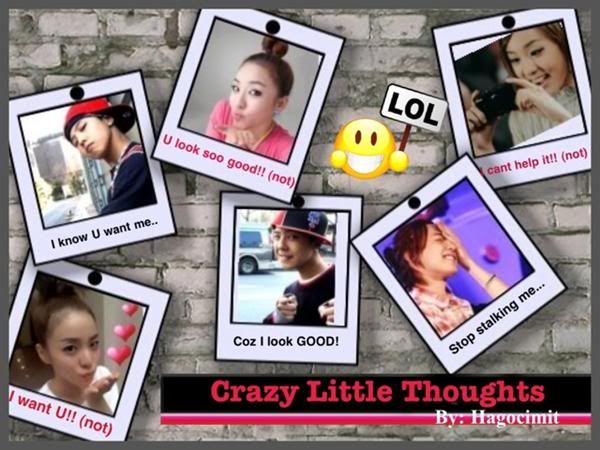 I could feel their eyes on me but I didn't mind them. As I was getting drinks for me and Sandara Park, I felt a small crowd closed in. "So. . ." a schoolmate of mine opened. I tried to remember his name but I came up with blank. "So. . ." he said again. I raised my brows at him. "You're Sandara Park's date tonight, huh?"
"Obviously," I answered coolly.
"Let me guess, she offered to give you a makeover so that you'll come with her?"
It was close to the truth. "If I didn't know better, I would say that you're just jealous of my new look because most of the girls' attentions are on me now."
His jaw clenched while his friends started teasing him. "You may have a new look but that would not change what you really are – unstable. Dara must be really desperate for thinking of getting you as a date. Oh wait, is she a psychiatrist now?"
There was a dull ringing in my ears as they all laughed at me and Sandara Park. They went saying things about me. I didn't mind about everything they said about me and that actually surprised me because I usually give a great deal to what other people think about me. But then, they started talking about her like she's some kind of. . . a desperate, social climber, attention-seeker person. Flashes of the times when Sandara Park used to greet me with her warm smile and how I used to think she was just trying to get my attention because she has a thing for me. Flashes of her laughing at simple things I say even if they weren't even funny went played inside my head, too.  I was never a violent person. I never even think of anything violent before but I suddenly had this weird urge to lose control. But no, if I'd do that, I'll only cause trouble and embarrassment to Sandara Park.
"Probably," I quietly said.
They fell silent. "What?" the person in front of me asked, blinking at me.
"Yeah, I think you're right," I said. "I think Sandara Park can be a great psychiatrist in the future."
They all laughed again. "Oh, so you agree that you're a bit. . ."
I smiled. "I think she'll be a great psychiatrist in the future because she did not choose to bring you as a date." That shut them off. "Now if you'll excuse me, I don't want to keep a beautiful girl waiting."
I started heading back to my pretend-date. The lights were dimmer now and it didn't help enlighten my mood. And then, something happened. I'm not sure why or how or what it is but all I know was at first, I was making my way through the crowd, trying to get past people who are now looking at me like I'm an interesting creature but then, I suddenly saw a tunnel in front of me, a dark tunnel. No, it's an alley – a dark alley. I could hear footsteps behind and I could just smell fear and exhaustion in the air. Then there was a scream. It rang inside my head that I stood motionless on my spot, not knowing where I really am. The scream sounded so distant yet so close that it gave me goose bumps. It was beautiful, yet terrifying. After the scream, there was laughter and then more scream. "Run!"
Run? I can't understand what's going on.
"Jiyong, run! Ruunnn!"
The dark alley seemed to not end. I can hear heavy breathing but it sounded so. . . young, like a boy was running and running and running. . .
It hits me again, the pain in my head. All my muscles locked down in place. A touch on my arm unfreezes me. I blinked and saw Victoria looking at me with a frown on her face. "Are you all right?" she asked.
I exhaled slowly. I don't have any idea what's going on but I managed to smile. "Yeah, I just remembered something."
She nodded slowly, smiling a little. I looked around, searching for Sandara Park. "Where is she?"
"She's talking to Khunnie," she sighed.
I looked at her closely. "You don't like it?"
"Of course I don't," she answered. "What else is there to talk about? Khunnie clearly said that it's already over."
"She loves him," I quietly said.
She looked at me. "How about you?" she asked. "Is it alright with you knowing that your date's talking privately to her ex?"
I shrugged and took a sip from the glass I'm holding. I offered her the spared one and she accepted it without question. We turned silent then.
"So. . ." she started up again. "So, what made you agree to Dara?"
"What are you talking about?" I asked back.
"Oh come on!" she laughed. "We both know what's going on here. She's trying to get Khunnie jealous so she could get him back."
I smiled. "So you think I'm the type of person who could get your boyfriend jealous then?"
A knowing look flashed across her eyes. But it was gone in seconds. She smiled back at me and chuckled a little. "Well, you've transformed a lot," she said. "I don't know if you've noticed but you actually captured every eye in this hall."
"Including yours?" I asked. I saw it flash in her eyes again and suddenly, I felt good about it. Something was familiar about this conversation. It's as if I've seen and watched several people discreetly flirt with each other. I kept my eyes on Victoria, my dream girl. She gave me a smile that hints something – as to what, I don't know. "Too bad for everyone, though," I said after a while, looking around.
I smiled. "I've already set my eyes on someone," I said, staring at her.
"Really?" she asked. "May I know who?"
"Of course you can," I laughed a little. "Actually, my little angel is just making her way back to me."
She looked up to where my eyes were and I didn't dare look at her reaction as we saw both Dara and Nickhun standing awkwardly from each other. There was a frustrated look on her face and the guy looked bothered or something. The little angel then started craning her neck, her eyes darting here and there. And then, it finally met mine. Her reaction was instant – she smiled. It was as if she finds something funny with just the mere sight of me. But then, her eyes darted to Victoria who was standing so close beside me. The angel's smile falter as a hesitant look came over her face. I haven't known her for long but I could tell what's running in her mind: she wanted to give me time to be with Victoria but I could sense that she was stressed with something. So I gave her a smile and started walking towards her direction as I saw her ex lean closer to her ear, his lips moving. Dara glanced up at him and said something to him. "Where have you been?" I asked, squeezing myself in between the two. I rested my hand at the small of her back and pulled her a little closer to me. "Here, drink this," I said, offering her my drink.
She accepted it and I saw the gratefulness in her eyes before she took three sips from the glass. After that, I noticed how she seemed to relax a bit. "Sorry if I just disappeared," she said, laughing a little. "Nickhun here suddenly thought it's a good idea to have some fresh air outside."
I clicked my tongue. "Why can't I leave you alone without getting snatched by other guys?" I lightly said. It was meant to be a joke but maybe I sounded too strained for it to pass that criterion. I turned to face the guy. Victoria was already there beside him. "She did not cause you any trouble, did she?"
The guy frowned and glanced at Dara quickly before looking back at me. "Dara has never been the type of person who causes trouble, on rare occasions, yes."
"Ah. . ." I returned. "Well, it seemed that you don't really know her, do you? If you only have the slightest idea of all the troubles she caused me."
Victoria raised her brows at Dara. Then, she looked at me with a smile. "Troubles like what?"
"Well. . ." I trailed, looking down at the small girl beside me, small but determined. I can't help but smile at that. I look back up to the again. "Well, there was this one time when we were eating in a restaurant when this certain. . .what was the name again? Lee. . .Lee. . ."
"Lee Minho," Dara quickly provided.
"Yeah, that guy. He came in and sat to the table next to ours, I think he was with his manager. Some fan girls started asking for autograph or photo, including this little angel beside me but the manager said no. I saw how disappointed she was so I went to talk to the guy's manager. We argued actually. After some time, I made a deal with him. And so, he allowed Dara to get the guy's signature and photo. If you'd only seen the fans glares. . . ." I laughingly finished.
"What deal did you make?" Victoria asked.
"Ah. . ." I sighed. "Please don't ask me, I don't want to remember that anymore. It was troublesome, I tell you."
"Since when did you like Lee Minho?" the guy asked, frowning. "You never said you liked him, much more a fan of him."
"Well. . . I wasn't really a fan but when he walked past by our table, I smelled his perfume and it smelled exactly the same as Jiyong's, so. . ."
"Hmm, so you've been sniffing me, huh?" I teasingly said.
"How can I not? You always want to make. . . I mean, you always initiate skin contact and all."
The tension in her eyes totally left her now. I can only see playfulness in them and I was glad with this piece of information. I laughed lightly but it didn't sound force, it sounded natural. "Who wouldn't want to get intimate with someone as beautiful as you?" I said, purposefully making my voice husky. I saw her blush and it was so genuine that I laughed for real this time. It was funny how an act could pull something genuine, real – pure.
And then, we got lost in our own little world of acting. The act of teasing each other went on. I was oblivious to my surroundings until the feedback of the microphone brought both of us to the real world. Victoria and the guy were still there, standing, watching us. Both faces looked controlled, as if they're trying to hide something.
The guy was staring at Dara. I looked down at Dara again and saw her lips moving, forming words. . . words that I fail to hear or notice since I got distracted with her mouth. The corners of her lips were quite tight, as if she's being forced to speak. Then, she looked up at me. "Right, Jiyong?" she asked, smiling.
I blinked. And then, I laughed. "I'm sorry, I wasn't able to get hold of the conversation. I got distracted with your lips. Again."
"Can I call my son, Nickhun and his girlfriend up on the stage please?" a voice boomed over the place with the help of the microphone. "Oh here they come!" the elder guy said. The crowd applauded as the couple joined the old man up in the stage.
The old man started talking but the words slurred in my head as my eyes kept on darting to the dragon statues. Something's telling me that I've seen them before. . . . I just can't shake the feeling off and I can't understand why.
And then, it started again. I'm back in the dark alley. Scream. Laughter. Run, run, run. . . panting.
I blinked and I was brought back to the hall. I looked down at the girl.
"Are you alright?" she asked worriedly, you looked a bit. . . pale."
Confusion hits me. I can't seem to understand the meaning of her words. The creases of worry on her forehead deepened when I didn't answer. She lifted one hand and touched my forehead. Her skin felt warm. It felt warm, just like. . . just like. . . a sharp stab of pain hits my temple again but I did not show it to the girl. No, there was this weird protective instinct in me that's telling me not to show any sign of weakness to her right now because if I do, it'll only weaken her resolve, too. So even if I don't feel like doing so, I smiled. "I'm alright little angel," I said.
She chuckled. "You don't really have to call me that when no one's paying attention enough to hear what we're saying. I'm impressed, though" she said. She wasn't paying attention to the old man's speech either. "You're quite a natural at this. If you've only shown me you're this good during our practice, we could have saved more time from the hassle."
Slowly, my mind started clearing, as if a vacuum just engulfed the dark clouds off my mind. I remember my purpose, as to why I'm here. I made a deal with Sandara Park to make Victoria and Mikmun jealous so we could get what we want.
^ Back to Top