The Thing With Stupid People Like Me
Completed!
by amusingmurdermachine
| Updated | Created
Tags heechul snsd superjunior you | Report Content

Characters
Heechul, you/Jung Min Ah, Lee Yeon Woo with special participation from Sungmin, Leeteuk, Kyuhyun, Sooyoung, Kangin, Yoona, Taeyeon, Yuri, Tiffany, Sunny and fan service courtesy of Siwon
Description
God created the thing called 'hurt' for a reason. Your first love isn't always gonna be your last. It just signals an army of times you'll get your heart broken along the way—and every time, you'll just have to teach yourself how to love again.
Foreword
This was a spontaneous shit I came up with at 2:30in the morning. Yes. That's my usual writing-machine mode schedule. This is dedicated to a friend of mine (you know who you are) …and to every victim of unrequited affection.
Suggested To-do List AGAIN:
Read. That's what you're here for.

If  the piece captures your interest at all, thank you. And thank God.

Subscribe.

Pretty Please~

Comment.

Oh, please do. I'll be sad if you didn't. Therefore, please.

Tell your friends.

Bond. Read together(I'm sorry for this, I kind of suck at advertising)and laugh with—not at the story, if you will.
Oh, yeah.

Don't take out without my consent.

Karma exists. Fear it.
 If you still insist,

at least credit

or disclaim. That's the least you can do. Remember Karma.

Do let me know if ever I wrote something identical to a story here written before mine right away.

I will delete my story and try to start a different one if the concept and the flow are too similar. I hope that doesn't happen, though.

Do not alter anything.

In other words, don't edit. I don't care if it's just a single dot. Don't change anything.
Disclaimer: I don't own the Super Junior and SNSD members who appeared in this story. I also do not own the OCs Jung Min Ah and  Lee Yeon Woo. Luckily, I own the storyline.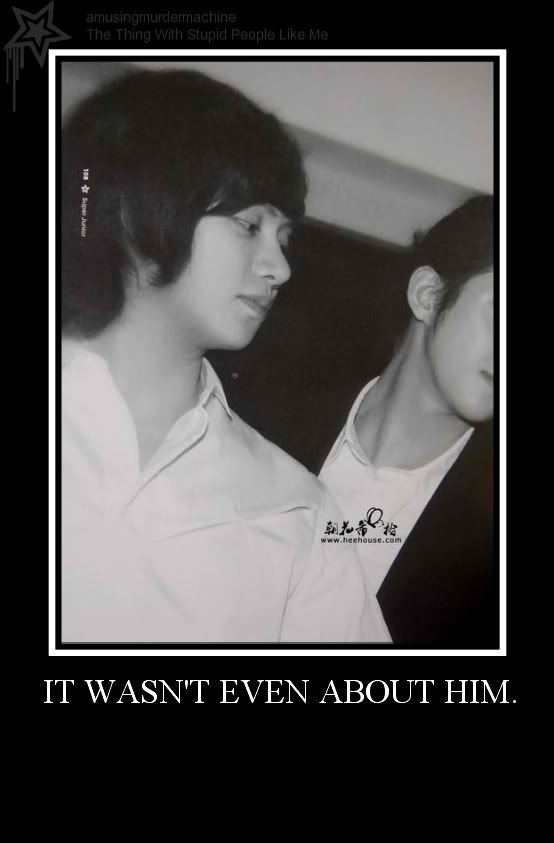 Click Next.
Tweet
^ Back to Top