9

Guys At My School Wear Boxers, But I Wear Panties!

★

by mizanimation
2150 subscribers | 258159 views | Updated | Created
Tags jonghyun key minho onew schoollife shinee taemin | Report Content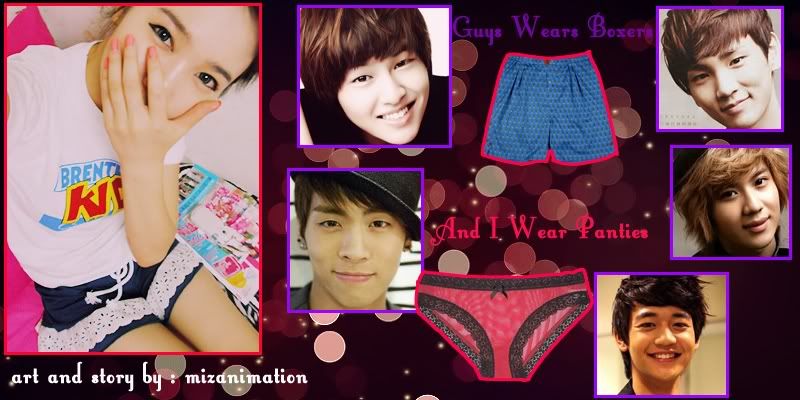 Characters
SHINee and Jang Younha(fic).
Description
Being the baddest female in her all schools she goes to, Jang Younha found out she will be going to an all boys school to have a lesson learned. But what lessons will she learn? Younha was kicked out of bootcamp for being too much of a talk back. Now that she's being put into an all boys school, will her lesson be learned? Will she change to become a better person? What will happen to Jang Younha?
Foreword
She rolled down the her side of the window as her bangs flew back. "This is your new school Miss," her chauffer told her as she ignored him and studied the school. "They're just boys, what can they do?" She asked herself as her chauffer chuckled. "That's what I was telling your parents and-"
"You talk too much Han Soo," she told her chauffer as he shut up the second she told him to. "Just drop me off here, I can walk," she said as the chauffer parked and she stepped out of the car. "I-"
"Don't pick me up. I remember the way home," she told her chauffer as she heard the bell rang. "Just on time," she mumbled as she shut the car door and walked to the front gate. There were still some boys just entering inside the gate too and yes, they all checked her out.
She didn't mind, she's going to have to get used to it anyways. Making her way to the main office room and meeting the principle herself. As she was in the hallway, she unbutton her black blazer and untucked her white blouse out of her red skirt. She loosened her red tie and sighed as she opened the door.
Many boys followed after her and was surprised to see a girl. "Ah, Miss Jang Younha." The principle and her new homeroom teacher greeted her with a polite bow and she just smirked as she took off her hair band and ruffled her moussed curl hair.
"Sup," Jang Younha greeted.
-
THANKS TO COFFEEPRINCE FOR MY AWESOME TITLE! HAHA!
Tweet
^ Back to Top