UNFORGETTABLE
Completed!
by ditzyyunnie
37 subscribers | 3382 views | Updated | Created
Tags boyxboy jaejoong tvxq yunho yunjae | Report Content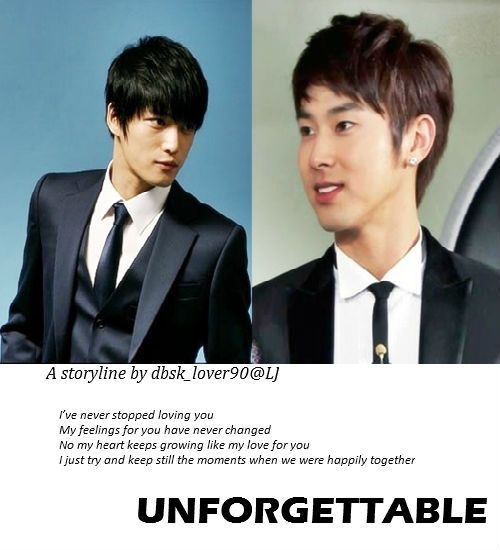 Characters
Jung YunHo Kim JaeJoong
Description
CHARACTER PROFILE
Jung YunHo - He was 27 years old. Before working at SME as a lyrics writer, he works at a small entertainment house and quit right after he break up with his lover. When JunSu said his lyrics note end up at TVXQ's hand, he decide to moved on and agree to be TVXQ official lyrics writer and at the same time their concert director. Through TVXQ, he built his life once again.
Kim JaeJoong - He was 27 years old. He graduated from Seoul University with master in bussiness administration. He was a second child while his older sister was run away from his parent house, then he too run away after his father found out about his relationship with YunHo. He live with YunHo with YunHo supports but he didn't know his father threaten YunHo.  
Shim ChangMin - He was 25 years old and a cousin to JaeJoong. Always supporting JaeJoong and YunHo relationship. TVXQ's die hard fanboy. 
Kim JunSu - He was 27 years old.  A boyfriend to YooChun and was working with SME as dance instructor.
Park YooChun - He was 27 years old. A boyfriend to JunSu. Bestfriend of JaeJoong and YunHo since University time. Plainly he was working as a normal office worker. 
Special appearance:
Uknow, Hero, Micky, Xiah and Max as Tohoshinki @ TVXQ..
Foreword
He was only an orphan boy while the other was from a wealthy family and they meet during high school and then finishing high school together. Didn't want the person he love to be someone else he confess his feeling. He's happy when the other said yes. But after a few years, they were found out. The father of the person he loves came to him saying a break up words. He said to his lover a lie, he create a lie just because didn't want the other… to found out.
What the truth? Is the lies will be forever? Will he be forgiven...
Tweet
^ Back to Top