1

Breaking Boundaries

Completed!

by virus_
1563 views | Updated | Created
Tags yunho yunri yuri | Report Content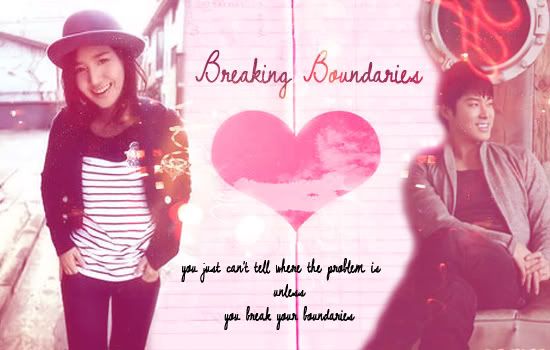 Characters
Jung Yunho | Kwon Yuri
Description
They have known each other even before their first memory of anything.  They went to the same school and pretty much belonged to the same crowd.  They share the same best friend in the form of Shim Changmin but Jung Yunho and Kwon Yuri are never close friends.  They could not even hold a conversation longer than one minute between them.  
He is the perfect poster boy: good grades, good upbringing and good genes.  The guys want to be him while the girls would love to be with him.  Everyone wants to be his friend and he thrives on that attention.  He is always gracious and has a ready smile for everyone. 
Kwon Yuri considers herself as the most privileged one.  Except for the sports where excels, there's nothing much that she can say she made for herself.  She is entitled to where she is because of family affiliation.  Her bright personality however makes up to whatever she deems lacking.
The differences stop there.  How they are not even friends is mind boggling for those who could notice.  If there is an unpleasant history between them, only Shim Changmin and the two of them would know. 
Foreword
"Min!" Kwon Yuri called out as she slumped beside her best friend, Changmin, who was busy playing with his PSP.  The guy didn't budge as the girl beside her started off with her usual rant.  He was already used with her rants and her hyped up, and sometimes, violent greetings.
"Come on, you are not listening to me," she whined as she tugged on his arm.  He has been best friends with her since they were seven to know that his only way out of this was to give in.
"Alright I am listening," he said as he regretfully set down his gaming device.  "Your skirt is too short."
"It's what the school sent to my house," she said without masking her annoyance.  "I was saying that SM will have one of their rare underground party tomorrow.  We should be there, Min."
"Sure.  And what are you going to do with your History paper?  I know you haven't started it yet."
"And about that.  Could you help me on it?  I swear, I already have something in mind on how to do it but I need you to fix them."   Changmin grimaced and Yuri grinned triumphantly.
"I know you couldn't resist me." 
"So have you already talked to your father on which college you're going?" Changmin said as his hand slowly reached for his PSP.  "I heard your mom talking about Wellesley."
"Blah.  Like it's going to work.  What about going to the same college?" she nudged her best friend.  
"You're kidding, right?" Jung Yunho jumped into their conversation right away as he slipped on a chair across their table.  "You're not going to drag him down like you always do now."
"Yun..." Changmin sent Yunho a pleading look not to attack Yuri.  "She's not dragging me down.  I just prefer not to be on top like you do."  Yunho snorted.
"Yeah, right.  College is different from high school.  You should go strive with or without Changmin's help."  Yuri rolled her eyes and stood up.  
"I would surely keep that in mind."
"Where are you going?" Changmin looked up from his game, a worried expression on his face.  
Yuri didn't look back.  She tossed her long hair on her back, "I am dealing with Christopher F. Columbus."  Some eyes followed her as her short skirt would bounce up.
"See what you did?  Why can't you two be friends?" Changmin glared at his other best friend.  Yunho shrugged and took out three tickets for SM Underground Party.
"So do you, two, have plans for tomorrow?" he asked as he waved the tickets.  Changmin grinned and grab the two tickets from his hand.
"Not that I know of."
---
A/N: Two-shots of YunRi, yeah baby!  That poor excuse of a poster is made by me, thank you for not saying anything about it.  And can you please tell me if you think the storyline is cliche?  Just to keep you from saying "update soon".
Tweet
^ Back to Top