2

Breaking the Ice

by -boundless
127 subscribers | Updated | Created
Tags drama infinite myungsoo romance | Report Content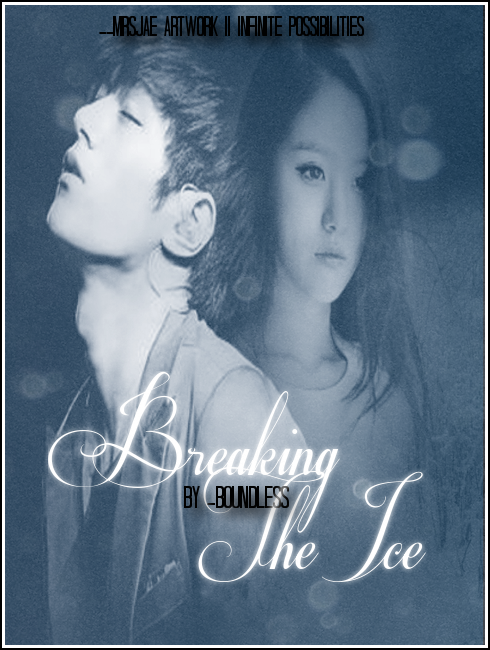 Characters
Lee Mirae (O/C), Kim Myungsoo (L), Infinite, Other Characters
Description
He was a handsome, popular playboy, adored by all the girls, yet seemed cold and mysterious.
She was a pretty girl that guys fawned over, yet she preferred to stay in the shadows of her peers.
One bet brought the two together.
He vows he will never fall in love.
She doesn't believe in love.
So, what happens when the two start to fall in love?
CHARACTERS:
Lee Mirae (OC)
New to Seoul Academy, Mirae is friendly yet distant, to anyone other than her best friend. Pretty soon, she's known as the school's 'Ice Princess', for her quiet confidence and cool behaviour towards others. Love? Not something she believes in. Not anymore.
Kim Myungsoo
Adored by all the girls and envied by all the males, Kim Myungsoo, or L, is a member of a group at Seoul Academy who call themselves Infinite. Although he receives much love from the girls he meets, he doesn't ever reciprocate that love, not with genuine feelings, anyways. He treats girls as beings that he can throw away as soon as he gets bored. He is seen as cold and mysterious, and not many get to see the warm, caring side of him. He vows that no one will be able to touch his heart. That is, until he meets Mirae.
Infinite
Made up of the 7 most popular and good-looking guys in school, the members of Infinite are the most sought-after boys in Seoul Academy. But despite their cool-guy images, the guys in Infinite are actually all quite nice, and are dorkier than their images give them credit for. They are caring and protective of their close ones, and soon become Mirae's closest friends.
Go Hyeri
Mirae's best friend. She has been with Mirae through thick and thin, and is the only one whom she will tell anything to. The two couldn't be more different, but somehow ended up as the best of friends. Loyal and protective, she has a wicked sense of humour, and a confidence that sets her apart from others. Her loud, outgoing boy-like attitude makes her an easy person to talk to, but although she seems like a friendly, outgoing girl, she will not hesitate to start a fight if a loved one of hers is involved.
Foreword
Welcome!:)
This is my first attempt at writing a fanfiction with chapters, and not a oneshot that I make up as I go, and I really hope I don't disappoint you guys. 
I promise to work hard, hehe.
I've actually had the idea for this fic in my head for a while now, but since I'm quite insecure about my writing /cries/, I started to draft it, but never quite worked the nerves up to actually start writing it.
If you enjoyed my oneshot, I really hope you enjoy this story as well!
*edit 113012; changed to 3rd person POV
Many thanks to Mia/ --mrsjae at ∞ Infinite Possibilities ∞ ║ A Graphics & One-Shot Request Shop for the beautiful poster!
Copyright; 2012 @-boundless. All rights reserved.
No printing or redistribution allowed.
Do not post anywhere else. Please, please do not plagiarize; it ruins it for everyone.
Disclaimer: Any groups that appear in this story, I do not own. *coughalthoughIwishIdidcough*
Tweet
^ Back to Top