One Last Wish
by Isabelle123
| Updated | Created
Tags angst beast dbsk jaejoong jyj romance doojoon | Report Content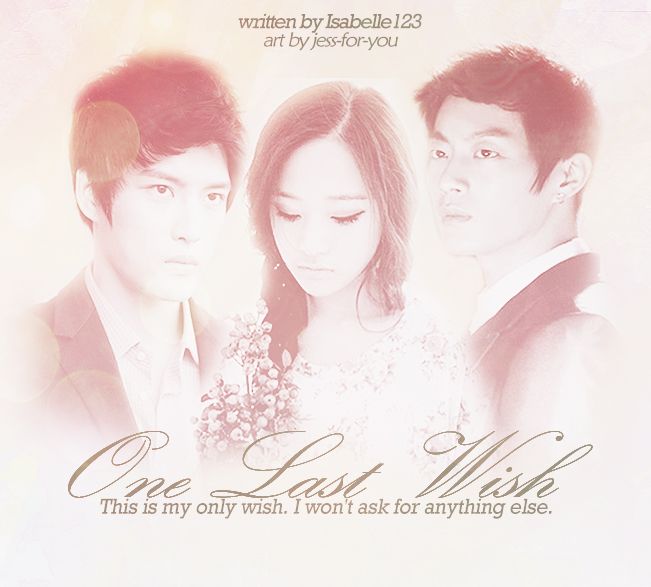 Characters
OC (Mi-Young), Yoon Doojoon, Kim Jaejoong
Description
"This is my only wish. I won't ask for anything else."
**Some scenes may be Rated for language and some sexual content but there won't be a lot of smut.
It's not necessary but If you haven't read the first one, read it here: http://www.asianfanfics.com/story/view/127495
Characters
Lee Mi-Young: Caring, sweet, fun-loving girlfriend of Doojoon. Her and Doojoon live together in the apartment they brought in Seoul. After divorcing Yoochun, she changed her name to 'Lee', her mother's maiden name as she didn't want to keep it as 'Park' due to her divorce with Yoochun or 'Kim' due to Eun-Bi. She is yet to be proposed to by Doojoon even though they have been together for 3 years. Spends her time volunteering at the local orphanage where the children love her, age: 26
Yoon Doojoon: easy-going and caring guy who always promised to look after and protect Mi-Young or 'MiMi' as he calls her. He owns a successful photo gallery where he sells/promotes his work. Wants to spend the rest of his life with Mi-Young but has never found the right time to propose to her. Still keeps one secret from the love of his life, age: 29
Kim Jaejoong: Has a killer smile to go along with his killer looks. Acts tough and manly but in the inside he's a sweetheart. Doojoon's old college friend who befriends Mi-Young. He has good intentions but he often says things without thinking, age: 29
Kwon Yoo-Ra: Doojoon's sister and Mi-Young's new best friend. Honest but always gives great advice. Has 2 children, one boy and one girl and also a loving husband. Moved back to Seoul with her canadian husband after he quit his job. Loves Mi-Young and treats her like her own sister.
Plot
Doojoon and Mi-Young are happily dating and have been for 3 years since Mi-Young's divorce from Yoochun but what happens when a mysterious man suddenly appears in Mi-Young's life?
Will Doojoon be in the same position as Yoochun was in 3 years ago?
Or will Mi-Young overcome her temptation of this enticing stranger along with sadness, revelation and betrayal?
Foreword
"Okay, let's just agree, we both lied. Are you happy?" Doojoon rolled his eyes.
Mi-Young furrowed her eyes in annoyance, "did you just say 'are you happy?' Doojoon, do you realise that you kept that secret from me for the entire time we've known eachother?"
"I know and I'm sorry but I'm not the only one keeping secrets. You've been continuously meeting this person, when I specifically told you not to!"
Mi-Young looked to the side in defeat. She knew she had done wrong but she just couldn't get her head round what Doojoon had just told her.
"You have no idea what he's going through!" She shouted back to him, causing him to remain silent.
"Do you have any idea what you're putting me through!?"
The gifs I post are Not Mine.
Thank you to  ☆Lυcky Stαrs Graphic Request Shop ★» OPEN and || ☁ Sweet Bubble Shop☁ || Closed Down for the amazing posters!
Tweet
^ Back to Top