CHAPTER 37 - A LONG NIGHT
Rated M
by martianchild and huntress |
Tags bigbang comedy dara daragon darahae jiyong romance | Report Content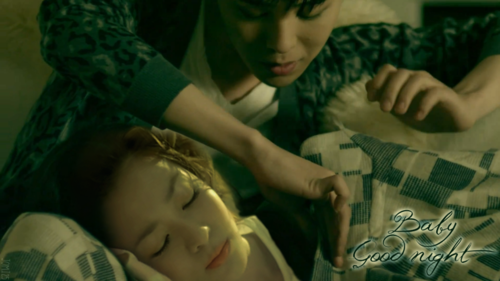 WARNING: THIS IS A RATED CHAPTER! MINORS, KEEP OUT! ~huntress
Thanks to jomiii for the awesome chap banner!
Thanks to jomi25 - Joan Constantino for this awesome chapter banner!
GD lets go of his hold on her waist while Dara stood up and tried to support her weight with her wobbly knees. GD firmly shuts his eyes and turned his face away from her. Dara watched him as he clenched his fist tightly and she can't help but smile. It looks like she's not the only idiot in this apartment. Dara leaned forward and whispered something to GD's ears.



"I love you too, Jiyong", Dara said and pecked his lips. She then turned around and started walking.



To her surprise, GD scooped her up before she can reach the door and placed her on the bed. She was about to sit up but GD pushed her back to the bed as he hovered on top of her. 



"Uhm, you said I should go to the living room", Dara muttered, highly conscious of GD's stares.



"Uhm, I said you should run", GD teasingly said, the faint light from the bedside lamp reflected on his eyes making it glisten.



"Okay. I'll run"



"I changed my mind", GD huskily said as he lowered his face and kissed the peak of her breast which is thinly covered by her revealing silk nightie. She was about to cover her chest but GD grabbed her arms and pinned them at the side of her head. He parted her legs with his knees and settled in between her.



"Jiyong!!", Dara half-screamed, her face turning into the darkest shade of red. She was silently cursing Bom for giving her that dress. One tug of her nightie and her twin peaks will be revealed in an instant, and it's not doing a good job covering her lower portion as well. Bom really took her battle with Dara's hymen seriously.



"Repeat what you whispered to me earlier, then I'll release you"



Dara pouted her lips and turned her face away. 



"Stubborn", GD mumbled with a chuckle and lowered his head again. Dara's hips jerked up when she felt the warm tongue of GD on the upper part of her left breast, then he tugged the fabric covering it downwards, exposing her left peak.



"Oh God, Jiyong stop! Fine, I'll repeat what I said!", she pleaded. She tried to wriggle free from GD's firm grasp of her wrists to cover her exposed peak but he won't let her.



GD then lifted his gaze and looked at her expectantly.



"I love you too. There, I said it. You can release me now", Dara squirmed as GD smiled at her, his face still dangerously close to her now erect nipple. To her utter shock, GD placed her peak in his mouth, gently sucking it, doing wonders with his tongue.



"Jiyong!", she whimpered in surprise. Dara was already breathing heavily feeling extremely aroused from the seductive sight before her, but GD is still not done giving her a sweet torture. He bit the silk fabric covering her right breast and tugged it down, planning to give the same attention as he did to the left one. He locked his gaze with hers, and withdrew his tongue to slowly lick her right peak while still staring at her.



The sensations he is giving her are too much for her to handle. Dara turned her head sideways, her hair in complete disarray as the strands cover her face. She bit the pillow to stifle her moan; GD's teasing about her moaning still fresh from her mind.



"Dara...", GD whispered as he lets go of her wrists and brushed the loose strands of her hair. Dara was about to cover her chest but GD pinned her arms again. He leaned down and nuzzled his nose on her soft cheeks, feeling more than contented as his nose were filled with her sweet scent. He showered her entire face with little kisses as he whispered in between.



"I love you, Dara.. Please be mine, make love to me. I promise I'll be gentle", he pleaded, his hot breath fanning her face.



"Y-you mean you want to put your t-thing in my....my....?!", she asked incredulously, about to faint from the mere thought of it.



"Babe, I'll be gentle. Please." 



"What happened to your little speech about self-control?", she countered, still embarrassed of her uncovered breasts.



"Shattered. I can't ignore these treats", he teased as he kissed her exposed peak again.



"Jiyong!"



"Babe, please..", GD begged, looking straight into her eyes. Dara completely lost herself when she saw his pleading eyes. By the way he intimately looks at her, she knew it would be pointless to refuse the temptation. She shyly nodded and avoided his gaze.



"I love you...", he hoarsely whispered and claimed her lips, nipping and devouring every bit of it, tracing the contour with his tongue before finally inserting it to meet her waiting tongue. Eyes both closed, they tasted and feasted on each other's mouth. He nipped and nibbled her lip while releasing his grip of her pinned-down arms. As soon as he did, Dara wrapped her arms at the back of his neck while licking the flesh just below his lower lip down to his chin. GD grunted and entwined his arms on her waist to crush her into his body.



They were both gasping for air as soon as they parted, their lips hovering just a centimeter apart as GD continuously pecked her lips. Dara didn't even bother fixing her nightie, the straps of which already slid down her arms, completely exposing her chest.



GD sat up and took off his shirt and pants, leaving only his boxers and crawled back on top of Dara. 



"Feel me, babe", GD said as he guided her hands to his chest, on top of his beating heart. Dara swallowed hard as she felt his heart crazily pounding. She then ran her hands on his bare chest up to his shoulders before finally hugging him tightly, feeling his skin against her face.



"I love you, Jiyong.. I love you", Dara muttered.



"I love you too, Dara", GD whispered as he nibbled her ear. Dara settled her face on the crook of his neck and nipped it while stroking GD's back. GD tilted his head to indulge her. Dara sucked and licked his neck down to his collar bone. Unable to control herself, she bit the side of his neck and sucked it while rubbing her leg to his leg.



GD groaned, he knelt in between her, slipped his hand under her nightie and tugged her undies down her legs. Wearing only her silk nightie without anything underneath, Dara grew conscious again and tried to grab the blanket but GD didn't let her.



"You're so beautiful Dara", he said as he settled on top of her, grinding his throbbing member with her naked womanhood. Dara quickly bit the back of her hand to stifle her moan, her knees automatically bent upwards.



"Moan for me babe. I won't tease you again, I promise.", he cooed and grinded his member again on her already wet core.



"Ahhhhhhh.....Ji", Dara moaned as she felt her bulge against her parted folds. The tingly burning feeling down below is hard to ignore. 



"Let it out babe. Moan for me"



GD leaned down, kissing her jawline down to her neck, sucking and licking as his hands continued with its exploration. It was his turn to nibble on her neck while Dara's hands strokes his shoulder and back. He licked an erogenous spot on her neck and nipped it while fondling her breasts with his hands, intensifying her excitement. GD lifted her nightie and completely took it off.



He then pushed himself up to marvel the beauty before her. His eyes twinkling while Dara's face is completely flushed. She was about to cover herself again but GD caught her arms and wrapped them behind his neck.



His tongue is now tracing the side of her breasts, leaving a trail of saliva as he continued licking until he reached the peak again and engulfed her nipple, twirling his tongue around it and finally flicking it with his tongue. 



"Uhhhhh...ahhhhhh", Dara let out a long moan, her legs squirming in agonizing pleasure that GD is giving her.



GD continued sucking and playing, completely abusing her peaks. His hand stroked her thigh and slid downwards, cupping her womanhood, feeling her wetness.



The build up and teasing are killing her. Dara reached out for GD, their lips interlocking as GD caressed her inner thigh. With his fingers, he separated her folds and stroked it. Dara moaned on his mouth when she felt his finger rubbing her wet core, stimulating her clit. When GD inserted one finger, Dara winced in pain.



"Ji..."



"Shhh, sorry babe.", GD cooed, his hot breath on her cheeks giving her comfort. He pecked her lips before moving downwards. He began kissing her navel while massaging her waist and back. He traced the border of her stomach and her love mound with his tongue. Dara combed GD's hair with her fingers as he continued to lick every part of her body.



When GD settled in between her legs, Dara felt her cheeks getting warm. It's too embarrassing for him to see her bareness. She wanted to cross her legs but GD stopped them with his hands.



"Dara, it's okay babe...", GD murmured fondly. He then kissed her knees and trailed down up to her inner thighs. Dara shivered when she felt his hot breath on the apex of her womanhood.



GD licked his lips as he stared at her juicy core. He can already feel his aching member wanting to escape and fill her hole but he needs to make her ready first.



Slowly, GD ran his tongue on her folds, eating her up. He lapped her slit, licking her juices clean. He gripped her butt, pressing her closer to his lips. His tongue expertly moving up and down her slit, driving her insane. 



"Unnghhhhh...aaaaHhhh..Jiyongggggg", Dara threw her head back as she moaned shamelessly.



Dara arched her back when GD licked her entrance up to her clit. He then enveloped her clit with his mouth and gave it quick little sucks. Dara was already panting from ecstasy, her breathing became ragged as she gripped the sheets firmly. 



When GD thrusts his tongue inside her, Dara's hips automatically jerked up and she lets out a long moan as warm liquids kept gushing out of her hole. The inner pang in her stomach is becoming unbearable.



"Ji...It's too much..I.."



"Alright babe.", GD huskily said and crawled on top of her. He devoured her lips once again while releasing his pet.



"Hold me, Dara", GD said as he guided her hand to his fully erect member. Dara's eyes grew wide as she held it, noticing how warm it is. She looked down, her eyes grew even wider and her mouth gaped open. She swallowed hard as her throat became dry, never has she seen a male private part like this before. Her hand was trembling as she gripped it, lightly touching the tip which is glistening with precum. A deep guttural sound escaped GD's throat as she did this.



GD grabbed his throbbing member and brushed its tip up and down Dara's damp core. Dara's legs squirmed as a numbing and tingling sensation ran through her veins.



"Ji....", she moaned for his name. GD opened the bedside table drawer, grabbed a condom and slipped it in his shaft. 



"Why are you keeping a condom at our bedside table???", Dara asked incredulously. GD smiled sheepishly and remained silent while scratching his head innocently. He knew more questions are going to come if he replies, no matter what his answer is. And right now is not a very good time for an argument.



GD positioned himself on top of Dara, his member nudging her entrance. He claimed her lips and engaged her in a torrid kiss while fondling her breasts.



"Babe, look at me..", he said as he pecked her lips continuously. Dara looked at him with her half-closed eyes.



"Jiyong, I'm nervous. I know there'll be blood, and it will hurt a lot.", she complained like a kid making GD chuckle.



"It's going to be alright, babe. The pain will go away. I promise I'll be gentle", he assured her. GD can't help but bite his lips as Dara nodded like an obedient child while pouting her lips. She's just too cute. He claimed her lips once again to distract her while the tip of his member nudged her moist hole. 



Dara moaned in his mouth and abruptly stopped kissing him as she panted on the crook of his neck. He massaged her back and gently pushed himself inside, feeling her barrier. Dara bit GD's shoulder as she felt the intrusion in her womanhood. She tightened her hug on his body and began breathing through her mouth to ease the pain.



"Jiyong...", she whimpered in panic, fully knowing that there is more pain to come.



"I'm here babe. Just a little more. I'm sorry.", he whispered while staring at her flushed face. He showered her face with gentle kisses.



"I love you Dara. God, I really do", he huskily said and pushed passed her barrier. Dara stiffened as pain shot through her system. She held onto him tighter than before. Her eyes instantly became moist while she bit her lips to stop herself from crying. She knew it will be painful, but not this painful! She thought she's going to be split in two. 



"Are you okay, babe?", GD brushed her hair aside and stared lovingly at Dara while caressing her back to make her relax. He was still not moving to let her adjust to his size first. Dara gave her a lopsided smile.



"You're so big", she whined. GD let out a soft laugh.



"You should be thankful", he answered and gave her a peck on the lips as he started thrusting slowly. He withdrew his member and rammed it again, making Dara bite her lips firmly. 



"I'm sorry babe. It will go away soon, I promise", he cooed and claimed her lips, playing with her tongue, while his hand strokes her body to ease her pain.



The room was filled with squishy sounds as their bodies meet and move in a steady rhythm, their fluids mixed with each other. Pain was replaced with pleasure of unmentionable proportions as GD continuously hits her spot. GD nuzzled Dara's neck as his pace is getting steadily faster, wanting to penetrate her as deeply as possible, while Dara's hips move up to meet his thrusts. She wrapped her legs on his waist. They were both breathing heavily, both moaning because of pure bliss they're experiencing.



Dara met GD's eyes and caressed his face as he continued rammering his member in her tight hole. The warm feeling in between her legs still seems surreal. Just this morning, she was depressed because she missed him so much. And now, they are making love, their bodies fitting perfectly to each other. She was afraid that all of this is just a dream, and she'll wake up not having him beside her.



"I love you..Jiyong..I love you so much... ", she whispered as tears flowed from her eyes.



"Ssshhh..I love you Dara.", GD replied, his hot breath blowing on her face as he wiped her tears. He leaned his body close to her, letting her feel his heartbeat as their bodies become one. He kissed her again as he continued thrusting in and out of her, making the bed creak with the way they rock each other.



"Jiyongg...Ahhh...", Dara moaned as she threw her head back, her eyes rolling from ecstasy. The intense feeling in between her legs is building up. GD can feel her tensing up, ready to explode just like him. He quicken his pace, drilling her down to the bed.



With one deep thrust, warm waves of pleasure enveloped them. They both moaned as the intense feeling shot up all over their body. She trembled, her toes curled as a surge of emotions encompassed her. She closed her eyes firmly and she saw many colors as the tingling sensation still lingers. Then her arms fell limply on her sides and she heaved a deep sigh. GD continued to drill her afterwards, making sure he releases everything while locking her lips in another kiss.



Then he groaned and sighed deeply before collapsing his tired body on top of her. He smiled as he nuzzled his nose to her cheeks. Dara gave him a tired smile, her eyes drooping as she panted. He pecked her lips and backed away to look at his partner, wiping the sweat off her forehead with his palm. He leaned down and showered her entire face with kisses lovingly as he whispered sweet nothings.



After a while, he knelt and pulled his member out of her. He kissed her knees and rubbed the side of her thighs before gently closing her legs. He slipped off the filled latex and threw it on the garbage bin. Then he slumped on the bed beside her. Dara pulled the blanket to cover them and entwined her arms on his waist while GD pulled her closer, slipping his right arm underneath her head making it her pillow.



Their eyes are locked with each other. GD caresses her face, tracing the contours of her lips with his fingers then brushing her cheeks with the back of his left hand.



"Are you okay babe?", he asked. 



"MMmhmmm", Dara nodded, too tired to even utter a word and still feeling a bit high on the new experience that GD gave him. She felt her cheeks burning just by remembering it, not to mention they're still naked under the sheets. Dara buried her face on the palms of her hands and snuggled on GD's chest. GD let out a soft laugh and lifted her chin up, coaxing her to look at him again.



He smiled at her, nuzzled her nose with his nose and gave her a quick peck on the lips.



"Tired already?", he asked while rubbing her arm.



"Mmmhmmm", she nodded lightly.



"Arasso, rest first. But we still have a long night babe", he winked as he pressed his body close to hers again.



"Kwon Jiyong!", Dara half-yelled and slapped her partner's arms.



_____________________________________________________________



SANDARA's POV






Aigooooo...Aigooooo....



I've been wincing in pain at each step. You would've think I'm climbing a mountain by the way I whine, but I'm just about to go the bathroom which is approximately 10 steps away from the bed.



When I woke up, Jiyong already left (I presume) which is actually fine by me since I don't have the foggiest idea how to act in front of him after doing the deed last night. And we've done it multiple times!!! 



GAAAHHDDD!!! It freaking hurts! I took another step, making sure that my legs are spread wide apart. I lifted my gaze and looked at the mirror. I grimaced as I saw my naked body with purple marks here and there. I didn't bother wrapping myself with a blanket since I figured Jiyong already left.



I took a deep breath and continued with my struggle, taking big steps. I was already halfway towards the bathroom, my legs spread wide apart, when the door suddenly swung open, revealing Jiyong who was staring at me amusingly while I was in the most bizarre position in all my NAKED glory!!!! 




"KYAAAAAAAAAAAAAAHHHHHHHHHH!!!!!!!!!!", I screamed like hell, covered my chest with my arm and cupped my private part with my hand as I flew towards the bed in bullet speed!!! I immediately wrapped myself with the blanket, covering my entire body including my head and buried my face in the pillows. Hu hu hu, it's so embarrassing! He saw me walking nude in broad daylight!!!!!!!!! Gyaaaahhh!! Can it be any more humiliating than this?! ~ ~



I heard him chuckle. WAAAAHHH!!! I am so ready to die of embarrassment right now! 




"Dara-ahjumma", I felt the bed bounced because of his weight as he sat at the opposite side. Then he began tugging the blanket, I gripped it tightly. I can't face him!! I don't have any dignity left!! 



In the end, he managed to tug the blanket covering my face. He was sitting at the edge of the bed, looking fresh and gorgeous as ever with his casual clothes. Gosh, how can he look so cool with just a simple white shirt and faded jeans?



"Good morning babe", he smiled at me and leaned forward. I was about to cover my face again but he held my wrist and gave me a quick peck on the lips. Kkyaahhh!! I can't help but feel giddy whenever he does that! 



I'm pretty sure I already smell like crap so I try to inch as far away from him as possible and held the sheets tightly like my life depended on it. But he also lied in the bed beside me and placed his arm over my waist. He then bit his lips and flashed me his signature smirk. <*diessssss> 




"Sorry I got up first before you did.", he said as he nuzzled my cheeks with his nose. I nodded meekly.



Silence followed. We were just staring at each other. I still can't believe this man before me, THE Kwon Jiyong, is now my...wait..he's now my boyfriend, right?



"Ji.."



"Mmhmm?"



"Are you my..b-boyfriend now?"



"Yeah"



I covered my mouth with the blanket to hide the big smile that inevitably formed on my lips. There were butterflies on my stomach as I stared back at him. Everything seems unreal. It feels like it was only yesterday when I first met him, when I was drunk and got on the wrong apartment while puking all over the place. 



"But that doesn't mean you're going to get away unscathed after not answering my calls for almost three weeks. We still have to talk, ahjumma.", he sternly said and poked my forehead. Aigoo, same old Kwonzilla.



"Arasso ahjussi, I'll take a shower first", I replied and sighed heavily. Oh man, how can I explain that to him without the risk of my as$ being pounded to dust?



I was about to sit but he lifted me up on his arms.



"Want me to bathe you?", he mischievously said.



And I'm officially dead from spazz attacks.








WRITER's NOTE:


PLEASE LEAVE COMMENTS! I hope to hear from you!

This is for the persistent bunch ivy26 and tim2x and to the green lovers hooch and SivSema (and louraine, don't deny it!)


I haven't updated the PM List yet. I WILL MAYBE TOMORROW!


Cheers!


Lotsa Love
huntress unnie 
^ Back to Top