Stumble into Love
Completed!
by jayceekkamjong
175 subscribers | 12039 views | Updated | Created
Tags infinite ljoe teentop woohyun you | Report Content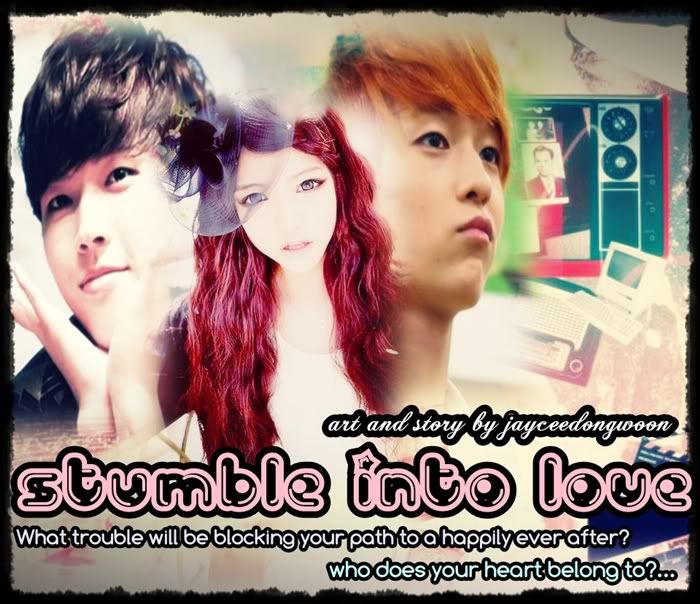 Characters
You, Woohyun, L.joe, Infinite and Teentop
Description
You just came back from England, clueless of what is happening when you were pushed over by the Teentop fans making you crash into the barricades. You tried retreating but the wild fan girls knocked you down and then you realize you knocked over the barricade and fell right in front of Teentop. From that day onwards, you guys keep on bumping into each other but L.joe slowly treats you a bit more than a friend, little did he know that your boyfriend is Woohyun who is also in a group call infinite. Will L.JOE win your heart or will it remain with Woohyun forever? What trouble will be blocking your path to a happily ever after?
Foreword
CHARACTERS
You (______): A 19 years young girl who has a funny and optimistic personality. Is currently Woohyun's (infinite) girlfriend & is in your 3rd year of high school.
Your boyfriend (WooHyun): 20 years young. Has a protective and humorous personality. Also is in a music group called 'INFINITE'.
L.JOE: 20 years young. Has a bad boy and cool image. In a music group called Teentop. Eventually falls in love with you.
MINOR CHARACTERS
Teentop
Infinite
You new bestfriend (Minyu): 19 years young girl who is very naïve and bubbly. She is in the same class as you at school. A one of a kind friend you had ever had.
----------------------------------------------------------------------------------------------------------------------
HELLO READERS! JAYCEEDONGWOON BACK WITH ANOTHER TEENTOP FANFIC! BUT THIS TIME IM GONNA WRITE ABOUT INFINITE AS WELL:D
LOL PLEZ COMMENT AND SUBSCRIBE
ENJOY:L
Tweet
^ Back to Top