My Secret Boyfriend
Completed!
by cindychiem98
52 subscribers | 2242 views | Updated | Created
Tags fluff romantic you exo exom tao | Report Content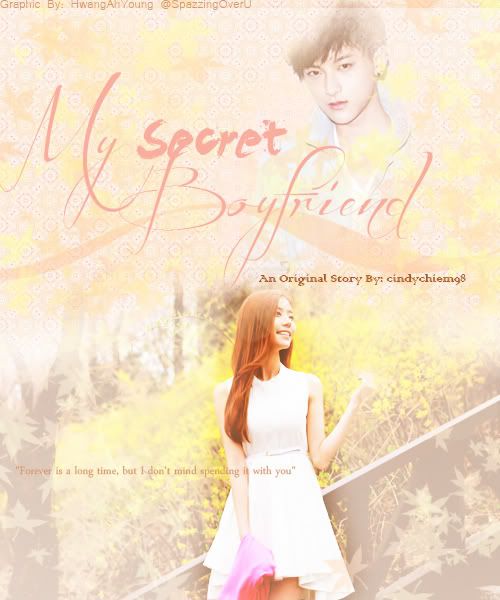 Characters
You, Tao, EXO M, EXO K
Description
"How long will you be gone ?" I burried my face in his neck
"Only a year, I'll be back before you know it. I promise" He whispered and stroked my hair
"A few year is a long time Tao" I sighed and look up
"I know, but the question is will you wait for me ?" He smiled softly and cupped my face
"No" I pouted
"Then this might change your mind" He leaned closer and landed his soft lips on mine
"I'll be the best trainee SM Entertainment ever had" Tao chuckled when he pulled away
"Don't let anyone bully you okay ?" There were a small hint of tear in my eyes
"I can wushu remember ?" He pinched my cheek
"Just do your best gege, don't forget about me when you become famous" My tears escaped
"I won't ever forget about you, you hear that ?" He wiped my tears away
"Wo ai ni Huang Zi Tao" I tip toed and crashed my lips on his
"Wo ai ni baobei (baby)" He hugged me tightly
Just 5 more hours, he'll fly to Seoul and fulfill his dream as an idol
Just 5 more hours, I'll be in New York and fulfill my dream as a model for Vogue Magazine
Just 5 more hours, we'll parted
Just 5 more hours, we'll never see each other again for a very long time
He promised me 1 year, that was all it will take. Then he will come and find me.
He promised me he'll call me every day and tell me about his day.
He promised me that he'll wait for me if I wait for him.
We both grew up in Qing Dao, I was only a year younger than him. Our parents were best friends. We went to the same school, had the same friend and lived in the same neighborhood. Childhood friend to best friend well on thing led to another. Before we knew it we had taken our friendship to the next level. Lovers
Foreword
It's Cindy here, I'm at my 6th story xD the rest are still on going. So I might not update this so often *_* If you have faith in me and Tao (haha) then subscribe :D
This is my imagination T.T gah I want to have Tao as my boyfriend xD haha anyways I dreamt about this yesterday *creepy* so I decided to write about it haha :D
Poster and Background made by SpazzingOverU The Graphic Shop
Tweet
^ Back to Top