Ruby Wine
by TheAssassinRenevaron
16 subscribers | 662 views | Updated | Created
Tags comedy kyuhyun kyumin romance sungmin superjunior | Report Content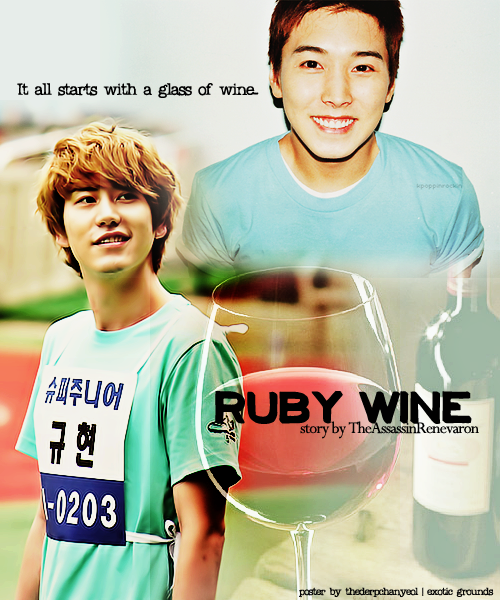 Characters
Kyuhyun, Sungmin, Super Junior
Description
Kyuhyun comes home to an empty dorm. What does he plan to do with this new peace and quiet? Easy. Drink wine and play StarCraft. His plan goes well - until Sungmin comes home and...distracts him.
---
Given free time after SM Town New York, Kyuhyun plans to spend his time with Sungmin. He is planning a special surprise date, but things soon become out of hand. The two of them explore the city together - and get seperated.
---
Foreword
I know this isn't really a foreword, but...this is my first Yaoi story/one-shot. O_O Crazy right? I love Kyuhyun and Sungmin so I decided to write something about them. :) I hope you like it! Please leave a comment or subscribe! If I get lots of subscribers and reviews, and if you guys want, I will add on to this with more KyuMin one-shots. Enjoy! Thanks for reading!
I would like to thank thederpchanyeol for making this awesome poster and background for me! Thank you SO much! I love them both! Here's the link of their shop: http://www.asianfanfics.com/story/view/218685/exotic-grounds-poster-and-review-shop-open-poster-exo-exok-exom-posters-postershop-reviews
Tweet
^ Back to Top