16

Socialites

by skulljjejje
213 subscribers | 13487 views | Updated | Created
Tags arrangedmarriage dbsk jaejoong you joowon exom tao | Report Content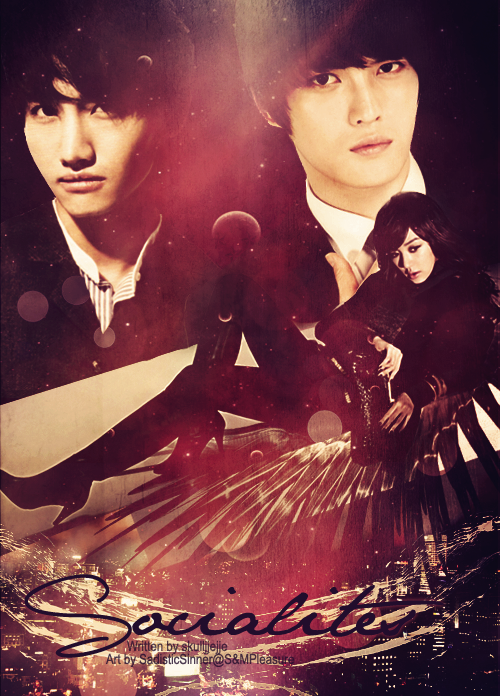 Description
CHARACTERS
Jaejoong , YOU , Tao, Chang Min, Joo Won
DESCRIPTIONS
Both came from strong families, equally rich and famous, both families have strong bonds, may it be in friendships or in the business world. Both families have offsprings. Now both families wants to create a stronger bond by becoming in laws with each other. The plan is to get the Hwang family's daughter married to the Kim family's only heir. 
You're a young socialite, envied by females and drooled by males. And actually, what do you lack? None. You're young, rich, smart, beautiful packed with an equally good looking and smart younger brother, and to add to your list, you're engaged to one of South Korea's most sought bachelor..and well yeah..player.
This is what happens when two giant conglomerate decides to let their offsprings marry each other.
Foreword
CHARACTERS
The Hwang Heirs:
Hwang In Hee -
                         - Heir to Hwang Conglomerate, Asia's most promising hedge fund company, hotel chains, banks and malls.You guys basically rule the financial world
                         - Eldest in the Hwang households. The next President of the company, the heartless queen in the business world and is also a socialite.
                          -Talks pure sarcasm, and have a very sharp tongue. 
                          -A natural beauty with a perfect body.
                         -Gives out a very strong intimidating aura.
                         -But is very bubbly around her inner circles of friends
Hwang Joo Won-
                           Second heir of the Hwang Conglomerate.
                         -Reserved.
                         -Hot glare
                        -A finance genius
                        -Hates to be in the middle of conflict.
                        -He is kind of cute
                        -Tall, with a toned body and is loved by women
                       - The most ruthless of the three
Hwang Zi Tao-
                        -Another heir of the Hwang Conglomerate.
                         -The maknae
                         - Usually cold and heartless, but shows his real warm and caring side when he's with his friends and families.
                         - The Vice President of the company.
                         - He and his sister have the same personalities when it comes to business.
                         - Icy stare/glare which intimidates everyone around him.
                        - Tall, handsome and of course, perfect body
                       - Loves wushu and self-defense a lot.
                       - He can be sulky and cranky
Hwang Zi Tao's friends:
These 5 guys are yours and your brother's childhood friends and brothers. They form a group called EXO-M. You have a very strong bond with these guys too.
Zhang Yi Xing(Lay):
                                 - The owner of Asia's largest mining and oil company.
                                 -The cassanova of the group
                                 -A carefree type
Luhan :
              -The Beijing kid. His mother is Chinese while his father is a Korean.
              -The heir to the Han Conglomerate. The owner of North East Asia's most largest casinos, bars and tour company
            - Surprisingly, he's a very innocent kid
              - Flower boy
Wu Yi Fan : 
                  - Heir to the Wu Conglomerate who practically dominates the whole IT industries
                  - Quiet and cold, but is caring and kind at the same time
                 -He's a serious type of person but he can be goofy at times too
Xiu Min :
              - Heir to the Min Group who owns China's largest textile industry
             - Bubbly and cute
               - He can be very mean when he's angry
Chen:
           - Heir to Taeyang Architecture. His family is the owner of the largest architecture and construction company
           - Kind and caring
The Kim Heir:
Kim Jae Joong- 
                          - Heir to the Kim Conglomerate who owns CK  and CJ groups, Korean Air and department stores all around Asia.
                           -A very strict and powerful businessman, and a player by night.
                          - The CEO of the Kim Conglomerate
                           - His eyes gives out a very cold and icy stare (even more than Tao's) along with his air of arrogance and self confidence that no one can surpass
                          - Handsome, Tall, gorgeous, and he suffer from a prince syndrome.
                          - He can be very adorable and cute from time to time.
Kim Jae Joong's friends: 
He and his four other childhood friends forms a group known as DBSK.
Jung Yun Ho : 
                      - Leader of the group. The heir of Samsung
                       - Warm, lovely and caring
Kim Jun Su :
                    - Heir to Sekang Group, who rules Asia's distributor line.
                     - Jaejoong's cousin.
                    - Have a very bright and sunny personality.
                    - Loves the spotlight.
Park Yoo Chun:
                       - Heir to Daehan Group. Owner of South Korea's food manufacturer and shiping company
                        -Quiet, observant and may be dorky at certain times
                        -Another Cassanova
Shim Changmin:
                        - Heir to the Daemul Conglomerate. He owns resort chains, and is the largest company inside the entertainment industry.
                       - He has a very venomous mouth.
                        - Very BIG appetite
Comments and subscribes are loved ;;)
Credits for the graphics goes to S&M Pleasure Graphics <3
Tweet
^ Back to Top