She isn't for YOU!
by Swifthoneu
56 subscribers | 4055 views | Updated | Created
Tags comedy korean kpop romance schoollife nuest nuestjr | Report Content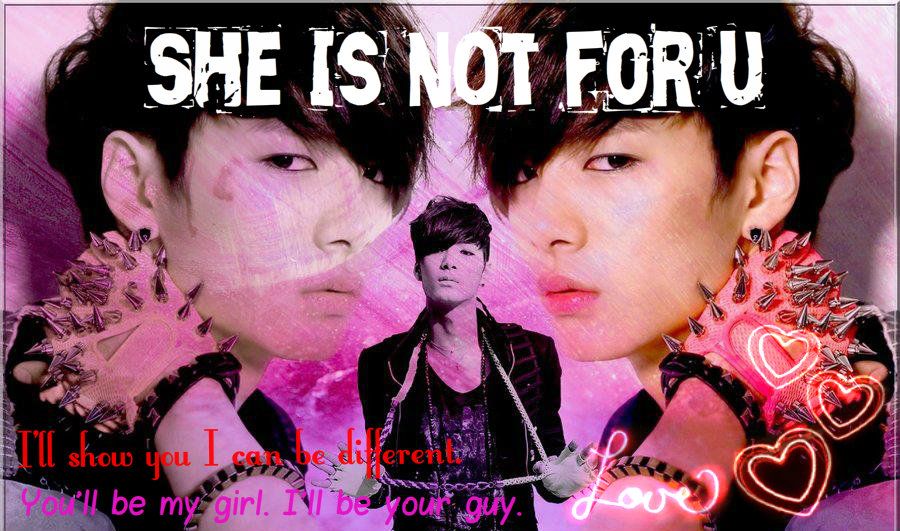 Characters
JR, Jin-Ju(Veronica), Nu'est
Description
Characters: 
Jin-Ju(Veronica):
Age: 16
Personality Traits: Cute, even though is really mean to people. Popular with the guys and girls dislike her because she gets all the attention.
Ranking: Number one aegyo and the meanest person in the school.
Extra: Very protective of her brother(Aron). 
Status: Single(changes as the story changes but for the beginning).
JR:
Age: 17
Personality Traits: Super attractive, mean personalty next to his gang members.
Ranking: Number one bad boy in the whole school.. And Seoul. Best dance you can find, best fighter you can look for. 
Extra: Protective of the people he cares about. 
Status: Taken(changes later but for the beginning).
Aron: 
Age: 17
Personality Traits: normal, usually pick on by a lot. 
Rank: no rank. He's a normal kid.. 
Extra: A best friend of JR. No you don't understand.. I mean BEST FRIEND! Because of his studies abroad he was put a year back with his dongsae's. 
Status: Single.
Ren: 
Age 17 
Personality Trait: Very calm person and ignorant of things around him. Really stubborn; no one else has had their way.
Rank: Number one deva in the school. Prettiest person in the school. 2nd baddest boy in the school.
Extra: Can read JR's mind. Shares a room with JR.
Status: Single.
Baekho:
Age: 17
Personally Traits: takes a lot of things as s joke. Makes every day fun.
Rank: The schools third baddest boy. 
Extra: Shares a room with Minhyun and Aron.
Status: Taken.
MinHyun: 
Age: 17 
Personality Traits: Likes sining but prefers dance over sining. Gets worried easily, takes care of JR. Is very bossy; even more than JR.
Rank: The schools number one good guy. A 'Good Boy' who hangs out with the baddest of the people.
Extra: shares a room with Baekho and Aron. 
Status: Single.
Foreword
Authors POV: 
"If we are going to preform in front of the hole school tomorrow after school, we should at least practice." Minhyun ordered.
"Fine, fine.." Baekho said. "Ren. Wake up, we're going to practice." Baekho said to the person sleeping on the theater chairs. "where is JR and Aron?" 
"JR hyung said he had to take care of something, and Aron hyung is with him," MinHyun said. "I told Aron hyung to follow.. You know how hyung(JR) can be sometime.."
The theater door flew open and JR walked in with an angry look on his face, "are you just going to stare at my face or are you going to practice?" he yelled.
JR:
In the middle of practice Aron kept staring at the door and messing up the whole group. "Is someone suppose to come?" I asked turning the music off.
"Oh.. Umm well, kinda.." he said and looked at me, "by the way there is blood on the side of your lip." he said, I shrugged and he placed his hand on my head and messed my hair up.
"Your the only person I would let touch my hair." I said and he laughed messing up my hair even more. "Let's take a break guys."
"Oppa?" a girl said at the door and Aron turned and gave a big smile.
I've known Aron for years and I have never seen him smile so bright like this. The girl came down and Aron wrapped his arms around her. "Yah! You should I at least have told me when you were coming. I would have come to pick you up at the airport.." he said and pushed her.
"Okay, I'll go back and call you to come pick me up in the states okay?" she said with a straight face.
"Kidding kidding! Anyways meet my friends, you will be having a hard time steeling in so you will be hanging out with us for a while." he said quietly. "This is Ren, Aron, and Minhyung." he said and she gave all of them a fake smile and a little head bow, "and this is Veronica, my sister." he said.
So obviously I'm not special enough to meet her, or maybe I'm too special to meet her.... Yea I'm too special.
No wait.. Did he just say; sister? My best friend is finally close to a hot chick, and she turns out to be his sister? Are you kidding me... This guy will never change.
Anyways, we got back to our practice and she sat in the first row with her hands folded and one leg on top of another.  The song came on and we all started to dance. As the king of all awesomeness I was in the middle and the center of attention, yet she wouldn't look at me once. Finally her eyes met mine for two seconds..
It was two seconds, cuz I remember it being way too short. Most girl when they first see me go crazy and ask if I have a girl and try to get my number this girl... Is weird!
For some reason I danced with all my power, even though it was just a practice. It can't be because of her.. I mean other girls have seen us practice too and I've never really been this into it.. Maybe I need to cut back on all the sugar..
"Yah, don't think about it.." Aron said. After the practice ended.
We all went and crowded around her, "how was it?" Ren asked.
"It was okay.." she said.
"Seriously?!" I got up and turned to look at her, I dropped my towel and stared at her. "'Okay'!?"
She folded her arms and one side of her lip rose to a pity smile. I think it meant, 'don't mess with me or I'll punch your balls.'
"Oppa, I'm going to to dorm." she said and started to walk away. She stopped and turned to look at me. "By the way.. You have some ketchup on your lips." She said and walked away with a smirk.
"Yah! Are you crazy! She isn't like me, she isn't like them," Aron said opining at Ren and the others, "and she isn't like you!" Aron said grabbing my hand. "She is bad! Too dangerous to be around. I know your bad, but she is worse!" he said grabbing my shoulders and shaking me.
"Really? Looks like a kitten to me." I said and smiled.
"WARNING! NO! NEVER!" Aron said and started to walk out of the theater with me, "and I know what your thinking.. So I want to make this clear. She is totally NOT your type."
I like girls who are not my type. I think school will finally be fun. 
Tweet
^ Back to Top