1

Happy Ever After

by insaneeuphoriiia
4731 views | Updated | Created
Tags changmin dbsk jaejoong tvxq yoosu yunho yunjae | Report Content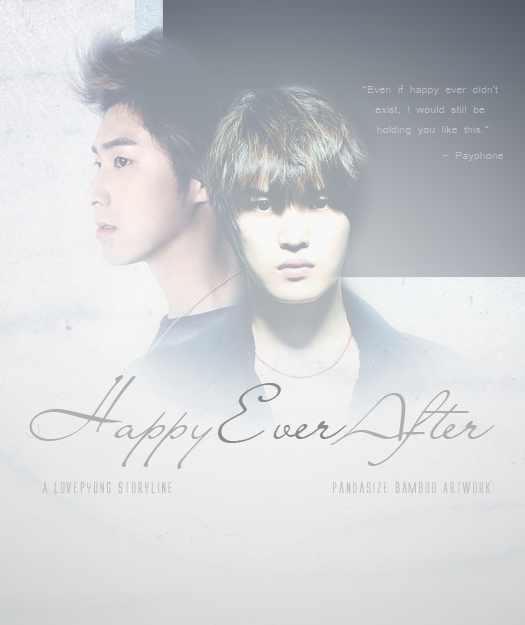 Characters
Yunho + Jaejoong
Description
Foreword
introduction
♕ Title → Happy Ever After
♕ Author → insaneeuphoriiia
♕ Genre → random (drama, romance, angst, fluff.. etc)
♕ Rating → PG13
♕ Pairing/s → Yunho ♥ Jaejoong. YunJae
♕ Length → -n/a- (I tend to make it long.. longer than my previous)
♕ Summary→ Two different people met each other. A twist in their stories begun. Impossible love was created, just like in fairytales. Does happy ever after really exist?
♕ Disclaimer → I don't own any of them. I just own the plot.
♕ WARNING → UnBeta-ed. Auto-corrected words by the MS Word (Sometimes it's wrong and I don't notice T_T)
C R E D I T S  T O | ASTRUMHUHH/cluoie for the wonderful poster.
P R E V I E W :
"Even if happy ever didn't exist, I will still hold you like this. Forever. We'll make our own fairytale.. We make an endless love story.. You and I.. We'll have each other till eternity."
forewords;;
Hello people! :) I'm back with my new story, HAPPY EVER AFTER. I was inspired by these 3 songs -- A Twist in My Story, Payphone and 12:51~ So the ideas just popped out and here it is... And by the way, I will use 3rd Person's POV here :D
I want to thank everyone who subscribed, commented, and supported me from No Gain (which is on hiatus -_-) and Love Melody. I really appreciate it. I want to make this longer than Love Melody, since that one had only 13 Chapters :)
It's been a while since I started off again using a new username, new account, and I am so glad to have you guys, who are always there to support me. Sometimes, it comes in my mind that people might not like the way how I write, so I loses self-confidence. But I am happy to have friends who are encouraging me to keep on writing.
SUBSCRIBE, COMMENT AND KEEP THE FAITH~

F A N F I C T I O N S
NO GAIN | Yunho x Jaejoong | on-going -chaptered- ~ ♔
BEHIND THE COVERS | Yunho x Jaejoong | done -one-shot- ~ ♔
LOVE MELODY | Yunho x Jaejoong | done -chaptered- ~ ♔
HAPPY EVER AFTER | Yunho x Jaejoong | on-going -chaptered- ~ ♔
A SONG and 'I LOVE YOU's | Yunho x Jaejoong | done -one-shot- ~ ♔

lovepyung | TVXQ's Cassiopeia
AKTF~
Tweet
^ Back to Top