Fall In Love Like Destiny
by ERiKkK
| Updated | Created
Tags nana nichkhun junsu2pm taeyeonsnsd borasistar supernaturallove | Report Content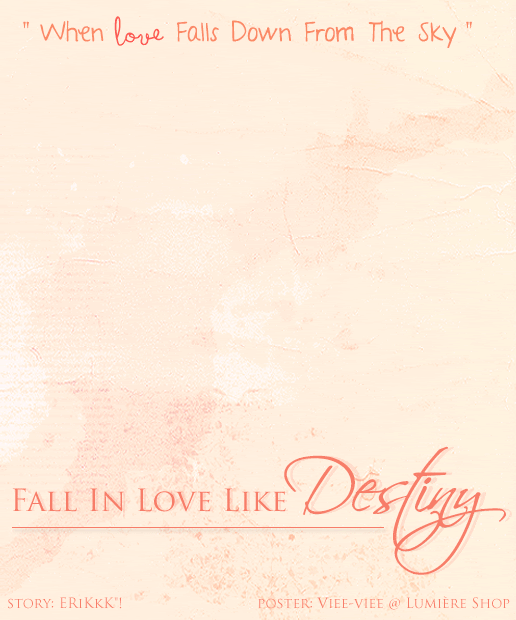 Characters
Im Jing Ah (Nana) , Nichkhun Buck Horve Jkul , Park Soo Young (Lizzy) , Kim Junsu , Hwang Mi-Young (Tiffany) , Kang Daesung , Lee Seung Hyun (Seungri) , Dong Young Bae (TaeYang) , Yoon Bo-Ra , Kim TaeYeon
Description
When A Beautiful Girl, Nana, Falls In Love With A Guy, Junsu, And Junsu Asks Her Out.
Then They Become A Cute Couple Until One Night A Huge Bright Light Came Falling Down From The Sky And Landed Nearby Nana's House By The Mountains.
Then Nana Felt The Huge Crash And Checks Outside From Her Window, But Finds No One.
Then A Mysterious Guy, Nichkhun, Sneaks In Nana's House And She Gets Frightened, But He Quickly Covers Her Mouth And Tells Her To Shut Her Mouth Up And To Not Make A Single Noise.
The Mysterious Guy Is Running Away From Hunters Who Are Hunting Him Down From His Planet. When The Mysterious Guy Reveals His True Self To Nana.
The Claws.
The Fangs.
The Strength.
The Speed.
The Hair.
He's . . . A Werewolf.
Is It Possible For A Beautiful Girl To Fall In Love With A Beautiful Beast ?
Fall In Love Like Destiny.
 Im Jing Ah (Nana): The Beautiful Girl Who Slowly Falls In Love With The Mysterious Guy, Nichkhun, The Werewolf. 
 Nichkhun Buck Horve Jkul: The Werewolf Who Makes Nana Help Him Hide And Slowly Falls In Love With Her. 
 Park Soo Young (Lizzy): Nana's Best Friend Until She Falls For Nichkhun And Changes The Entire Story. 
 Kim Junsu: Nana's Boyfriend Who Then Becomes Jealous When Nana And Nichkhun Become Public. 
 Dong Young Bae (TaeYang): The Pack Leader Of The Hunters Who Are Trying To Hunt Nichkhun Down. 
 Lee Seung Hyun (Seungri): The Second Hunter Who Is Trying To Find Nichkhun by Caumoflaging As A Friend Too Nana. 
 Kang Daesung: The Third Hunter Who Was Once Nichkhun's Friend, But Then Betrayed Him. 
 Hwang Tiffany: One Of Lizzy's Best Friends Who Becomes Closer To Her After A Big Situation. 
 Yoon Bo-Ra: The Special Hunter Who Was Sent To Charm Nichkhun So The Others Can Kill Him. 
 Kim TaeYeon: Nana's Second Best Friend Who Always Spends Time With Her More Than Lizzy. 
Well , I Hope These Characters Are Original And Absolutely Gorgeous And Charming For You Guys.
Well , If Anything Contact Me And Remember To Comment , & Subscribe.!!! D;
Foreword
Hello Everyone.
This Is A New Story I'm Setting Up For Everyone.
I'm Not Sure You Might Like It Or Not.
(If You Don't Then You Should Just Get Out Of Here.)
Anyways, I'm New Here So I Would Like If People Would Help Me Out Here With Good Coments And Good Advises And Chear Me On , Hahaha. Or Not ?
But I Hope You Guys Like My Story And We'll See How Far I Go With This.
And This Story Will Be In Nana's Point Of View.
Thank You.
- ERiKkK"!
Am OUt.!! D;
---
Anyways, I'd Like To Give A Special Thanks To 'Silverline' For The Posters &'d Graphic Designs. I Hope You Guys All Go To Her Shop &'d Request For Any Kind Of Graphic Designs Below.
http://www.asianfanfics.com/story/view/205280/lumi--re-shop-graphic-review-shop-open-graphic-review-exo-kai-shop
Tweet
^ Back to Top