Hatred: First Wave
by JMfanfiction
Tags comedy eunhyuk kyuhyun romance siwon sungmin superjunior | Report Content


You were a few blocks away from SMent building when you realized that you forgot your bag in the chair inside f(x)'s Practice room.
"OMG!" you gasped as you looked around the car. "I think i forgot my bag..." you sweatdropped and glanced at Nichkhun.
He chuckled and turned the car around. "Ok you clutz, Lets go back..." he smiled.
Back in f(x)'s Practice Room, The girls were about to go out for a bite to eat when Amber noticed your bag lying in the corner. It wasnt hard to spot since its Lime green and it looks like a watermelon. She grabbed it and locked the room.
"Yah! Unnie forgot her bag..." said Krystal as she pointed at the bag in Amber's arms.
"Yeah she did... Where should i leave this?" asked Amber.
"Hmmm? You go return it to the Super Junior Oppas..." said Sulli.
Amber nodded and went towards the Super Junior Practice Room. Krystal looked at Sulli who was smiling.
"Why the Super Junior Oppas? Do they know her?" asked Krystal.
Sulli smirked. "I heard she's the Manager's neice..."
Meanwhile, Amber was on her way towards the Practice Room when she bumped into Hyoyeon and Jessica.
"Oops... Mianhe..." she bowed and apologized. Hyoyeon just smiled and patted her shoulder.
"Why are you in such a rush?" chuckled Jessica. Amber scratched her head and pointed at the bag in her arms.
"I need to give this to the Super Junior Oppas..." she said. Hyoyeon raised her eyebrow. (A woman's bag?) she thought.
"Were on our way over there..." said Hyoyeon as she stretched her arms. "I can give this to them if you want..." she smiled.
"Yeah, and it looks like Luna is getting impatient over there..." chuckled Jessica.
Amber smiled and gave Hyoyeon the bag. "Unnie, just tell them its ______ Unnie's bag..." she waved goodbye and ran to the rest of the girls.
"_______ Unnie?" wondered Jessica as she looked at Hyoyeon. "Hmm, must be one of their girlfriends huh?" she giggled.
"Whoever can recognize this

must

be the boyfriend..." laughed Hyoyeon.
Inside the practice room, The four boys were sweating like crazy after an hour of rigorous dancing. Eunhyuk slumped down and took a deep breath.
"So tired..." he closed his eyes and lied down. Shindong took one of the water bottles and drank the whole bottle in one standing.
"Im so thirsty..." he sighed. Hangeng didnt say anything and just lied down beside Eunhyuk.
Donghae smirked as he glanced at his three tired friends. He was feeling rather tired himself but he didnt show it as he drank his water. He spotted two girls walking inside the room.
"Annyeong Oppa!"
He smiled as he recognized the two lovely ladies. It was none other than Hyoyeon and Jessica.
"What brings you two here?" smiled Donghae as he ruffled Jessica's hair.
"Yah! Not the hair..."

huffed Jessica. Donghae removed his hand and laughed.
Eunhyuk spotted the two girls talking to Donghae. He doesnt have plans to move until he saw a familliar thing in Hyoyeon's arms. It was your Lime Green bag. He smiled as he remembered teasing you about it looking like a watermelon. He stood up and walked towards the two girls.
"So Oppa... Do you know who..." Hyoyeon started but was interrupted by Eunhyuk.
"Yah!" he called out smiling. Hyoyeon smiled at him.
"Annyeong Oppa~" she blushed. Eunhyuk smiled back and pointed at the bag.
"Thats ______-ah's bag..." he said.
"Oh. It is?" chuckled Donghae. "Funny, i didnt recognize it at all..."
Jessica gave a gasp and looked at Hyoyeon whose smile faded. Eunhyuk was the one who had recognized the bag.
(So... She must be Oppa's...) Hyoyeon wondered sadly.
Outside the building, You stepped out of the car and glanced back at Nichkhun who was still inside.
"Ill be back in a few..." you said and went inside.
The lady in the front desk recognized you as you entered the establishment.
"Miss?" she asked. You snapped your attention towards her and smiled.
"Ms. Amber said that a lady will come back and look for her bag..." she said. "You must be her I presume..." she said. You nodded.
"Your bag is in Practice room 104" she said. "The name tagged is SS3"
You thanked her and followed her directions towards the room.
Inside the room, Eunhyuk took the bag from Hyoyeon's hands and thanked her.
"Was she here?" he asked Donghae who just shrugged. "I wonder how this got here..."
Shindong elbowed Eunhyuk on the waist.

"Yah! Were you struck that bad that you memorized every detail of her life..."

he joked.
Eunhyuk punched him on the shoulder. "Shut up." he smiled.
Jessica poked Hyoyeon who was being silent the whole time.

"Yah... are you okay?"

she whispered. Hyoyeon didnt say anything and wondered.
(... Oppa must like her) she glanced at Eunhyuk who was busy joking with the three guys.
You smiled as you finally found the room. You glanced at the name tag infront of the door. It was named

SS3

. You slowly opened the door and peeked inside.
You smiled as you saw your Oppas laughing in the center of the room.
They all turned their heads and saw you run inside the room towards them.
"______-ah!"

grinned Eunhyuk. "You left your bag didnt you~?" he chuckled and held it behind him.
"I did..." you said and was about to grab the bag when he held it high in the air.

"Yah! Oppa... Rrrr..."

you pursed your lips and complained. "Give it back..."
(Eunhyuk Oppa likes this girl...) Hyoyeon glanced at you.
Hangeng chuckled and grabbed the bag from Eunhyuk, breaking his fun. "Here you go _____-ah~" he smiled. You bowed your head and thanked Hangeng for returning the bag back. You glanced at Eunhyuk and stuck your tongue out then laughed.
Jessica coughed and made her presence known. Donghae noticed her and called you.
"_______-ah~" he said. You went towards him and noticed that there are two beautiful girls beside him.
"This is Jessica..." he pointed at the blonde girl waving her hand at you.
"Hi~ Nice to meet you~" you said and shook her hand.
"Likewise~" she said back and smiled. Donghae smiled and pointed at the next girl.
"This is Hyoyeon..." he said. The girl smiled weakly and waved at you like what Jessica did. You offered to shake her hand but she declined.
"Im sorry..." Hyoyeon said.

"but my hand is a bit bruised..."

she lied.
You took back your hand and simply waved at her. "Its nice to meet you Hyoyeon~" you said.
Y

ou grabbed your bag and said goodbye to the guys and the girls you just met. Donghae resumed his teasing on Eunhyuk. Jessica noticed Hyoyeon's rather down aura.
"Uhm... Oppa?" she called out. Eunhyuk snapped his attention towards the two girls. "I think we should be going now..." she smiled and walked outside with Hyoyeon.
"Okay then, See you later~" smiled Eunhyuk. "Good Luck in your Japanese Promotions by the way~" he smiled at the two of them and his eyes met Hyoyeon's.
"Fighting!"

he pumped his fist in the air as he looked at Hyoyeon in the eyes. Hyoyeon felt herself blush as the two of them exited the practice room.
N

ichkhun drove you home and said goodbye to you. As you got inside the house, you saw Kyuhyun's Jacket lying on the floor. You picked it up and decided to return it to his room.
You remembered the accident

*check in previous chapters*

and knocked first before entering. You didnt hear any complains or sounds so you slowly turned the knob and went inside.
"Oppa?" you called out. You noticed him slumped in front of his laptop.
You giggled when you heard him snore. You glanced at the screen and noticed the unfinished game of Starcraft. You sighed and hung his Jacket behind the door.
(Hmmm... where could it be...) you glanced around looking for the blanket. You spotted it folded up and placed on top of the chair. You grabbed it and stretched it out then placed it on Kyuhyun's sleeping form.
You glanced at the clock and noticed that it was already 7PM. You slowly closed the door.
"Good night Kyuhyun Oppa..."

you whispered as you went outside his room.
Y

esung saw you sneak out of Kyuhyun's room. He wondered why you were there but dismissed the thought when he remembered what he came up for. He was looking for you and wanted to get your thoughts on his idea for his radio show.
"_______-ah~" he called out. You turned around and waved at him.
"Annyeong Yesung Oppa!"

you beamed. Yesung smiled and asked you to accompany him downstairs. You followed him and the two of you walked towards the living room. You both sat down and began talking.
"I wanted to know what you think about this idea of mine..." he said.
You listened and smiled. "Sure Oppa~ What is it?"
"I have this idea about a Special segment..." he smiled. "The topic that was most voted upon is all about Love~"
"And what does it have to do with me?" you wondered.
"Kyuhyun and Ryeowook already volunteered to sing with me for the special..." he held your hands and pouted. "And i need a guest DJ that will help me answer questions from the listeners~" he smiled. "I can handle the male point of the situation while you can relate with the girls~"
You nodded and agreed to join the special segment. "Okay Oppa~ Its no problem~ Just tell me when it is and ill get ready~" you smiled.
Yesung cheered and ruffled your hair. "Thanks a bunch little Princess~" he smiled.
T

he morning after, you smiled and walked outside. You picked up the mail for the day and noticed one small package in your name. You smiled and glanced at the package then picked it up.
"Who could this be from..." you slowly opened it. You gasped and dropped the box when you saw a photo of yourself sleeping and wearing the clothes you wore last night. Inside the small box is a dead black rose with a small note written in red marker.
(AN: Hmmm... i had a hard time looking for a picture of Sooyoung and alas, i didnt find any... T__T i settled in using a picture of another girl... Can you guess who this is? LO~OL)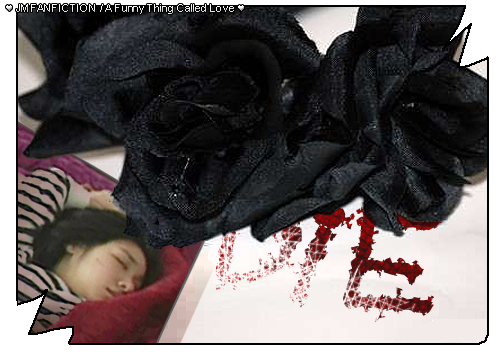 You felt small tears flow from your eyes. It was the first time you have received such a thing and you felt mortified. You placed the photo and note back inside the box and threw it in the trashbin outside.
Sungmin just woke up and walked past you. He smiled and greeted you but his smile faded when he saw your scared face.
"_______-ah?" he said and walked over to you. "Are you alright?" he asked and stroked your face.
You blinked for a few moments and didnt say anything as you walked upstairs, entered your room and locked it.
(I wonder whats up with her...) wondered Sungmin as he went inside the kitchen.
I

n F(X)'s dormitory, Victoria just woke up and glanced around looking for her friends. She spotted Krystal who was laughing with Amber. Luna and Sulli were nowhere in sight.
"Amber-sshi~" she called out. Amber smiled and waved at her Unnie.
"Unnie!"

she said.

"Good Morning!"
"Good Morning Victoria Unnie!" giggled Krystal.
"Where is Luna and Sulli?" asked Victoria. Krystal pointed at the bathroom and timingly Sulli just came out of the shower.
"Good Morning Unnie!"

she beamed. Victoria nodded and smiled back.
"Its so cold..." shivered Amber. "How can you shower at this freezing temperature..." she pointed at Sulli who was whistling and ignoring her.
"Luna Unnie went somewhere an hour ago..." said Krystal. Sulli smiled and toweled her hair.
"I think she went to the postal office..." she noted. Victoria nodded and sat down beside Amber.
"She did say something about sending a package for her family..." said Victoria.
B

ack in the dormitory, Kyuhyun just woke up and glanced around his room. He noticed that he left his laptop open and his unfinished game was still there. His opponents have left hours ago and it flashed his losses for the day. He sighed and turned off the computer.
He sat straight and noticed that a blanket was placed around his shoulders. He wondered how it got there but didnt think of it for long when he noticed a note posted on his door.
•• KYUHYUN! I already left early for school... Project Matters! - Ryeowook ••
Kyuhyun scratched his head and went down. He didnt feel like going to school today so he lazed around the house.
Y

ou glanced around your room and felt the cold breeze. You shivered both in the coldness of the wind and in fear. You remembered the photo and the dead rose. You wondered if you had made enemies during your stay in Korea.
It has crossed your mind that maybe it was just from a stupid fangirl. You sighed and thought that it would be possible and it cant be helped since you live with some of the famous idols of the current generation.
Even with that thought you still felt sad and tried to forget about that incident as you prepared yourself for school.
A

n hour later, you went down and bumped into Henry who was whistling as was about to go out himself. He smiled and offered to carry your books.
"______-ah!"

he smiled. "I havent walked with you for a while now~" he chuckled.
"Annyeong Henry Oppa~" you smiled and went outside with him. "I missed walking with you~" you poked him on the shoulder.
"Nawh~ Im sure you had tons of fun with Khunnie Hyung~" he teased. You blushed a bit and playfully stuck your tongue out.
You laughed and talked to Henry as you both made your way towards the University.
M

eanwhile, Kyuhyun was lazing around the house as he keeps on sighing. He didnt know why he felt lazy that day. Leeteuk saw him dragging himself towards the kitchen.
"Yah! Kyu!"

he called out. Kyuhyun slowly turned to face him. Leeteuk raised his eyebrow at Kyuhyun's lifeless facial expression.
Heechul went inside the kitchen smiling. He saw Kyuhyun's face and his smile faded. He laughed as Kyuhyun dipped his face down into the table.
"What did you eat?" he asked jokingly. "You look like a zombie..."
"Youre not going to school?" asked Kangin as he carried the trashbag towards the door.
Kyuhyun shook his head lazilly and sighed. "Im feeling a bit tired..." he said.
Suddenly, Shindong shot his head inside the kitchen and called Kangin out.
"Yah! Manager Hyung is here..."

said Shindong as he looked at Kangin who was carrying the trashbag. "He needs you and me to help him with something..." he said and went out.
Kangin placed the trashbag down and tapped Kyuhyun on the shoulder. "Kyu... Can you take this out for a while?" he asked. Kyuhyun nodded slowly and grabbed the bag. He dragged himself out and walked towards the trashbin.
H

e was about to throw the bag inside when he noticed a package with your name on it placed inside the trashbin. He dropped the trashbag down and took the package from the trash.
(_____-ah?) He inspected it and found it already opened. His eyes went wide with rage as he saw the photo and note along with the black rose.
He remembered the caller and he felt blood flow through his veins. He crumpled the note and threw it on the trashbin hard along with the entire contents of the package.
He swore to hurt the person that did these things. He didnt like the fact that somebody out there who might be crazy is on the loose and might be stalking you.
He decided to go to school and keep an eye on you. He immediately went inside the house and prepared himself for school.
---
(AN: And Tadah! The evil stalker is back~ Do you have guesses on who it is? XDDD Are you getting tired of the twists in this story? Hmmm... Mianhe but i like to keep people guessing~ ^^ Im going to try and update again soon but i cant promise anything because i had told you before that i will have my Final Exams soon~ ^^ October 17! Im going to be free as a little birdie~ Harhar~)
^ Back to Top