My Savior is…
by JMfanfiction
Tags comedy eunhyuk kyuhyun romance siwon sungmin superjunior | Report Content


"YAAAHHH!" you heard a woman shout.
The girls suddenly released you and you fell on the ground and they suddenly ran away. Cursing to themselves and shouting something. All you understood of their words are "4Minute"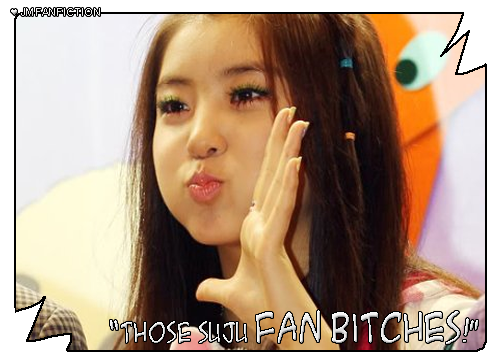 "Those SuJu Fan bitches…" someone huffed. You looked up to see a very pretty petite looking girl staring at the direction of the girls. She was obviously younger than you but she looked feisty.
(She scared them easily, I wonder if she's the daughter of the school principal or something?) you thought as you glanced around for your bag. You found it lying near the petite lady.
You moved to take your bag and she noticed you. "Unnie, are you ok?" she asked worriedly glancing at you.
"Yes… I was about to hit those bitches myself… Thank you…" you said and stood up. Dusting your clothes off as well as your bag.
She smiled at you and picked up your books on the ground then handed them to you. This girl is pretty cute. "Annyeong~ I am Sohyun!" she said and waved her two hands.
"Thank you Sohyun-sshi~" you said. "Im ________"
"Where is your next class Unnie?" she asked. "Do you want me to show you around?"
"Nah, Im late anyways…" you shrugged. "Ill just wait for my second class…"
Sohyun smiled at you. "Unnie, Your new here aren't you?"
"Yeah~ I look like a noob don't i?" you joked.
"Kind of~" she giggled. "If you need a tour around campus, just let me know…" she said and encoded her number on your cellphone.
"What department are you from, Unnie?" she asked. "Im from the Music Department~"
You grinned at her. "Im from the Art department Sohyun-sshi~ Thanks again"
"No problem, just call me if they bother you again! Alright Unnie?" She smiled at you and gave a fighting gesture and left. You walked towards your next class.
Nothing unusual happened later on, just typical day at school. You hadn't encountered the mean girls from this morning at all and you sighed in relief. You left the classroom, sighed at all the homework and headed home.
You walked over to the Music Department to check if Kyuhyun and Ryeowook are dismissed. Sadly, they are not in their department, you sighed and went home.
(I guess, ill be going home alone) you thought to yourself.
Donghae drived around and he passed by the university and noticed you walking by yourself.
"_____-ah!" he shouted. You turned around and noticed him waving at you. "Hop in!" he said and opened the door to his car.
You smiled and thanked him. "Thank you Donghae Oppa" you said and went inside.
You glanced around the car. It was pretty clean. You placed your things at the back and sat quietly beside Donghae.
---
(AN: I havent updated yesterday... so ill post up three chapters now~ enjoy~ ♥)
^ Back to Top