New student
by AnnPark
Tags jonghyun onew romance seohyun shinee snsd | Report Content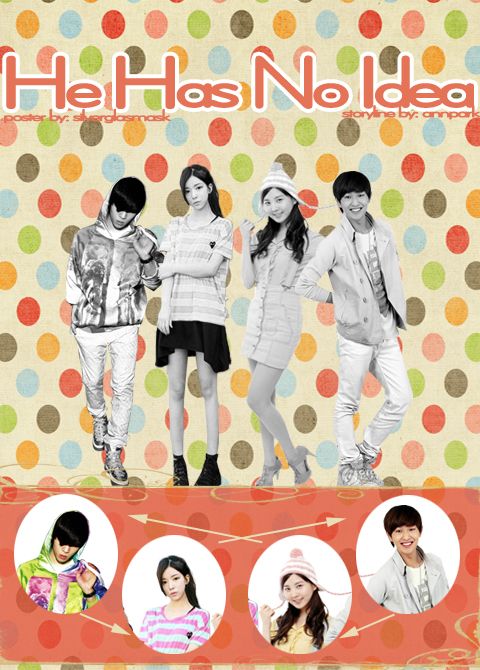 Min ran down the street from the group of kids chasing her. They had teased her at school so as a small taste of revenge she smacked their drink out of one of the kid's hands and that was what started this chase down. Once they caught up with her they shoved her to the ground and hit her with their backpacks. Children always knew the worst names to call people.
"Foreigner."
"Unwanted."
"Dirty."
All of this because her father was American with blond hair and blue eyes and after Min's mother gave birth to her, her American father didn't want anything to do with them and left. As she was forced on the ground with heavy backpacks smacking her she refused to cry out for help.
"LEAVE MIN ALONE!" A loud voice called out and Min looked up to see her best friend Jinki run towards them with his mother close behind. The kids scattered and Min slowly stood up with bloodied knees and elbows. Her dress her mother also bought her was ripped and dirtied and Min knew her mother would be mad. "Are you okay Min?" Jinki asked holding her hand and brushing the dirt off her. When she knew the kids were gone she broke down and bawled her eyes out. Jinki hugged her tightly as she cried.
"They said I was unwanted." Min said between sobs.
"That's not true Min, I want you." Jinki had the warmest smile and it always made Min happy. Jinki's mother brought Min home to clean her up and bandage her cut before sending her home. Min really didn't want to leave Jinki but he promised to always be there for her. With that Min went home and listened to her mother complain about how Min always got in trouble and always seemed to find a way to ruin her clothes, not once did she ask about her injuries.
Walking down the halls of high school got a lot easier when Min actually put effort into her looks. Before she would barely brush her hair before coming to school but now she styled her hair every day, did her nails and wore light makeup. Before she was getting attention for being weird but now people thought she was pretty and they left her alone.
"Nice ass." A deep voice said from behind her, Hana stopped walking and turned around to see Jonghyun standing there with his hands in his pockets with a smug look on his face. Min hated Jonghyun, he was one of the kids that picked on her the worst in elementary school, the worst attack being when he cut her pony tail off and throwing her hair in her face and laughing. Since then she has been afraid to wear a pony tail in public and has vowed revenge on Jonghyun. Since then he also got better looking, so good looking all the girls followed him around and were dumb enough to let him use them for fun. It was rumored that Jonghyun was such a player that he even slept with the school nurse who shows too much cleavage.
"Get some class." Min tried walking away but he kept up with her pace.
"Hey we rhyme, we should hook up." He stepped in front of her and Min rolled her eyes.
"That's your best line?"
"It would work on the other girls." Jonghyun motioned to the girls watching the two talk in the middle of the hall. Min could feel their stares stabbing her in the back. She wanted to scream at them that he was the one coming for her, not the other way around.
"Yeah well they're as dumb as a bag of rocks." With that comment the glares only got worse but Jonghyun laughed.
"You got attitude, I like that."
"And I wouldn't be surprised if you have some sort of disease." Min said trying to walk past him but Jonghyun grabbed her arm tightly.
"I was only trying to be nice Min."
"Kind of too late for that." The two glared at each other until a voice called out from the end of the hall.
"Min!" Jinki walked up to the two and ripped Min's arm away from Jonghyun. "Any problem here Jonghyun?" Jinki asked him but Jonghyun didn't look away from Min.
"None at all Onew." Jonghyun muttered and walked off with a group of girls following him hoping to comfort him before class started. People had started calling Jinki Onew because of his soft and delicate personality. Jinki and Jonghyun were the total opposite of each other. Jinki was sweet, innocent and nice while Jonghyun was rotten, rude and arrogant. Jonghyun was everything Min hated but Jinki somehow found a friend in that guy. Besides Min, Jinki was friends with noona's favorite cutie Taemin, soccer-star Minho and the school diva Kibum who everyone called Key. When they were together the girls would go crazy and swarm them so Min couldn't get close. Even though outside of school Jinki and Min were inseparable, inside school he seemed to be out of her league and it broke her heart.
"Jinki oppa~" Min said and linked her arm with his which didn't bother Jinki since she did it all the time. It bothered his fan girls more and she was okay with that since she claimed him years ago. "I want banana milk~" She whined knowing that he always fell for it.
"Alright Min, whatever you want." He pinched her cheek before walking with their arms still linked towards a class room where Minho and Taemin were talking while surrounded by ogling fan girls. "Taemin do you have extra banana milk?" Jinki easily walked through the crowd and sat in an empty desk beside Taemin. Min sat on the desk and waved at Minho who waved back. They didn't talk much; they most communicated through hand signals and exaggerated eye rolls at the stupid stuff Key or Taemin would say. Taemin and Min were closer since he treated her like a sister and often hugged her in public which got her a fair share of hate mail from upper class men.
"Of course hyung why?" Taemin asked already reaching into his bag.
"Min wants some." Jinki poked her side making Min laugh; he knew all her ticklish spots just like she knew his. Taemin handed the banana milk to Jinki knowing Min couldn't get the straw through the lid. Min looked around at the glaring fan girls and stuck her tongue out at them while Jinki stabbed the milk lid.
"Here you go."
"Thank you oppa~ Thank you Taemin"
"No problem~" They both chimed and the teacher walked in and the girls scattered to their seat. Minho left quickly since he was in another class and was in Min's seat. Everyone stood up, bowed to the teacher and sat back down.
"Today we have-"He was cut off when Jonghyun opened the door and the teacher glared at him. Jonghyun just waved at him took his seat at the back of the room by the window. Someone at there before but moved after Jonghyun threatened to rearrange his face. "As I was saying, today we have a new student." The teacher opened the class room door and in walked in a tall, beautiful girl with light brown hair and cute cheeks. Min looked around the room to all the guys and their eyes were glued on her, Min almost laughed at them until she noticed Jinki was staring the most. "Introduce yourself."
"Hello, my name is Seohyun. I like singing and playing the piano. Let's work hard together." Seohyun bowed and the boys clapped loudly. The teacher gave her a seat in the front row and it was painfully obvious everyone was staring at her. Min kept looking to Jinki whose gaze didn't move from Seohyun. Angrily Min slammed her head on the desk causing an awkward silence in the class.
"Anything you want to say Miss Park?" The teacher asked making everything ten times more uncomfortable for Min.
"Ouch." Min placed her hand over her red forehead and left the room to head to the nurses office. As she left she walked past Jinki who gave her one of his warm smiles before looking at the back of Seohyun's head. Min slammed the classroom door louder then she meant too and stormed off to the nurses office to hopefully sleep the day away and wake up realizing this was all a dream and that Jinki never looked at any other girl but her.
^ Back to Top