Kidnapped???
by AjLee149
Tags b2st gang kikwang romance seungho you | Report Content


Just a little background info, this takes place before the amusement park date so you as readers would know what is happening on the other side of the fight... This takes place after the first fight, the one where B2ST helps Min-ah in the cemetary.... Okay.... not to ruin anymore--------> read on.....!
~~~~~~No One's POV~~~~~~~~
*FLASHBACK*
After the gang had woken up from the devastating fight with B2ST and Min-ah, they all gathered themselves and headed back to headquarters. The leader, who had the least injuries insisted on driving, which nobody else could've. The van parked outside of a big warehouse outside of the town boundaries. The injured gang walked in with some slumped over others. The leader walked into a closed room with two sofas sitting facing each other and a desk with a chair facing towards the window. 
"Boss," the leader said.
The chair turned around and a broad man with fine features said, "How was it? Where is she?"
"We weren't able to bring her back."
"JOON! I told you to bring her back dead or alive! What don't you get from that!"
"Boss, We tried everything we could to bring her with us... but..." the leader named Joon said.
"But what?!" the boss said.
"She had help." Joon said looking down to the floor.
"What? I, Yang Seungho, ordered my best men to get a simple girl and you guys couldn't?! Because she had help? Do you know how pathetic that sounds?!" Seungho yelled, banging his fist onto the desk.
"Look, they weren't just ordinary people, you know B2ST?" Joon said.
"B2ST?! Them again?" 
"Yeah, apparently, she's with them now. But... we can still get her back..."
"Really? OF COURSE WE CAN! IF WE CAN'T THEN MY NAME IS NOT SEUNGHO!" Seungho said, banging his desk louder which made Joon flinch and take a step back.
"Y-yes boss," Joon said, choosing his words carefully.
"This time... this time, I'm coming with you guys. Once she sees me," Seungho scoffs. "She'll be too scared to move."
*PRESENT*
~~~~Seungho's POV~~~~~~~~
Thunder, Mir, Joon, GO, and myself, my best gang ever which I call it MBLAQ, were walking around in the park for sometime already, pushing and shoving people out of our way. Man, why is today so crowded?
Then, when people started to get out of the way, finally, there she was, right smack in the middle of the gap. She was sitting down on a bench. With the crowd out of the way, she saw us and that must've triggered something. She jumped up and started running. I motioned for the other members to follow me and we started running towards her. Yes she was fast. She must've had loads of experience running away from my guys. But, today is going to be different. Today, I am going to catch her once and for all. I let MBLAQ run ahead of me, running like idiots. I knew she was smart. With the big crowd, she must not be running that far, given the amount of time she had to run away. MBLAQ ran past a stand just a few feet ahead of me. I was not that fit for running so I stopped to get some air into my lungs. That's when she came out of hiding. Yep, just like that, she ran straight into me, causing her to fall slightly back. I didn't want her to fall so I caught her arms and steadied her. She looked up and her eyes widen when she saw me. 
Yep, her worst nightmare just came to life.
"Good afternoon," I lightly whispered into her ears. "We meet again."
She was too shaken by my appearence that her eyelids closed and she became limp in my arms. I carried her bridal style in my arms and her head laid against my chest. Her breath was heaving out of control. Damn, do I scare you that bad?
MBLAQ came back panting and shocked to see her in my arms, limp. "Hyung," Mir said. Only Mir and Thunder calls me hyung, GO and Joon calls me boss because of my parents, which they have served under for quite some time before I got the boss spot. Still, I told Thunder and GO to run and the get the car running. Mir and Joon stood by my side, walking towards the car.
"Hey!" someone called from behind us. "Where do you think you're going with Min-ah-sshi?"
Mir and Joon turned around to see who it was. Me, I was still walking forward with Min-ah. I reached the car which Thunder opened the door for the passenger. I safely placed her in there, ordering Thunder and GO to go back to Mir and Joon and see what the commotion was about. "Me and Min-ah are gonna be going first. Call me when you guys need the car. I'll pick you guys up," I said. 
They nodded and I got into the driver's seat and sped off. Min-ah was still unconcious when we reached the warehouse, so I carried her, bridal style again, up to my room upstairs. I laid her on the bed and went outside, locking the door just in case she tries to run away when she wakes up. ....Kringgg Kringgg.... My phone rang and I looked at the caller ID, Thunder.
I picked up my phone and answered, "What? Everything set?"
"Where's Min-ah?" an anonymous voice said.
Shit, where's Thunder? "Who's this?" I asked.
"I said, where's Min-ah?" the voice said, adding some more tone to it.
I chuckled and replied, "She won't be able to come to the phone if you wanna talk to her. She is mine now, and nobody is going to take her away from me, ever again," I said with a smirk on my face.
_______________________________________________________________________________________________________________________
Hey everyone! How's the story? comment and tell me if there's something wrong or if you don't understand anything... well not the suspicious part but I'm sorry about the going back to the beginning but I just had to put Seungho's POV in here somehow so he'd tied to the story... Well hope you guys are enjoying it and comment and subscribe! SarangHaeYo! I love you!
Here... I was really bored.. Here's some MBLAQ gifs for you A+ out there... :
Cute Mir.... LOL
Seobie anyone?
Isn't Kikwang cute...??
This is random... but i thought it was cute!!
And then last but not least!!!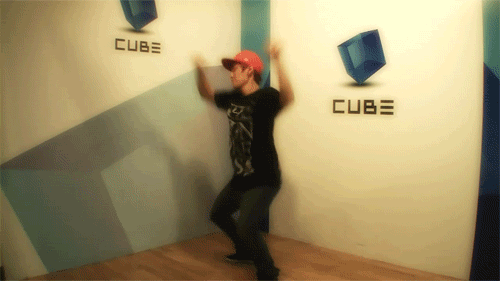 Who here likes Joker?? LOL
Anyways... imma go for now... enjoy! love you all!
^ Back to Top