3

Superhuman 2

Completed!

by peppers
73 subscribers | 2948 views | Updated | Created
Tags blockb infinite jaypark sunggyu violence zico kai | Report Content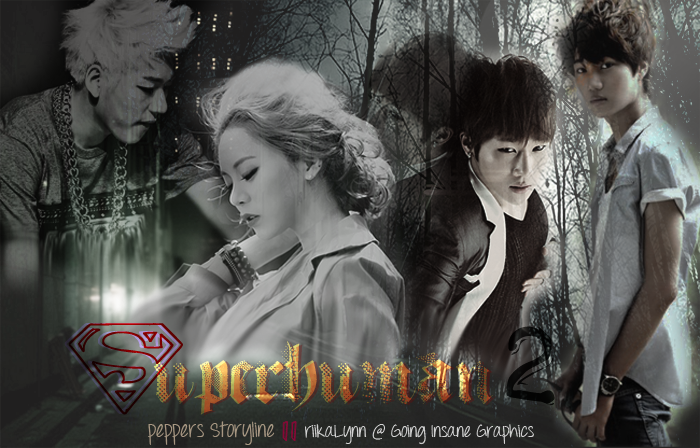 Characters
Kwon Eunju (OC), Kai, Sunggyu, Zico, Jay Park
Description
If you like The Hunger Games, Heroes (TV series), or action-romance story, then you might consider reading this fic. This is however a sequel so it would be best if you take time to ready the first one. http://www.asianfanfics.com/story/view/197650/superhuman-blockb-infinite-jaypark-sunggyu-violence-zico-kai
Warning: Some scenes may contain excessive use of foul language. Please be quided accordingly.
I work my ass off to write this story so please DO NOT PLAGIARIZE. "Taking something from one person and making it worse is PLAGIARISM." THINK BEFORE YOU PUBLISH!!!
Shoutouts to riikaLynn at ∞[Going Insane Graphic Shop]∞ for an amazing poster. Should you guys need one, I truly recommend there expertise.
Foreword
Seoul has been engulfed in chaos and darkness. Every Flash and Force went into hiding while the humans bowed to Cronus. Kai became the most wanted half breed by the authorities after he tried an assassination attack on their leader. Block B and Infinite had their own hideouts but would sometimes meet up for updates. The only good thing that came out of the war is that it brought two opposing groups together to fight against evil and fulfill a promise to which they all thought has perished.
Eunju spent the last six months training and harnessing her skills while they lived in Japan. She has become stronger, almost indestructible and one of the most powerful half-breed. This will be her weapon to defeat her own uncle, Cronus and restore peace in her homeland.
As she returns home, she will not just encounter difficulties in dealing with Cronus but the complications of dealing with love and friendship.
Characters:
Kwon Eunju (19) – A half breed who can jump at a vast distance, an archer with perfect accuracy and precision, and has superb fighting skills but totally clueless when it comes to emotions.
Akiyama Keiko – Eunju's new found friend and also a half breed.
Jay Park – Born as a Flash and lived as an orphan but later became Eunju's brother after Thanos decided to adopt and train him. He has then become a skilled fighter and his father's most trusted right hand.
Kim Jongin aka Kai – Born as a half breed who has the ability to adhere into solid surfaces and has night vision. Eunju's bestfriend but he treats her more than one.
Kim Sunggyu – Leader of Infinite, a gang of Flashes with superhuman speed. Fell in love with Eunju right from the start.
Woo Jiho aka Zico – Leader of Block B, a gang of Forces with superhuman strength. Also likes Eunju.
Every comment, feedback, or suggestion is greatly appreciated. Thanks and enjoy! ^^
Tweet
^ Back to Top