Chapter 37
by pinkspades
Tags drama fluff romance exo exok | Report Content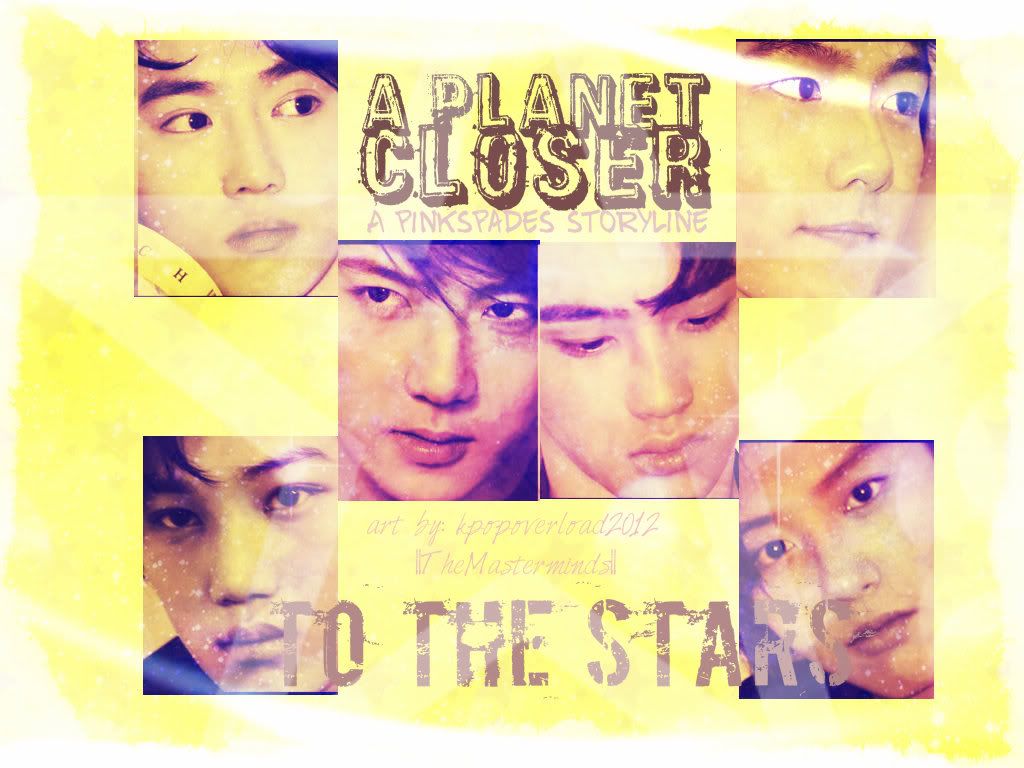 "Oh my god… Look at the ocean!"
                     Sora beamed at the beautiful sight in front of her. It was already the next day. Everybody forgot the fact that they were all worn out from the long trip. As soon as they arrived at Phuket International Airport, they were greeted by the sea that glittered under the sunlight. The airport was right next to a beach, but not the beach where Kimberly was.
                     "Come one. Let's head to the hotel first. The bus has arrived. Don't make me remind you that you're still idols. This might be a small island far away from Korea, but you still have fans. Hurry up and don't cause a scene. Be quiet!"
                     On the way to the hotel, the kids couldn't stop being all excited about the surroundings. They drove past everything from big business towers to a mountain with a gigantic Buddha statue on top. Min took her Polaroid camera out from the backpack but stopped midway. She turned to Shinah who was sitting a few seats behind her.
                     "Unnie, does Kim know about this?"
                     All ears perked up at her statement. The stylist simply said, "No."
                     "Well, then do you know where Kim lives?"
                     "No."
                     Min blinked a few times at the answer. "Then how are we going to meet her…?"
                     "We don't know, but Sehun does," Manager Im spoke up. The attention shifted to Sehun immediately.
                     "Well… Brian gave me the address…"
                     The girl then sat back into her seat, mumbling, "What kind of love story do we have here? Gosh."
                     D.O was sitting in the same row as her on the opposite side and heard everything. He sighed, but he also smiled. At least he would be able to see her. He just hoped it was a happy ending for her and Sehun. After all, they were both his friends.
                     "So there's no need to hide anymore," a cameraman spoke up loudly so everybody could hear, "We'll be following you around with hidden cameras like usual and you know it, but please be normal, be natural, don't act unless we tell you so. We still have to hide the cameras so we don't cause a scene."
                     Sehun was already thinking ahead about meeting her. It was still too soon. He didn't know if showing up only two days after they were separated would do him good. But, he was already less than 100 kilometers to her anyway. If she didn't have the answer for him, he'd make it happen by himself.
                     In the afternoon, Kimberly came back from the post office after she went there to send the demo CD to Korea. She was walking along the beach with a guitar in one hand, letting the wind caress her hair and cheeks.
                     Looking at herself, she giggled. It sounded very romantic just now, but the reality wasn't. She was a girl; true. She was walking on the beach; true. She held a guitar; true. However, she was barely wearing anything decent. Her shirt was old and baggy in gray color. Her pants were merely a pair of yellow basketball shorts. Her hair was messy due to the sea breeze, and her face was oily from all the sweat. The weather was incredibly sunny and warm.
                     Dragging a pair of sandals, she settled herself in the shade under a palm tree in front of her house. Brian poked his head from the window not so long after and came out to join her. The two started singing and playing the guitar but only for a few songs and they gave up. At times like this, taking a nap to gain some energy was the best. They did so before they could melt to the ground under the strong rays of sun.
                     Not knowing how much time had passed, when they woke up because Brian's phone rang, the sun was about to set. Brian almost gave his phone to Kimberly to answer because he was getting lazy, but he pulled back the last minute and looked at the caller ID cautiously. The number was unknown.
                     Could it be that boy?
                     "Hello?"
                     The voice on the other end hesitated a bit before Brian heard something that made him imagine the caller switching the phone into someone else's hand. That someone else spoke in perfect English.
                     Brian replied, "Oh… Yes, yes… It's on the far left… Yes… Sure… Oh, really? Okay…"
                     While Brian didn't seem to end the call so soon, Kimberly was getting slightly annoyed, but she was still in a good mood. She playfully strummed on the guitar and sang a love song medley in an overly happy voice. The brother could sense his conversation partner's immediate stammering. He sighed and quickly ended the call with a "see you".
                     "Do some work, lazybum," he nudged her, "We've got some visitors tonight. I'll cook something. Will you go to auntie's pizza stall and borrow the BBQ grill for me?"
                     "Visitors? Who? Your friends?"
                     "Ah, that's not important right now. You'll see. We'd better get ready. There are a lot of them. There are adults too so behave, okay?"
                     Kimberly sneered at him, "Pfft. Like I'm a little baby. You're the immature one, Brian."
                     Before he could reply, she sped off towards the food stalls a little far away from them.
                     Brian brought the guitar back inside the house and started rummaging in the cupboards for party supplies. Plates, spoons, forks, and cups were eventually laid on the small counter in the kitchen. He quickly scooped them to the side and started bringing ingredients out from the fridge. Since they came to the house for barely two days, there was nothing useful in there at all. He sighed and quickly went out to the closest supermarket.
                     Who knows they could be this impatient. Give me a break, man… I mean, she's gonna be pissed too. Gosh… Save me for the night, someone…
                     After the sun had set for a while, Brian's pasta and chicken soup were ready on the stove. Kimberly also brought the grill over along with some BBQ pork from the stall, ready to be grilled. Wondering who the guests could be, her hands set plates on the long wooden table. She constantly complained about how the strong wind was because it kept flipping everything over, but her brother would give her a warning look for cursing.
                     "Hey, Kim! Just leave it there. I'll do it. You should go change!"
                     "Change?"
                     Brian poked his head from the front door and looked her from head to toe, "Yeah! Change your clothes! You look way too ugly to be my sister."
                     "Lol! I'm home, Brian. Why do I have to-"
                     "At least I'm trying to save your ass, sister! I told you the adults will be here too! Manner, sister. Manner!"
                     She quickly put everything down at his words before stomping past him to her room in the attic, not knowing that the guests had arrived right at the same time.
                     There were EXO-K and Pegasus members standing there, along with the manager, the two stylists, the producer, cameramen, and some other people. Brian mentally wiped the sweat off his forehead before bowing to them. The girls tried hard to suppress their squeals upon seeing the small yet beautiful beach house. Their eyes wandered before noticing Kimberly's absence.
                     "In the attic," Brian motioned his hand to the top part of the house.
                     "Attic?!" everybody blurted out at the same time, which the Thai boy had to explain that it was her bedroom.
                     "She's coming down soon so don't worry. Please have a seat. I'll bring out the food."
                     The kids automatically followed Brian into the kitchen to help, but they were instantly shooed out, leaving only D.O and Sora behind. Brian seemed close with Sora. They kept exchanging updates until D.O acknowledged everything, from the list of food to the fact that Kimberly sent a demo to Korea hours ago.
                     At the mini party outside, the men were busy setting up some lights. It was automatic for them since they work in a production team, and a dark outdoor party atmosphere with lots of tropical mosquitoes was a no-no. Sehun was also there, trying to keep himself busy with helping so he wouldn't think too much about a certain someone.
                     So noisy. They must've arrived.
                     Putting all the clothes back into the wardrobe, Kimberly thought before checking herself in front of the mirror for the last time. She was wearing a layered long aqua-blue skirt with a loose white sleeveless shirt on top of a fitted black tank top, thinking that it was better to show her arms than her legs, if talking about meeting elders. She hopped onto the bed, which took up most of the space in the tiny room, grabbing her phone and knocking her head on the roof in process.
                     The girl decided to take a look at the party through the window for the last time before going down, but the identity of those guests shocked her.
                     What- the- hell- are they doing here?
                     WHAT?!
                     Running to the door, hitting her head with the roof again, she made sure to lock it firmly before running back to the window. It hurt on the head, and she knew she wasn't dreaming. No matter how many times she blinked, everyone was still there. She didn't see D.O, but he came out of the house with food in his hand right after.
                     This is crazy…
                     Her heart raced upon seeing Sehun's face. He looked… slightly grumpy?
                     Pfft… I should be the grumpy one, you know.
                     "Kim!"
                     She heard Brian's voice from downstairs and saw him coming out to join the rest. The producers and Director Han already started feasting, the girls were taking pictures, and the boys were looking around excitedly. D.O seemed to be talking to Brian a lot.
                     Wow. Wow. How can they act as if nothing happened?
                     "Kim! Are you done?! It's just a dinner! Are you planning a photoshoot?!"
                     She snorted, crossing her arms as she watched her brother shouting without looking back at her window. Before everyone could even look for her, she opened the window and swung herself to sit on the edge of it with her arms crossed in place. Her legs were now dangling on the edge of the roof.
                     "Seems like there's really a photoshoot going on there, brother? Seeing the whole crew invading my house, I mean…"
                     "Kimberly!"
                     "Kim!"
                     "Whoa!"
pinkspades: I think if you can wait for about an hour or two, the next update should be up! :)
^ Back to Top