32

Thinking Of Your Love

Completed!

by teukfie
29190 views | Updated | Created
Tags angst arrangedmarriage choiseunghyun leeteuk marriedlife pregnancy sehun | Report Content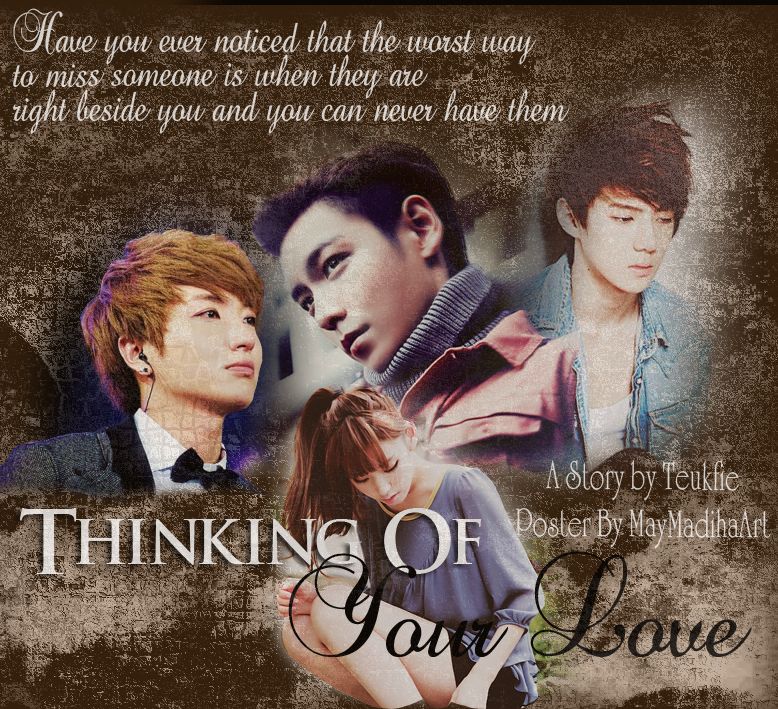 Characters
BigBang TOP, Super Junior Leeteuk, Lee Yiyoung/OC, Exo Sehun
Description
An arrangement of marriage was made after Lee Yiyoung gets pregnant. Her life turned to almost hell when she is married to a spoiled brat name Choi Seunghyun. Seunghyun never love Yiyoung. He hated her for some reason. Being such a patient woman, Yiyoung bare with everything. She consider herself as lucky when she thought she have no one, there is someone can be consider as angel that always be there for her most of the time, Leeteuk. However, she knows she couldnt stay too long as her existence never makes either Seunghyun or Leeteuk happy. She knows the fact that it is now left only her baby and herself. Can she survive despite all the suffers she had?
CHARACTER :
-Lee YiYoung
-in her early 20-s
-she is a girl that always keep what she feels to only herself.
-a very humble girl. she suffered a lot but never complained anything.
- Choi Seunghyun
- in his mid 20-s
- a spoiled brat who never think about others feelings. 
- a hot tempered guy and easily lost controls
- Leeteuk
- Choi Seunghyun's cousin.
- in his late 20-s
- a warm guy who his personality is way too different from his cousin.
- he really care about Yiyoung more than anyone could imagine.
- Oh Sehun
- a bright boy who is actually understand Yiyoung's conditions without her knowing.
*more of his character will be revealed in the story*
RATED FOR LANGUANGE!
Foreword
hey guys. honestly, i dreamt about this story and it stuck in my mind for a few days. so here i am writing this. dont get tired of my story, SUBSCRIBE AND COMMENT ARE SO MUCH LOVED! ;)
* ALL CHARACTERS WAS MADE UP. IT DONT RELATES TO REAL LIFE.
Tweet
^ Back to Top